*



photo by Tristram Kenton
It's scary around the West End this time of year. Everything's opening for the new season; right now I'm seeing five plays a week and missing at least five more, making hard choices, running the risk of missing some that I really should be seeing. Once you miss something good in October it's almost impossible to catch up, because from now on, there will be more and more plays, musicals, special entertainments, cabarets, etc., up to Christmas. It's frantic here. But fun.
Broadway seems almost as clogged as the West End. In addition to myriad American-grown offerings, a new clutch of shows from London is opening on Broadway this month: we've sent La Bête, The Pitmen Painters and Brief Encounter over there.
What we got in their place was the best of the summer's productions from all over Britain, coming home to roost in London for the autumn and beyond. Onassis, Martin Sherman's blockbuster play about the Greek millionaire's tangled romantic relationships with Maria Callas (Anna Francolini) and Jackie Kennedy (Lydia Leonard), comes into the Novello Theatre. The public abandonment of Callas by Onassis in pursuit of a bigger prize, the widow of the president of the United States, was one of the first celebrity scandals. Playing the title role, Robert Lindsay returns to the West End after too long in the lucrative fields of television drama and comedy. The temptation to play a character so well-connected and rich that he believes other people's rules don't apply to him was clearly irresistible. Onassis comes in from Chichester Festival Theatre in the bucolic Sussex countryside, where it was a summer hit. I'm betting it won't need the Pimm's on the lawn or a sunlit view of the gentle Sussex Downs to repeat its success in the cool of a West End fall.
*



photo by John Haynes
Theatregoers on both American coasts are getting a chance to see the Shakespeare's Globe's lively production of The Merry Wives of Windsor. This most joyous of all Shakespeare's comedies is his only play set in his own time among ordinary people. It was written around 1597, just after Shakespeare wrote Henry IV, Part One but before he wrote Part Two. He had, in Sir John Falstaff, already created his most durable and outrageous comic character, and Queen Elizabeth, goes the story, so loved the drunken reprobate that she asked for more. Shakespeare responded that he was writing a sequel to Part One that would tell the story of Prince Hal's accession to the throne as King Henry, but the queen wasn't interested in another history play. She wanted, she said, to see "Sir John in love," which, in view of his vast size, appetites and ego, she knew would be funny. So Merry Wives was written in response to a royal edict, and although we don't know the exact date of the first production, we know it was published in 1602 (which means it was certainly performed by The Lord Chamberlain's Men, Shakespeare's company, before that) and performed at Whitehall Palace for the queen in November 1604. It was her favorite play.
The Merry Wives of Windsor is really a sitcom, designed by clever old Shakespeare to amuse the queen without overtaxing her brain, which was, not surprisingly, much taken up with weightier matters of state. Our own Queen Elizabeth, unlike her namesake, is not known for her love of the theatre, although I once saw her smile at a production of Oklahoma!, which, she told me, is her favorite show. Of course, at the time of the first Elizabeth, America hadn't been invented yet, so she was deprived of musicals and had to make do with Shakespeare.
Now Shakespeare's own theatre is sending its much-acclaimed production to Los Angeles (Broad Stage, Santa Monica, CA) and New York (Pace University's Michael Schimmel Center for the Arts in Lower Manhattan, Oct. 28-Nov. 7) and then on an extensive British tour until Dec. 11. American Shakespeare addicts have been pouring into the Globe all summer to see the Henrys, starring Roger Allam as Falstaff, so they won't want to miss this one and only contemporary Shakespeare play, which sets him in a different and much funnier context.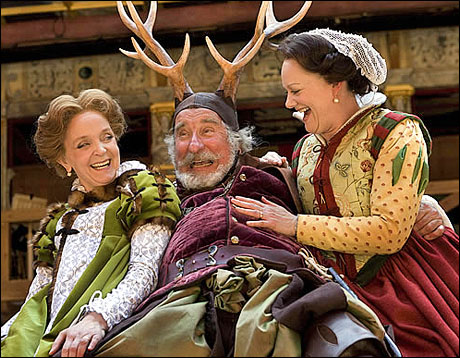 photo by John Tramper



photo by BBC
Moving forward nearly 200 years, director Sir Peter Hall's production of Sheridan's 1775 Restoration comedy The Rivals is, as expected, coming to the West End in November. It moves from the Theatre Royal, Bath to, appropriately enough, the Theatre Royal, Haymarket. Why appropriate? Because after the Haymarket burned down in the late 18th century in one of those disastrous fires common to London theatres at the time, it reopened in 1821 with The Rivals. Of course, it was just as appropriate to play it in Bath, the spa town where the comedy is set. Penelope Keith and Peter Bowles, well known not only for their stage appearances but also for their long-running television sitcom, "To the Manor Born," are once again starring together as Mrs. Malaprop, whose misspeakings are the joy of the play, and the obtuse Sir Anthony Absolute. They open on Nov. 10.
*
There's word that the paintings that are the subject of The Pitmen Painters, Lee Hall's beautiful National Theatre play currently running at Manhattan Theatre Club's Samuel J. Friedman Theatre on Broadway, are making their own trip across the ocean. While they make an appearance in the play and are indeed characters to match the group of miners who painted them, there is no substitute for seeing the paintings themselves. At the National Theatre, in the art gallery overlooking the busy lobby, they competed successfully with the constant hubbub, music performances, eating and drinking, and theatregoers on their way to one of the National's three theatres.
The paintings, made by the miners between 1934–1947, range from totally abstract to figurative, from ideas borne of imagination to images of the miners' everyday lives. They became famous, with exhibitions in London and throughout the world's art galleries, and they now have a permanent gallery especially built for them. The obscure miners who painted them in the northeast of England, far from London, showed what ordinary people could accomplish. Wouldn't New York like to see these fascinating works?
(Ruth Leon is a London and New York City arts writer and critic whose work has been seen in Playbill magazine and other publications.) *
Check out more of Playbill.com's international coverage, including London correspondent Mark Shenton's daily news reporting.