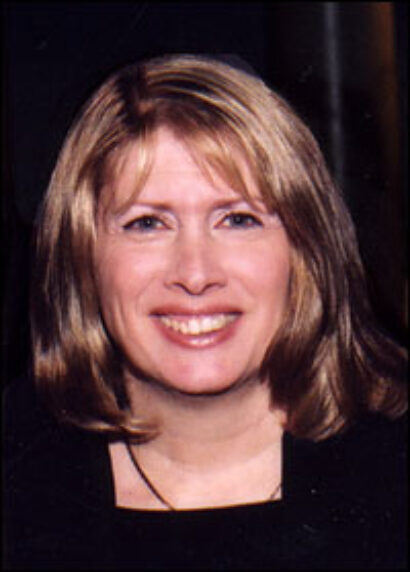 ***
"It's the thrill," Carole Rothman says, "of walking into an empty theatre four or five times a year and seeing nothing — and then, a week later, there's a new set on the stage, and it's a new place all over again. It's different every night, and different every play. It's the love of working with other people — the collaborative nature of theatre. It's how I get my sense of who I am — as part of a team."
Rothman, the artistic director and co-founder of the prestigious non-profit Off-Broadway theatre company Second Stage, is talking about her devotion to the theatre — a relationship that has lasted more than 30 years, the last 27 of them at Second Stage. The many highlights of her career, and her theatre, include Tina Howe's Painting Churches, Michael Weller's Spoils of War, August Wilson's Jitney and Stephen Sondheim's first, and long unproduced, musical, Saturday Night.
Second Stage's efforts that moved to Broadway include Howe's Coastal Disturbances, which got four Tony nominations in 1987; Mary Zimmerman's Metamorphoses, which won a best-director Tony for Zimmerman in 2002; and the hit musical The 25th Annual Putnam County Spelling Bee, which won two Tonys and is still running. Rothman is also one of the producers of Douglas Carter Beane's The Little Dog Laughed, which enjoyed a successful run at Second Stage earlier this year and opens this month at the Cort Theatre.
Rothman's experiences with theatre began at age four in St. Louis, her hometown. "I was a very shy little girl," she recalls. "My father was a very shy man. He felt it would be a good thing for me to learn to speak in public to get over my shyness, so he enrolled me in a little theatre class. I had never seen a play. We were too poor, and there wasn't a lot of theatre there. It taught me how to speak in public, how to be onstage, how to gain confidence in being in front of people." She appeared in school plays until she was 15, when she decided that directing, not acting, was her goal. Her drama teacher had become pregnant, and Rothman was chosen to take over the reins of the high school's production of Arthur Miller's The Crucible. "As it turned out, I didn't really like being in front of people," she says with a laugh. "I'm still a little bit afraid to speak in public. And I liked the collaboration, and setting up my own projects."
Directing continued through college at Northwestern and graduate school in a directing program at New York University. "I was pretty naïve," she says. "I was from the Midwest, and no one ever told me I couldn't do whatever I wanted. In order to get into NYU, I had to bring a project with me to audition. I had done a play at Northwestern with 16 people in it. So I brought all 16 to New York. And I was accepted."
After getting her MFA, she worked at the Williamstown Theatre Festival in Massachusetts and the Mark Taper Forum in Los Angeles.
She also began to find work in New York at established non-profit theatres. But it wasn't easy. "It was very difficult to make a living as a director. It still is. So I worked in various positions, from fundraising to literary manager to marketing, at some theatres. And then with all the delicious arrogance of youth, I decided to give running my own theatre a shot. Luckily I got married the same year and my husband was the one making a living."
Second Stage's first play was Michael Weller's Split, part of which Rothman had directed at Ensemble Studio Theatre.
For the first five years, though, Second Stage had no permanent home. "We often worked out of a theatre on 73rd Street between Columbus Avenue and Central Park West, on the 16th floor of a residential hotel," she recalls. Joseph Papp also let them rent space at the Public Theater.
Finally, in 1984, they bought an old upstairs gymnasium at 76th Street and Broadway and converted it into their full-time stage, where they continue to produce a festival for emerging playwrights each summer. And then, in 1999, Second Stage opened its current venue, in a former bank building at 43rd Street and Eighth Avenue, near Times Square, co-designed by the renowned Dutch architect Rem Koolhaas.
"Forty-second Street was changing for the better," Rothman recalls. "There was a lot of excitement in its development, and we wanted to be part of it. When we worked up at 76th Street we felt more like a neighborhood theatre. It was great. At first, everyone on the Upper West Side felt we were their resident theatre. But being in Times Square opens up many more possibilities. The owners were going to make the old bank into either a Chippendales or a theatre. Luckily, they let it become a theatre."
In these last 27 years, Rothman says, Second Stage has produced about 125 plays. Among her favorites, she says, are Cheryl West's Jar the Floor, Wilson's Jitney and the incredible magic performances of Ricky Jay, which were huge hits.
And the future? "The short answer? More of the same."
But there's a longer answer. Rothman is thrilled by a generous grant her theatre has received from Time Warner to commission new plays from ten writers.
"I've always been interested in reaching a wider audience," she says. "The ten writers are of diverse ethnicities and have stories to tell that reflect who we are as a country today." They include Cheryl West, Lynn Nottage "and others that you may not know yet."
The goal, she says, is what for her it has long been: "It's all about new voices."