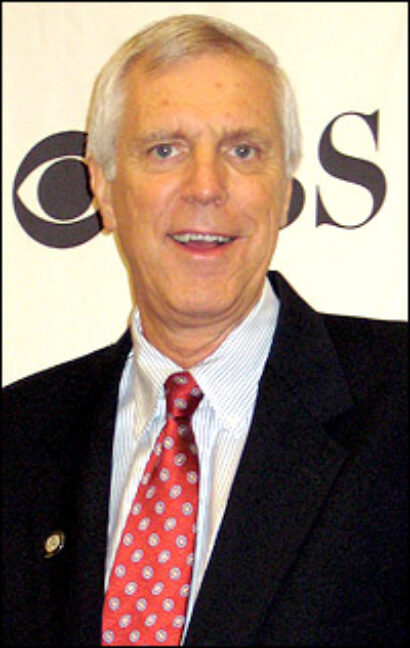 *
"I always wanted to be an artist," the lighting designer Ken Billington says. "But I couldn't paint. So I paint with light. I don't use brushes. I use electricity."
Billington, who turns 62 this month, has been a lighting designer on and Off-Broadway for more than 40 years. He has lit more than 80 Broadway productions and 70 Off-Broadway shows. His credits include the original Sweeney Todd; On the Twentieth Century; Side by Side by Sondheim; Lips Together, Teeth Apart; The Lisbon Traviata; The Drowsy Chaperone; and, this season, Irving Berlin's White Christmas. He has received eight Tony Award nominations and won in 1997 for the acclaimed and now long-running revival of Chicago. And from 1979 to 2004 he has been the principal lighting designer at Radio City Music Hall, including its Christmas and Easter shows.
It all began for him, he says, in the fourth grade in Westchester County. "I was an actor — I can't remember what show we were doing — but I had misbehaved and was being punished by having to sit stage right, next to the electric panel. I learned how to turn the lights on and off."
The next day, when the punishment was over, the teacher came in and, since the lights were off, asked if somebody would get the custodian to turn them on. But Billington said he could handle the switches. "I turned on every chandelier and every light." So the teacher assigned him to run the lights. At show time, "a classmate named Sherry Zimmerman crashed some cymbals in my ear, and I clicked the lights on one at a time to pretend I was fading lights up, and the grammar school children all applauded and screamed and cheered. And I've been doing it ever since."
Billington designed lighting in junior high and high school, as well as for the community players group. His mother would take him to see theatre in Manhattan. "The first show I saw was The Music Man — the original." Eventually, "when I was 16 or so, I would take the train in myself.... The morning after I graduated from high school I drove to summer stock, at the Berkshire Playhouse in Massachusetts."
At age 18 he began attending classes at the Lester Polakov school of scenic design in Manhattan. "It taught scene painting, lighting, theatre design, mostly to people out of college or graduate school, so they could pass the United Scenic Artists union exam. And we were invited to go watch Broadway shows load in. If the designers were doing something, they would call and ask if anyone wanted to stop by. That's how I stopped by to see the legendary lighting designer Tharon Musser doing The Lion in Winter. And she invited me to come by and watch her do Mame — just watch them put up scenery and hang lights."
It was 1966. "I wrote her a letter and said, 'Could I work for you?' She said yes. And I went to work for her as her assistant at the American Shakespeare Festival in Stratford, Connecticut — for $65 a week. And from there I became her assistant on Broadway." Billington's first Broadway show on his own was the musical Don't Bother Me, I Can't Cope, in 1972.
One of the major highlights of his career, he says, was working with Stephen Sondheim and Harold Prince on Sweeney Todd. "Hal would do small readings in his office for three or four people on the creative staff. Hal read the script and Steve played the piano and sang the tunes. These were work sessions. When they were finished they would ask for opinions — not the 'Oh, my God, this is fabulous' kind but creative opinions. And I remember sitting there, nine months before we did the show, and thinking, 'This is the one show I will be able to leave in my résumé for the rest of my career and everybody will know what it is.'"
How important is lighting to a show? "I always say, jokingly, that a lighting designer is the most important person in the theatre. Perhaps the playwright's more important, because he or she writes the words. But without me, you don't see the show. You'd be sitting in the dark. I create what you're going to see. Without the lighting designer, you wouldn't know there's scenery. You wouldn't know where the actors were standing. You would know nothing. I can make you cry. I can make you get excited — maybe even make you jump to your feet. By doing a light cue in the right way, I can change the emotions of what the audience sees."
When, for instance, he works at Radio City Music Hall, "and I bump all those lights up on the Rockettes, and they're all kicking, and the music is right and the lights come on and the audience starts to applaud, I get excited."
When it comes to the future, he says, all he wants to do is keep on doing what he's been doing. "It's actually all I've ever wanted to do," he says. "It's a lot of years later, and I still think it's as much fun as anyone can have. And I get paid for it."