*
Andrew Keenan-Bolger, who plays Gustave in Ever After, the new musical currently in previews at the Paper Mill Playhouse, admitted that he had never been a fan of the Cinderella story of a good-hearted young woman forced to work as a servant by her widowed stepmother. However, the 1998 movie "Ever After," which starred Drew Barrymore as the spirited heroine Danielle, presented that in a new and different light — and that unique approach is what drew Keenan-Bolger to the musical of the same name.
"It's so great because it's really the feminist Cinderella. I think it's the Cinderella of today," Keenan-Bolger (Newsies, Mary Poppins) said. "She's the intellectual match for Prince Charming, and she's not just sitting around waiting for her Prince to come rescue her. Now I'm seeing Cinderella with all new eyes."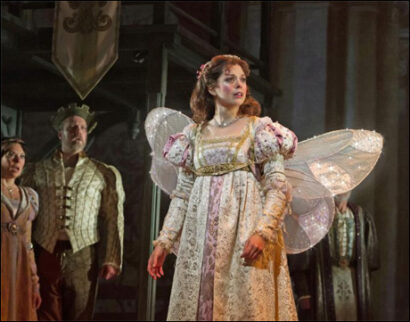 With music by Zina Goldrich and a book and lyrics by Marcy Heisler, Ever After tells the "real" Cinderella story by following Danielle as she strives to survive in an unloving family and unwittingly begins a romance with Prince Henry (James Snyder).
Many of Keenan-Bolger's castmates were childhood fans of the movie, including Mara Davi ("Smash," A Chorus Line), two-time Tony Award winner Christine Ebersole (42nd Street, Grey Gardens) and Margo Seibert (Rocky), all of whom cited the egalitarian and feminist tone of the story as part of its appeal. "She's incredibly empowered," Seibert said of Danielle. "She's well-educated through the help of her father. She swordfights. She climbs trees. And the fact that there's room within a Cinderella character to have so many facets — she can fall in love, and she can, in her family, look for the love she couldn't find as a child — I think it's incredibly refreshing and poignant time to have this… and led by an all-female team!"
Read Playbill.com's look at Cinderella, from Julie Andrews to Anna Kendrick, through the years.
After meeting the Prince, Danielle witnesses the town erupting into a frenzy when they learn the Prince is seeking a wife. An independent and educated woman, Danielle appears to scoff at the idea of romance in the song "Who Needs Love?" and as she witnesses the "Friendly Competition" while different women in town vie for Henry's attention.
"Danielle has a very specific opinion of that, and that it's a waste of time," Seibert said. "She doesn't need it. She is very content to be a hard worker, and she has her books. She has her love of education. That really fills her up. And though occasionally she might long for a partner, she is not going to spend her time berating, if you will, for attention — which is why it's so exciting when she does have her chance and accidental falling in love with the prince."
The Prince, whom every woman in town hopes to marry, is played by James Snyder, last seen on Broadway as the love interest in the musical If/Then. Discussing traditional fairy tales, Snyder said he believes the egalitarian tone of Ever After benefits his character as well as Danielle's.
"Most of the time I think the prince shows up, kisses the girl, and that's it," Snyder said. "Great. Awesome. What's he going to do? And why does she need him? The Prince never got his due. He never got to be human. That's the great part about this: Prince Henry is a prince scared to death of being a king, and until he finds love he never has the courage to step into that."
Charles Shaughnessy ("The Nanny," Urinetown), who plays Henry's father King Francis, also appreciates the different approach that Ever After takes to fairy tales, emphasizing the power of human beings instead of magic. "I loved the fact that it wasn't fairies," Shaughnessy said of the film. "It wasn't magic wands. It was people figuring it out and finding ways around their obstacles and pushing each other — the way Danielle pushes Henry and he pushes her. I enjoy that."
Danielle's stepmother is played by Ebersole, who said she strove to find the humanity in Baroness Rodmilla de Ghent and make her more than "a cardboard cutout stepmother."
Ebersole dove deep into Rodmilla's motivations, especially the economic ones regarding pushing her daughter Marguerite to marry Prince Henry. "From my position it's trying to secure my future so I'm not left in the dust and can get out of the position that I'm in and that my daughter will assure that."
Both Ebersole and Seibert have explored their characters' relationships with each other — which include competition, envy and even affection.
"It's complicated and layered," Seibert said. "There's always something that we want from each other. Danielle is always looking for the hope, and any gesture and any moment where her stepmother might be extending a hand — it does feel that way. There are some intimate moments between the two of them."
The cast, especially Keenan-Bolger, shared their appreciation of Ever After's unique approach in presenting an empowered and independent woman as the heroine of the story. "Maybe the Snow Whites and Sleeping Beauties of the world will get their little awakening," he said.
(Carey Purcell is the Features Editor of Playbill.com. Her work appears in the news, feature and video sections of Playbill.com as well as in the pages of Playbill magazine. Follow her on Twitter @PlaybillCarey.)