*
"When I love a project I'm working on, I'll do it in various forms," said Julie Taymor. And, that's exactly what the award-winning director, who recently helmed an acclaimed production of William Shakespeare's A Midsummer Night's Dream, is doing.
Taymor's production of Shakespeare's comedy of romance and sex, which played Theatre for a New Audience in 2013, was captured with several cameras over the course of four live performances. Adapting stage work for the screen is nothing new to Taymor, whose production of The Magic Flute was the first Met Live presentation.
Filming Midsummer took it to a new level for Taymor, who said, "We got our cameras into places that no audiences would ever be. That's what makes it so exciting to do this Shakespeare play on film. This worked beautifully — the intimacy and the close-ups. I like it better on film than in the theatre. I think it's better for the actors. You really get such a full range of facial expression."
Taymor is also excited by the prospect of giving more people access to the production, which she said is one of Shakespeare's most popular plays and will continue to be revived for years to come. Taymor's history with the play goes back to her childhood; it was the first of Shakespeare's plays that she saw (at the age of seven) and was also the first Shakespeare production she performed in, playing the role of Hermia. Her latest production featured 17 children in the cast, all of whom she said "flipped out" when they saw the film, demonstrating the accessibility of the story.
"People think Shakespeare is difficult. How can it be difficult if kids all over the world and country are playing at it and having fun with it?" she asked. "Nothing is more enjoyable and multilayered than A Midsummer Night's Dream. Anybody can watch it. It's got so many different levels of comedy and tragedy. It's just fun."
Finding unique methods with which to explore material is nothing new to Taymor. The recipient of the 1991 MacArthur Genius Fellowship, she made her Broadway debut with Juan Darién: A Carnival Mass, which earned five Tony nominations. Her theatre credits also include The Green Bird, Titus Andronicus, The Tempest, The Taming of the Shrew, The Transposed Heads and Liberty's Taken. In 1997 Taymor directed the stage adaptation of Disney's animated film "The Lion King" and won Tony Awards for Best Costumes and Best Direction of a Musical — the first woman to do so.
Since Taymor's win, women have made significant advances in the theatrical industry; Pam MacKinnon and Diane Paulus won Best Director of a Play and Best Director of a Musical in 2013 for Who's Afraid of Virginia Woolf? and Pippin, respectively. Jeanine Tesori and Lisa Kron made theatrical history at the 2015 Tony Awards with their wins of Best Score and Book for Fun Home.
"It's about time, right?" Taymor said before going on to emphasize the importance of role models in the industry. "Things are still very slow for women in positions like that. When the young women see a female director who's been able to do what I've been able to do — even with the struggle, and I've had a lot of struggles and a lot of support — they get so excited to have a role model.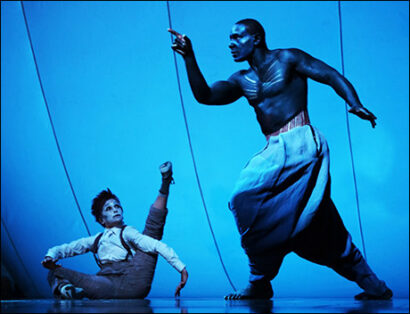 "What has to happen when you see Fun Home win, you [say], 'Wow. Women are composers,'" she continued. "It is a weird thing. Of course they are, but not that many are. Not that many are conductors. There aren't that many female directors. It's always good because it gives these younger women an eye opener to say, 'Oh, great. I always thought I had to be a musician. Not the composer.' It's very good. It has to be good work. It can't just be because they're women. And then you really inspire a whole other generation."
Tesori and Kron discussed the need to inspire the next generation and celebrate failures with Playbill.
A petition to present the Creative Arts Awards — including Best Original Score, Best Book of a Musical and others such as Scenic Design, Lighting Design, Orchestrations and more — during the CBS broadcast of the Tony Awards circulated the internet prior to the June 7 broadcast. The petition stated that if Tesori and Kron won the honors, young women and girls should see them honored on TV. "I think it is disgusting that those roles are not celebrated [on the broadcast]," she said. "I don't understand it. You're either going to celebrate the theatre and the artists who make it, or what are you doing? Just kind of a cheesy ass TV show? I don't get it."
Even while thinking of future generations, Taymor is not slowing down. She has several television shows in development as well as feature films, which include a film adaptation of Juan Darien, which she directed onstage, and a stage adaptation of the film "Across the Universe," which she helmed in 2007.
"Hopefully, I'll be able to do 'Across the Universe' onstage," she said. "I'd love to do the Beatles musical onstage, and we're working on that."
Taymor, who recently directed the one-woman show Grounded, starring Academy Award winner Anne Hathaway, at the Public Theater, recalled being "blown away" when she read the script, which inspired her to say yes to the project the following day.
"I wasn't sure Annie could do it," she recalled. "I've had this experience with Salma Hayek, where people didn't quite know if she could play Frida. And I enjoyed it. I feel like a lot of these actresses who are beautiful and Hollywood starlets are not actually given the opportunity to stretch themselves to other areas. I've worked with the greatest female actors. I take this as really a thrill, a challenge. The main thing is to challenge yourself and to tell stories you want to tell and stick to that.
"I love what I did on Spider-Man," she continued. "I adored the story we were telling, and I adored the material. I feel that you always have to really believe in the material that you're working with. And The Lion King, even though I didn't like everything about it, I found enough of it to move me deeply, and they allowed me to develop that story onstage. That wasn't just what was in the film. I went deeper into the female, added Rafiki as a female, made Nala a more developed character [and also] had Simba go through a darker tale in Act Two.
"If you can invest yourself and be true to that, you will have a much better time, even if you have to fight along the way. Just be true. And work with people who really love to collaborate. And I have some phenomenal producers that I've worked with again and again, and that's really exciting. I had stories I needed to tell. My first works were original works. I created them. I found people, supporters and collaborators who wanted to do them." "A Midsummer Night's Dream" will be in select cinemas June 22.
(Carey Purcell is the Features Editor of Playbill.com. Her work appears in the news, feature and video sections of Playbill.com as well as in the pages of Playbill magazine. Follow her on Twitter @PlaybillCarey.)