A statement from Mary McColl, executive director of Actors' Equity Association, follows.
We commend New York Gilbert and Sullivan Players for listening to the Asian American community and for cancelling their December production of The Mikado. The company has conveyed its regrets that it could not adapt to the concerns many have expressed about The Mikado and that this is a missed opportunity. This is an important and sensitive issue to many, and Actors' Equity would like to play a role in facilitating a conversation between NYGASP and our Asian American members. We welcome the opportunity to create a safe environment in which this dialogue take place and offer our council room for such a meeting.
We believe that the use of yellowface and blackface is offensive and that being 'historically correct' is not a defense for co-opting a culture or perpetuating stereotypes. Equity plans to be in the forefront as these issues are discussed and to move our industry forward.
As reported by Playbill.com, the company made the announcement to cancel The Mikado late Sept. 17, following a company meeting to determine the future of the production. The Pirates of Penzance will run in its place for six performances over the same dates.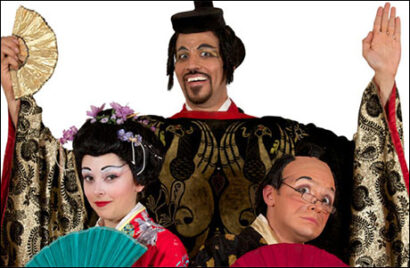 When a flyer advertising the NYGASP production of W. S. Gilbert and Arthur Sullivan's The Mikado, featuring Caucasian actors in makeup resembling Yellowface, was sent out to theatregoers, members of the Asian community took offense.
Click here to read more about how the Asian community responded to the controversial casting and what they think should be done with the piece in the future.