The Tony-winning Andrew Lloyd Webber and Tim Rice musical Evita will play the Westport Country Playhouse beginning February 7 in Westport, Connecticut.
The cast will be headed by Alaina Mills (the national tour of Beautiful: The Carole King Musical) as Eva Peron, Kyle Barisich (The Phantom of the Opera) as Juan Peron, Yurel Echezarreta (Aladdin, Matilda) as Che, and Julian Alvarez (West Side Story) as Magaldi, with dancers Ryan Cyr (international tour of West Side Story), Adam Mandala, and Jordan Eagle.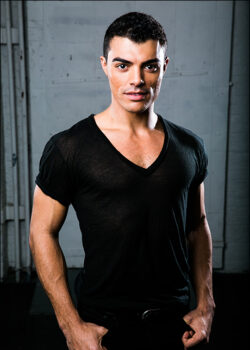 Directed by Connor Deane with choreography by Eric Santagata and music direction by J. Scott Handley, performances will continue through February 10.
The ensemble includes Broadway Method Academy students Madison Lemone, Lizzie Richards, Liza Tananbaum, Claire Borgatti, Meaghan Cassidy, Julia Levine, Cory McCullough, Emerson Raymond, Ella Miller, Logan Lumley, Natalie Biebel, Annika Del Rosario, Colleen McCurley, Austin James Cleri, Kaitlyn Richards, Kevin Keating, Ethan Horbury, Julia Vitale, Lucas Smith, Caitlin May, Ryanne Forrest, Jayden Hudson, Charles Rusciano, Kevin Geraghty, Annika Jonker, Jesse Flam, Nathan Ayotte, Serene Remmes, Brenna Connolly, Emily Seanor, Genevieve Seanor, Griffin Delmhorst, Gillian Delmhorst, Skylar Giblin, Maura Marchetti, Lucas Richerson, Angelina McKenna, and Owen Bernheim.
LOOKING TO CAST OR BE CAST IN A SHOW YOURSELF? TRY PLAYBILL JOBS NOW!
Evita, which premiered as a two-LP recording starring Julie Covington (Eva) and Colm Wilkinson (Che), features a score by Lloyd Webber (music) and Rice (lyrics). Hal Prince staged both the original London and New York productions of the musical, which made stars of Elaine Paige (in London), Mandy Patinkin, and Patti LuPone (on Broadway). The score features such tunes as "Don't Cry for Me Argentina," "Buenos Aires," "A New Argentina," "Another Suitcase in Another Hall," and "Rainbow High."
The creative team also features production stage manager Rebecca McBee, lighting designer Weston G. Wetzel, set designer Ryan Howell, sound designer Jason Allamon, costume designer Heidi Hanson, and projection designer Bryce Cutler. BMA Artistic Director Julie Kavanagh serves as associate director-choreographer.
Evita is produced by Broadway Method Academy.
For tickets, visit WestportPlayhouse.org.