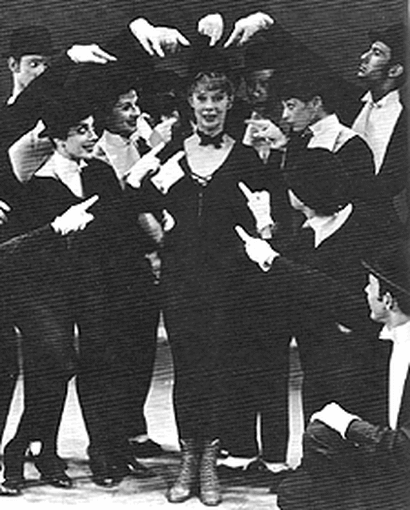 Albert Hague, the Tony Award-winning composer who wrote music for the Gwen Verdon vehicle, Redhead, and later found acting fame as Prof. Shorofsky in the film and TV series, "Fame," died at a California hospital Nov. 12, according to newspaper reports.
Mr. Hague was 81 and was predeceased by his singer-actress wife, Renee Orin, who died of lymphoma in 2000 at the age of 71. The Berlin-born graduate of the College of Music at the University of Cincinnati penned music for the beloved TV special, "How the Grinch Stole Christmas." His holiday tunes (with lyrics by Dr. Seuss) are still sung in Christmas concerts around the world. He studied piano and composition in Europe before coming to the United States.
Mr. Hague's career included writing incidental music for plays and being a cherished vocal coach. He also wrote the score for the 1955 Pennsylvania Dutch-set Broadway musical, Plain and Fancy, from which "Young and Foolish" and "It Wonders Me" emerged as standards. Beginning in 1997, he and his wife, who had previously performed together in clubs, put together an act called Still Young and Foolish, which played Carnegie Hall, the Cinegrill in Los Angeles, Eighty Eight's in Manhattan, and elsewhere. The Hagues were married 49 years.
"The [cabaret] show is really about our lives," Mr. Hague told Playbill On Line in 1998.
In 1959, Mr. Hague's score to Redhead, with lyrics by Dorothy Fields, won the Best Score Tony Award and the Bob Fosse show — a Victorian-era murder mystery set in London around a waxworks — caused a sensation. Largely forgotten today, despite a revival by the Goodspeed Opera House is recent years, the show was a smash at the time and beat out Rodgers and Hammerstein's Flower Drum Song for Best Musical, Best Score and (in a category that no longer exists) Best Authors (Mr. Hague, Fields, Sidney Sheldon and David Shaw). He said one of his most "horrendous" theatre experiences was writing the score to Miss Moffat, the flop musical based on The Corn Is Green, starring Bette Davis. It closed out of town in 1974.
Mr. Hague may best be known to this generation as Prof. Shorofsky, the music teacher from the film and TV series "Fame." Renee Orin Hague occasionally acted opposite her husband on "Fame."
The bespectacled, impish Mr. Hague said he never foresaw his acting career: "Absolutely no," he said. "It was completely out of the blue. It was very meaningful both to Renee and myself. It was, economically, an enormous jackpot to us. And it made us move to the West Coast. We always lived in New York."
The pair met in Cleveland in 1947 when Mr. Hague was scoring an ill-fated rewrite of Turandot (with book and lyrics by Maurice Valency). The show was called The Reluctant Virgin, but producers in Cleveland thought that was too racy, so it was changed to The Reluctant Lady.
In 1998, Ms. Hague told Playbill On-Line about the moment she first met Hague during rehearsals for The Reluctant Virgin: "He was just walking over to the piano. I had just graduated Carnegie Tech, and I knew that if I was coming to New York the most exciting thing that could happen to me would be to meet a composer, somebody who is doing big shows in New York. I happened to be dating my leading man at the time, and here was this tall, skinny, almost cross-eyed European guy who had enough energy for 10 people. I was sunk."
The seeds of their late-career act, Still Young and Foolish, were in their earlier act from 20 years ago, when they once billed themselves as Hague & Hague: His Hits and His Mrs.
Mr. Hague admitted later in his career he once wrote a song for Chevrolet called "I'm in Love With a Lovely Chevro-Lady," and that because he never sold his industrial and commercial pieces outright, he still owned the rights to the advertising arcana.
Mr. Hague said he was "extremely happy" with the 1998 Goodspeed Opera House revival of Redhead, the first major revival since 1959.
"The difference between Plain and Fancy and Redhead is that Plain and Fancy is constantly being done all over the country, much to our pleasure, because it's the kind of a show that has eight principal roles," Mr. Hague told Playbill On-Line. "Redhead needs a major star, and there are very few people of the caliber of a young Gwen Verdon."
Of his Redhead collaborator, Mr. Hague said, "Dorothy is one of the few geniuses I've had the pleasure to work with. One of the little secrets she tried to keep is that she never went to college, and she had an incredible use of language."
Of Hague's ill-fated Miss Moffat, Mr. Hague said, "Miss Moffat was one of the most horrendous experiences I ever had in my life. Bette Davis is a genius, but she just was not of the theatre. If Bette Davis made one syllable wrong, she got so mad at herself. She couldn't say, 'Cut!'"
Mr. Hague said Davis, who would drink heavily after performances, made an "edict" that prevented Hague from working with her at a piano, despite his being one of the most sought-after vocal coaches in New York. "I had to hire an assistant to talk to her about my songs," Mr. Hague said. "She wouldn't talk to me about the songs. She was not a musician, but she sang perfectly all right."
He said Davis once wrote him a note saying she thought his score was among the best she'd ever heard. Asked if the show was revivable, Mr. Hague said in 1998, "I have to make up my mind what I want to do with my life: Go back rewriting the old stuff or write new stuff."
Mr. Hague said he was still looking for material to musicalize, but the goal was to find something economically viable: A small cast show, for example.
"It's very difficult to find material worthy of wanting to be a musical," Mr. Hague said. "I am looking. Somebody just a couple of day ago told me they were going to send a script. I've been reading scripts. Ideally, you're looking for a good show, but one you can tell with 6 or 7 people in it."
Former New Yorkers, the Hagues made their home in southern California. Asked if he would come back to New York City, Mr. Hague said in 1998: "Everybody knows I can be bought." said Hague. "Just give me a hit show and I'll be back in a flash."
Mr. Hague is survived by two children, Janet Hague of Portland, OR, and Andrew Hague of New York City.
— By Kenneth Jones