The new Lin-Manuel Miranda musical arrived on Broadway July 13 after an acclaimed, sold-out run at the Public Theater. It officially opens Aug. 6 at the Richard Rodgers Theatre.
Hamilton explores the life of American Founding Father Alexander Hamilton. Inspired by the book "Alexander Hamilton" by Ron Chernow, the musical fuses the worlds of contemporary and classic to tell the story of Founding Father Hamilton.
Javier Muñoz, the alternate who plays the title role one performance a week, performed for the President July 18.
In addition to Miranda, the company includes Jonathan Groff (Spring Awakening) as King George, Phillipa Soo (Natasha, Pierre and the Great Comet of 1812) as Eliza Hamilton, Christopher Jackson (In the Heights) as George Washington, Leslie Odom Jr. ("Smash") as Aaron Burr, Renée Elise Goldsberry (The Color Purple) as Angelica Schuyler, Daveed Diggs (In the Red and Brown Water) as Marquis De Lafayette/Thomas Jefferson, Anthony Ramos (Sideways Stories from Wayside School) as John Laurens/Phillip Hamilton, Jasmine Cephas Jones as Peggy Schuyler/Maria Reynolds, Javier Muñoz as Hamilton alternate and Okieriete Onaodowan as Hercules Mulligan/James Madison.
The First Lady attended Hamilton during its Off-Broadway run in April. Mrs. Obama, her mother and daughters Sasha and Malia recently paid visits to Kinky Boots and The King and I. Members of the First Family have been frequent theatregoers. The President and First Lady attended the 2009 revival of Joe Turner's Come and Gone and the Tony-winning 2014 revival of A Raisin in the Sun. The First Lady, her mother and daughters have also attended productions of The Trip to Bountiful, Motown, Memphis and The Addams Family.
President Obama offers his review of Hamilton here.
Members of the cast of Hamilton shared their reaction to performing for the President with Playbill.
Renée Elise Goldsberry
Michelle came, and she said she was going to send her husband and her daughters, and I just imagined how exciting and scary it would be. I was kind of praying I wouldn't know they were there. I would just do my show and not be nervous and find out later and be surprised. That's what happened with Michelle. We didn't know she was there. We saw Secret Service, and it could have been a lot of people.
I was a little daunted when I knew. What was amazing — why I'm so grateful — is that it was such an honor telling this particular story to a sitting President. All the words came out a different way. The magic of that opportunity made all the nerves go away. All that really mattered was they went through a lot to come see our show, and I [hope] the show was worth it.
The fact that he brought his daughters is even more significant. One of the things that moves me the most is this beautiful love story between sisters that actually has more value than the romantic love — all women, but especially sisters — and sisters that are kind of like Sasha and Malia in that they were in the public eye, very sought after like Sasha and Malia must feel like. The Schuyler sisters — the way Ron Chernow wrote about them, the way Lin writes about them — on top of all the social pressure, their greatest love is for each other. It's a beautiful story to show young women and old women.
All of that really trumped anything that would have been my performer nerves. I didn't feel that at all. It's surreal. I didn't expect that. You could be my neighbor from down the street, and I'd be a little in my head wondering what you were thinking. The fact that the President of the United States was here with his beautiful daughters and I was not in my head is a miracle.
Jonathan Groff
It was so surreal. That the President came to a preview is just a testament to the reach and power of this show, and I feel so lucky to be a part of this group. Lin, Tommy Kail, was telling us in rehearsal that "there's so much energy around the show and so much buzz around it." More than any show I can think of in recent years. And he's reminding everybody to keep their head down and do their work and to not let it affect what happens in the theatre. Just show up to the theatre and do the show. I think we were all really holding onto that. Having the President there added a level of energy. It was hard, but I feel proud. I feel like everybody really did the show. It's really surreal.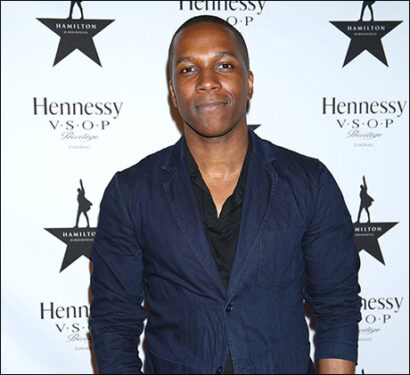 Leslie Odom Junior (Aaron Burr)
It was magical. I had chills during "One Last Time." Watching and being in the room when Chris [Jackson] is singing that song about George Washington leaving office and our President being so close to leaving office and what that must mean. I was so happy to be in the room. I felt so lucky to be there.
Daveed Diggs
It was a total revelation, to watch from onstage George Washington ending his term as President while Obama was in the audience about to end his term as President. It made a bunch of intense circles in my brain. I was choked up. There's not a bigger celebrity who can come. We got that out of the way and can relax and do the show!
Anthony Ramos
This afternoon was like beyond anything I could have ever dreamed of. Getting to perform for the President and having the chance to shake his hand and him giving me some gracious compliments… Man, I was so honored by his words and his presence and him being there. It was just an experience I will never ever forget. I will tell my kids and my grandchildren and anyone who will hear it. It was such a blessing and such an honor to perform for the President. He was so cool. He was the coolest dude.