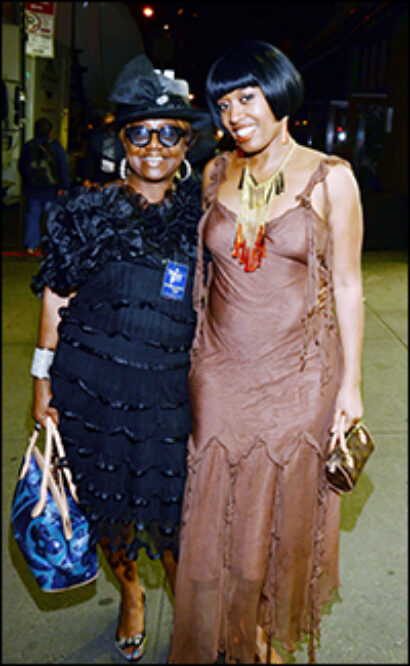 *
Talk to anyone who's anyone on Broadway about Irene Gandy, and they'll tell you she's one hell of a broad.
As the first African-American publicist on The Great White Way, the Westbury, NY native has worked with just about everybody over the past 45 years — twice!
She's the only theatrical press agent with a coveted caricature in Sardis and the only one who has also held a job heading up publicity campaigns at CBS Records (during its 1970s rhythm and blues music heyday working with music acts such as Labelle, The O'Jays, The Three Degrees and Taj Mahal among countless others) and even worked with the legendary Lena Horne.
Working with Jeffrey Richards and Associates for the past 28 years, the fashion-forward media maven is currently represented on Broadway via shows such as Lady Day at Emerson's Bar and Grill and the Tony-winning hit All The Way, respectively. Known to dress in head-turning regalia accentuated by rhinestone-embellished cowboy hats, designer sunglasses, Louis Vuitton bags and exotic furs, she is also the only press agent who does double duty as a Broadway show producer from time to time.
But despite all the accomplishments, accolades and adjectives that can be bestowed upon the trailblazer, the one job Irene Gandy is most proud of is mother.
"Our bond is so totally strong," Irene, 70, said of her one and only daughter Mira Gandy, 46, whom she raised on her own since she was a toddler. "When her father and I separated I said, 'Look, we're married now.'"
"Since I was little, I always felt like we were connected from another life," Mira remembered. "We had a good friendship in a ways where she respected me as an individual and not just as a child, and also as an artist. Whatever I did, she accepted me, and she supported me… She's a woman that I would love to be friends with anyway, whether she was my mom or not."
Mira is a sought-after visual artist and artistic coach who also dedicates her time and talents to inner-city youth enrichment and art programs.
The Gandys' mother-daughter dynamic is quite a unique one; well into her 40s, a free-spirited and always brutally honest Irene fully embraced her lesbian identity. "I thought like the man; I just wanted to get off and go home and leave me alone, because it wasn't consistent for me," Irene revealed. "Men take too much work. They're babies, and they're predictable. It's like, come on, get over yourself, do it, go home and don't ask for no coffee because there's a deli downstairs."
Mira, however, came into her sexual being much earlier — during her mid-teens — after having both a girlfriend and a boyfriend. "Actually, I told my boyfriend that I couldn't be with him," she said. "I guess I was like 17. I couldn't be with [him] because it was not fair. It came to the point where I was always looking at girls when we were out."
Irene lived a very heterosexual existence at first — even claiming to be anti-gay in her earlier life. "I remember the first gay play I saw. It was at the Negro Ensemble Company. It was called Women In Waiting and it was [about] women in prison and I remember seeing a woman kiss a woman and I remember saying, 'Oh my god! I'd rather be in a pit of pythons and snakes than have a woman kiss me.' That's how homophobic I was. It was 1968."
"I think it had a lot to do with religion," an older and wiser Irene further explained the root of the long-gone bigotry. "I think that there are people like David Bowie and Mick Jagger and even Elton John [who] can put on lipstick and get married and people just go on about their business, ya know, and not put any stigma to it. This is just my opinion now. Now things might have changed because I think more and more people are out, but the stigma comes from family. I think with most African-American men and women, I can't speak for everybody, but the family, community and church shuns them. Even though you may assume that it doesn't… it happens mostly in our community. We tend to worry about other people's business more than what we should."
Mira was born in the East Village section of New York and grew up in the West Village. Also traveling along with her mother to work on shows such as La Cage aux Folles in New Orleans and having backstage access to all of New York City's theatre and record industry trappings as a teenager, she got a full view of lifestyles and lives that weren't necessarily considered traditional. "Alternative" is what textbooks and media referred to gay life as back in that era. But she says being exposed to so much of it had nothing to do with her own sexual orientation — contrary to some conservative beliefs and arguments.
"I know that argument, and I think it's completely false because we're all exposed to lots of things. So if I'm living on a farm, I'm a farmer? People are exposed to lots of things, drugs and all that, and they don't necessarily go in that route. I am truly a believer that it is something that you're born with and every person struggles with it. "
"The only thing I would say in terms of lifestyle, is because I was born gay and then I was able to come out and I was in an environment where there were people like me. So yeah, I could say that the only way that environment can come into play is that culturally where you are and what your family life is like, that environment can make it a little easier."
"Just like I know for a fact that people think that gays are perverted. I never had one gay women do anything to me, anything. Not anything," Mira said. "But what do they say about what happens to kids who get abused in a straight environment?"
Currently living in Los Angeles with Rhonda Windham, her life partner of 14 years, Mira is experiencing motherhood in her own special way. The couple are raising their teenage daughter — a distant relative they've shared legal guardianship of for the past three years. And for Mira, the role of mother has been a true learning experience. "She's 13 and she is like Miss Diana Ross," Mira beamed, noting that the adolescent is "a handful." "And now I call my mother and say, 'How in the hell did you do this? I'm going crazy. How did you do it? You raised me by yourself. I love you even more now than before.'"