*
Ask Playbill.com answers your (and sometimes our own) theatre-related questions. To ask a question, email [email protected]. Please specify how you would like your name displayed and please include the city in which you live.
Question: What are the weekly salaries of Broadway actors, ranging from stars, such as Nathan Lane and Kristin Chenoweth, to those who are making their Broadway debuts? — Gladys Sommers, East Brunswick, NJ.
Salaries of above-the-title stars like Lane and Chenoweth vary greatly and are usually kept under wraps by both the performers and their producers. However, star paydays often find their way into the pages of publications like the New York Post and Variety. Lane and his co-star in The Producers, Matthew Broderick, are known to have set a kind of record during their run in the smash musical for pulling down more than $100,000 a week. More recently, the Post reported that the base salary of Hugh Jackman and Daniel Craig in A Steady Rain was $40,000 week, on top of which they received a hefty percentage of the box office, netting them more than $100,000 a week. The same daily said Julia Roberts fetched $150,000 a week while in Three Days of Rain. Will Ferrell and Billy Crystal also did famously well during their only Broadway appearances. Producers are willing to pay these steep prices as stars have become one of the only sure ways of attracting an audience during the ongoing recession.
As for the rank-and-file of the union, Equity spokesperson Maria Somma said, "It is Actors' Equity Association policy to keep confidential our members' information, including their earnings. However, Actors' Equity Association negotiates a minimum weekly salary (currently at $1,605). This is the minimum for any Actor — whether the person is making his or her debut, working in the chorus or is the leading Actor. An Actor (or the actor's agent) can negotiate higher than the weekly minimum, but never accept a salary less than the negotiated minimum." Check out a 2007 Ask Playbill.com column on the topic of chorus salaries, but note that some of the numbers may have changed since that time.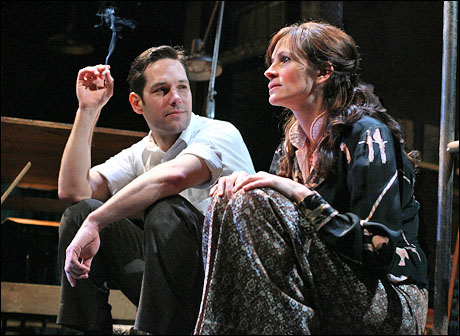 photo by Joan Marcus
Question: What is the difference between a production manager, a production stage manager and a stage manager? — Justin Kiska, Frederick, MD
There are many "managers" on a Broadway show — in addition to the ones mentioned above, there is a company manager and a general manager — and keeping them straight can be quite confusing for the outsider. The stage manager is perhaps the most critical to the daily functioning of the show. You'll find the stage manager in the wings backstage, standing in front of a lit lectern with earphones on, "calling" the show—that is, calling out each cue, of which there can be hundreds in a two-hour performance. The stage manager makes the trains run on time.
There can be assistant stage managers on a show, as well. Therefore, it becomes important to designate which stage manager in in charge. "Actors' Equity Association uses the term 'stage manager' in all of its contracts," explains Equity's Maria Somma, "differentiating only 'assistant stage managers.' The term 'production stage manager' is used industry-wide as a form of billing/credit. In practical use, a 'production stage manager' is the primary stage manager when there is more than one individual hired in this category."
"Stage Managers are an integral part of every theatrical production," Somma continued. "They coordinate all aspects of the production during rehearsals and performances and maintain the artistic integrity and intentions of the director and producer after opening."