The production, which began previews March 19 and opened officially April 8, has played 20 previews and 86 performances. Critics responded coolly to the new adaptation of the musical. Read the reviews here.
The revival garnered only one 2015 Tony Award nomination, for co-star Victoria Clark, who received a nod in the Best Featured Actress category. The production was featured on the June 7 Tony telecast.
Gigi is scheduled to begin a national tour in the 2016-17 season. The new adaptation of the script and score will also be available for licensing from Tams-Witmark Music Library. A cast album was released.
"On behalf of my co-producers and investors, we're so proud of this beautiful production and for the gorgeous cast and talented creative team who brought Gigi to life," said producer Jenna Segal. "We're grateful too for the audiences who came and loved Gigi on Broadway and are so happy that the show will live on through a U.S. national tour and licensing. Colette's heroine has had many lives, and we look forward to Gigi's next chapter."
Vanessa Hudgens ("High School Musical") made her Broadway debut in the coming-of-age story set in Paris at the turn of the 20th century. Hudgens was joined in the cast by Tony Award winner (and 2015 Tony nominee) Victoria Clark (The Light in the Piazza, Sister Act, Cinderella) as Mamita, Corey Cott (Newsies) as Gaston Lachaille, three-time Tony Award nominee Dee Hoty (The Will Rogers Follies, The Best Little Whorehouse Goes Public, Footloose) as Aunt Alicia, two-time Tony Award nominee Howard McGillin (The Mystery of Edwin Drood, Anything Goes) as Honoré Lachaille and Steffanie Leigh (Mary Poppins) as Liane d'Exelmans. With book and lyrics by Lerner and music by Loewe, this production of the Oscar and Tony Award-winning film and stage musical features a new book adaptation by Emmy-nominated screenwriter Heidi Thomas ("Upstairs Downstairs," "Call the Midwife") and was choreographed by Emmy Award winner Joshua Bergasse (On the Town, "Smash") and directed by Eric Schaeffer (Follies, Million Dollar Quartet).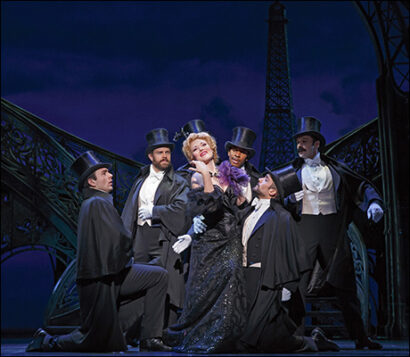 Hudgens, who made her Broadway debut in the title role, previously told Playbill.com, "The fact that there are some amazing women who have played Gigi — Leslie Caron, Audrey Hepburn — those are some pretty epic footsteps to follow in! I thought, 'Why not take that on? That'll be a good challenge!' Also, the Lerner and Loewe music is amazing. I grew up on My Fair Lady, so that energy that they have in their music lives on throughout everything that they do, so it has that same spirit in this. And, the character… I feel like it's rare that you get to find a character that has such an amazing transformation, character arc and someone who is so pure and honest and true to who they are. She's an amazing role model. I wanted to be her, so now I get to be."
Read the full story on why Hudgens has the "It Factor" for Gigi here.
Based on the 1944 novella by Colette, Gigi was first adapted for the Broadway stage by Anita Loos in 1951, with an unknown Audrey Hepburn in the title role; then, following their success with My Fair Lady, Lerner (screenplay and lyrics) and Loewe (music) adapted the material for the 1958 movie musical (directed by Vincente Minnelli), winner of nine Academy Awards, including Best Picture.
Gigi includes such numbers as "Thank Heaven for Little Girls," "I Remember It Well," "The Night They Invented Champagne" and the Oscar-winning title song "Gigi." 
This new adaptation of Gigi features all of the songs from the movie, including two songs, "The Parisians" and "Say a Prayer for Me Tonight," that were dropped from the previous stage version. The production also includes four songs written and added to the stage score by Lerner and Loewe in 1973, "Paris is Paris Again," "I Never Want to Go Home Again," "The Contract" and "In This Wide, Wide World."
Rounding out the cast are Cameron Adams, Kathryn Boswell, Max Clayton, Madeleine Doherty, Ashley Blair Fitzgerald, Hannah Florence, Alison Jantzie, Brian Ogilvie, James Patterson, Justin Prescott, Jeffrey C. Sousa, Manny Stark, Tanairi Sade Vazquez, Richard White, Amos Wolff and Ashley Yeater.
Scenic design is by Tony Award winner Derek McLane with costume design by five-time Tony Award winner Catherine Zuber, lighting design by four-time Tony Award winner Natasha Katz, sound design by Tony Award nominee Kai Harada, hair design by David Brian Brown and make-up design by Jon Carter.
Greg Jarrett is the musical director, James Moore is the musical supervisor, John Miller is the music coordinator, and orchestrations are by August Eriksmoen. Vocal and incidental music arrangement is by Matt Aument with dance music arrangements by Sam Davis. Casting is by Tara Rubin Casting, CSA. Production management is by Juniper Street Productions, the production stage manager is Bonnie Panson, and general management is by Foresight Theatrical.
The pre-Broadway engagement began Jan. 16, prior to an official opening Jan. 29, in D.C.
Gigi was produced on Broadway by Jenna Segal, Segal NYC Productions, Ilya Mikhailovic, Eion and Mia Hu, Darren P. Deverna/Jeremiah J. Harris and Merrie L. Davis. General management is by Foresight Theatrical.
Visit GigiOnBroadway.com.