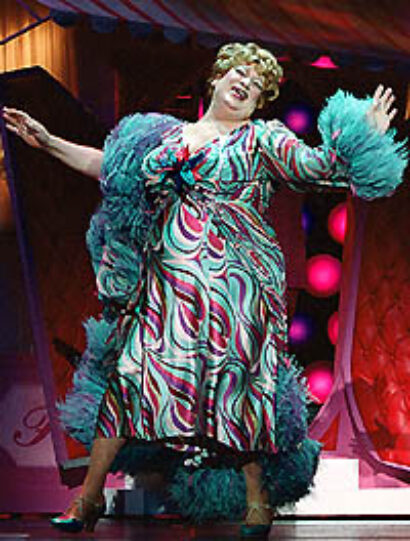 "Would you mind settling an argument for us?" a woman asked an usher following a performance of Hairspray. "Who was the actress that played the chubby girl's mother?" "That was no actress", the usher answered, "That was a man." "See? A man just like I said" her friend gloated. "Oh, you're both insane" she declared pushing her way out to the street.
Most men who play women for a living would be thrilled with such validation – and I am – but if I might edit the Richard Rodgers lyric, "When I fool the people… I fool myself as well."
As unbalanced as that concept might seem, sometimes the magician believes his own illusion: Between performances one day I ran to make a bank deposit. My mind still lost in the matinee, I arrived at the large glass door just a breath behind a well-dressed matron. Clocking my arrival, she, the well-dressed matron, stopped and waited for me to open the door. I, another woman of stature, also stopped and waited. "Well, go on, sister" I said. "Ain't no knights rushing to our rescue."
That said I'd have to admit that in or out of her clothes Edna has claimed large chunks of my life. Considering how hard we've worked to create her, it makes perfect sense that Edna would be an individual not to be ignored. Even freshly scrubbed out of the shower the struggle between Harvey and Edna for dominance stares in the mirror before me. My chest, hands, arms, underarms and legs are all clean-shaven. My hair is grown longer than I'd like to accommodate the wigs. Even my face is strangely unrecognizable as my eyebrows are daily shorn to allow the painting of a more feminine line. Harvey, untouched, remains only nipple line to groin. And here I spy war wounds left by the bandages that bind my chest to create Edna's cleavage, and scratches on my hips from the girdle stays. How did I lose Harvey to gain Edna? Step by logical step.
From the moment they offered the role I knew that Edna was not a drag role. If I could not bring her fully alive I'd be cheating the audience out of one of the most original experiences the musical theater has ever offered. You see, most musicals are plot driven. There's no time for character development when you've got a story, eighteen songs and reprises, plus a dream ballet to get through! The characters that enter the stage after the houselights dim are the same as those taking the bow in the end. Oh, they learn lessons or get comeuppances or even die, but a musical character that develops over the evening is as rare as an Ethel Merman lullaby. Edna is just such a precious exception: A three hundred-pound housefrau who hasn't "left her apartment since Mamie Eisenhower rolled her hose and bobbed her bangs." A loving wife and mother who tossed her dreams aside to support her family washing the neighborhood's laundry. Edna crawls onstage a frightened caterpillar but flutters to her curtain call a glorious powerful butterfly. Accepting this assignment meant I needed to take that journey eight times a week and bring the audience along with me. My trek began at the source: I recalled an interview Divine gave when he created Edna for the "Hairspray" movie. He said that playing Edna was the hardest thing he'd ever done. (Coming from a drag performer who'd famously snacked on poodle poo, I listened.) While paying homage to this wonderful performer, I needed to create an Edna all my own. No real problem there since our show's script was vastly different from the film. And, unlike the original, my Edna would sing and… Wait a minute… Did I just say I had to sing? Off to a voice teacher I flew. My infamous croaking cords would need refinement before taking on Shaiman and Wittman's whimsical period score. Luckily, renowned voice expert to the stars, Joan Lader, has a sense of the absurd and took me on. Sometimes the lesson before mine was Madonna's and sometimes I'd see Patti LuPone arriving as I left. Lesser souls might have let the sight of these divas discourage them. But I was not intimidated. I simply considered myself the maestro's portion of comic relief and persevered.
Next, how might Edna move through the world? New York City streets provided plenty of plus-sized women to follow and emulate. I found how she would walk on sidewalks as opposed to a floor, on heels and scuffies, at home and in public. All in all, I employ sixteen different walks to portray Edna. (If you watch carefully you can even pick out a moment when I ape Bette Midler's famous strut and another walk is my homage to Anna Magnani.) I likewise attended to my hand movements since there was no time to apply nail polish to transform them from the crusty mitts of a laundress to the daintily dancing hands I'd need to perform the finale.
At rehearsal, I mothered the cast. Oscar Wilde quipped, "A woman's tragedy is that she becomes her mother. A man's is that he doesn't." I set out to disprove that destiny. I brought in treats for everyone, I worried their problems with them, I hugged and kissed and loved as any mother would. Thanks to the unflagging support of Dick Latessa playing my husband and Marissa Jaret Winokur as my daughter, it didn't take long before most of the company related to me as a woman. In casual conversation I'd hear them reference to myself as "she". Once when we were performing at a benefit and a rather handsome admirer was chatting me up, Dick Latessa snatched me away saying, "The way she carries on, you'd never know she was a married woman with children."
Oh, Edna was taking shape. In fact, a few weeks into rehearsal, Margo Lion felt that I was so convincing in rehearsal clothing perhaps we should forgo hair, make-up and costume. "No!" I cried. "You ain't seen nothin' yet."
Enter costume designer William Ivey Long and his team. I am a six-foot, two-hundred pound man who needed transfiguring into a credible female. Large as I am, that meant adding luxuriant pulchritude. Nothing says mama like a big set of tits so that's just where Edna began: Fifty-six, triple E breasts of rubbery silicone. From there they added childbearing hips, a pie loving tummy, and a rear end upon which tailgate parties could be staged. The undergarment I wear weighs more than twenty pounds and the breasts seem almost irresistible to those in close proximity.
Clothing tells much of Edna's transformation and William's fabulous designs began with the humblest of housecoats and progressed to a red ball gown that could turn Dolly Levy green. Wonderful stuff. But I had an idea. What is it that almost every woman has, but would be the first thing she'd get rid of if she could? Flabby underarms! Unflattering beyond words, I thought the very sight of shaved armpits and flabby underarms would convince the most skeptical of Edna's verity. We sliced the sleeves off my opening costume exposing what every woman has and not one of us wants.
Paul Huntley, wigmaker to the stars, was our next stop. Once again the challenge was the progression of caterpillar to butterfly. Paul and my hairdresser Jon Jordan envisioned a red flower strewn bouffant rising a full eighteen inches o'er my crown for the finale. Working backwards I would sport a golden beehive reminiscent of Phyllis Lindstrom in the old Mary Tyler Moore series for the center sections. But again that pesky first caterpillar look was the challenge. Edna needed a hairdo so plain and unassuming that onlookers would want to rush the stage, combs in hand, to help the poor dear out. Paul created a wig of mousy blonde and flopped it onto my head with pin curls and a simple flip at the shoulders. I was almost embarrassed to have it seen onstage. Director Jack O'Brien, however, said, "Plainer, please."
Plainer!!??? Jon steamed and greased the beast until it looked like something the cat had licked to death. Back to the stage where Jack agreed we'd gone too far. "We've crossed that fine line between unattractive woman and escapee from the asylum" he mused. We achieved a balance.
Make-up — the final frontier. Once again the problem was Edna's unadorned look. I brag a degree in painting from Pratt Institute, and I've been Maybellining my face since my first drag role in 1971, but I had no idea how to make a man look like a woman wearing almost no make-up. Fate tossed us a gift. My hairdresser had to fly home for family matters, asking a friend to fill in. Tattooed Aussie, Justen Brosnan, arrived in my dressing room to find me struggling. "When I was young putting on eyeliner was simple", I griped. "Not only could I see, but I didn't have to paint straight lines over crumpled brown paper bags." Turned out Justen was really a make-up artist doing hair a favor. He knew just how to bring Edna to life.
So, how does it all play out? Six days a week, (twice on Wednesdays and Saturdays), I arrive at the theater two hours before the performance. I shave my beard and eyebrows, apply a thick layer of foundation makeup to my face and chest over which Justen paints Edna's innocent visage. Around that time the cast begins to appear at my dressing room. Some come in to talk, others to eat their take-out dinners. Others come to nap on my couch or listen to music or see what snacks "the old lady" has lying around her room. Half an hour before curtain, Keith, my dresser, brings me stockings and petty pants, then trusses my chest tightly in an Ace bandage to create cleavage before zipping me into the bodysuit. Hairdressing Jon joins us to pin curl and wig cap my head before placing the first of the five progressive wigs. Then it's into my slip and housecoat. Anklets and scuffies are next. The final touch is a Lady Timex watch and a modest wedding ring. Turning to look in the mirror I shake my head in daily disbelief. Harvey is gone. Long live Edna Turnblad.
How different are we from each other? Edna loves to be photographed, but out of drag I have developed camera shyness. Edna flirts with anything that moves, but I find myself blushing if a stranger says Hi. Once, when being complimented on my performance I caught myself saying, "I'll tell Edna how much you enjoyed the show." Even our sense of balance is different. Due to the redistributed weight of the costume, I cannot perform my dance moves unless wearing the body-suit.
The performance was well under way one evening when I tiptoed silently behind the scenery to cross from one side of the stage to the other. Suddenly, from the shadows, a set of muscular arms encircled and pulled me in. The brawny stagehand cupped my mammoth breasts in his palms, his whiskers brushed my cheek and his breath blew steam against my neck. "If these were real, do you know what I'd do?"
I laughed and pulled away, blushing with pride. "Oh, yeah" I thought in Mae Westian delight. "Edna's on tonight."