*
At 28 years old, Wesley Taylor has already established himself in the worlds of Broadway and television. After graduating from the North Carolina School of the Arts, he booked the 1980s-inspired musical Rock of Ages, which transferred to Broadway and took off (the production will close this weekend after 2,328 regular performances, ending its run as the 27th longest-running show in Broadway history). Following his time as Rock of Ages' Franz, the comedic German city developer who brings down the house with his rendition of "Hit Me With Your Best Shot" (winning a Theatre World Award and grabbing an Outer Critics Circle nod), he went on to originate the role of Lucas Beineke in The Addams Family. In 2012, he played Bobby in the NBC musical drama "Smash."
Aside from Broadway and TV, Taylor also creates his own work on the web. He met Mitchell Jarvis in the original company of Rock of Ages, where the two began to create backstage "mock-umentaries." Those led to "Billy Green," the second web series featuring members of the Rock of Ages team and the Broadway community, and eventually "It Could Be Worse" (which was picked up on Pivot TV and now streams on Hulu and Hulu Plus).
Playbill.com, via email, speaks with Taylor about his "breakthrough" moment, juggling the worlds of stage and television, auditioning (and the nerves that come along with it), making a good first impression and creating his own work in order to become the "quadruple threat" that the theatre industry is now in search of.
You've been booking some great Broadway and television roles all throughout your 20s. What was the breakthrough for you? For most actors in his/her 20s, it's difficult to cross over from booking non-Eq or regional Equity gigs to truly mainstream, high-end projects. How and where was the breakthrough?
Wesley Taylor: I'd say my "breakthrough" was Rock of Ages. I graduated college in the spring of 2008, did a couple regional gigs right away and then simultaneously booked a national tour and the Off-Broadway production of ROA. I actually was going to take the tour because I wanted to save money and be employed for a year. To me, ROA seemed too lowbrow for a NY audience, and I was sure it would be panned and close in a week. My agents encouraged me to do ROA because, "Even if it closes in a week, you'll have been seen by more industry folk than in your entire year on tour." It was sound advice. It was a massive hit, and it's still running six years later. The gift of Franz opened a lot of doors for me. I was on Broadway within six months after school, and it took me a handful of years to realize how rare that actually is. How do you approach auditions? Are you ever nervous/anxious? How do you move past that and/or deliver your best possible audition?
WT: I still get nervous every time, and I've been going on auditions since I was a child. Depending on how much weight/importance I've put on a project, the nerves vary.
I'm lucky in the sense that a lot of times when I'm nervous, my default is a false confidence. I've found this when I interact with cops, too. Fear turns to this strange cockiness, I don't know.
But I would say, from a technical standpoint, if you ground your feet on the floor when you're in the waiting room and take long, deep breaths…and then try to center your focus on the material and less about who's behind the table and how this job could change your life… I know, easier said than done.
Also, when you go in the room, what do you think is most important? Trying to impress with vocal embellishments, range and versatility? Simply storytelling?
WT: I guess it depends on the project, but generally, out of those choices I would say storytelling. Singers are a dime a dozen (especially in New York).
What do you think gives off the best first impression? How do you make that great first impression?
WT: Walking in the room with purpose and a friendly smile. Making eye contact with the creatives when the casting director makes the introductions. Show them you respect your craft by taking the time you need before you begin. Don't make prefaces/excuses, and never apologize for anything.
What was a challenge that you faced in the beginning of your career, and what advice would you say to you ten years ago?
WT: Well, ten years ago I was [in my] 1st year in drama school, so I would tell myself to stop being so result-oriented and enjoy the process more. When you're in training, you naturally can't help dreaming of the world beyond college. Then you're out of college, and all you do is dream of the days you were in school playing the best parts with the best material and having consistent structure and stability (now I'm crying, thanks).
Talk to us about preparing? How do you shape and create your book? Do you seek out auditions/projects?
WT: My agency submits me for projects, and I get appointments through them. Many times I will hear about a show that I'm aroused by, and I will call them and push for me to be seen for it. Recently there was a job that I wanted badly, but auditions were being held when I was out of town, and they weren't taking self-tapes. I reached out to the artistic director of the theatre and urged her to force the creative team to watch my self-tape. She did, and I got the part.
Obviously, your representation is important, but you must be aware of what's going on and proactive about what projects you want to be working on. You also make your own work, such as the web series. What made you want to create work for yourself? What kind of payoff have you seen from the industry, and should more actors take control of their careers in this way?
WT: My self-made work has always come from feeling creatively stifled. After 400 performances with The Addams Family, I needed an outlet or else I was going to go insane. That's when Mitch (Jarvis) and I created "Billy Green," our YouTube series. After the first season of "Smash," I found myself once again feeling creatively unfulfilled, especially because I had less responsibility in the second season of "Smash," and that's when we wrote our Vimeo series, "It Could Be Worse." Luckily, we already had a built-in fan base from our previous web content through the years.
The payoff? We sold "It Could Be Worse" to participant media, it enjoyed a cable premiere on Pivot TV, and now both seasons stream on Hulu and Hulu Plus. The exposure from Hulu for Mitch and I as creators is undeniable. They sent us numbers from our opening weekend, and it was four times the amount of views we would typically get from posting on our website. The growth of our brand was more important to us than financial success.
Secondly, how do you maintain and juggle both your own projects and projects on Broadway/television, etc.?
WT: I made the mistake in the New York Times interview to answer this type of question in a whiny, negative, victim kind of way. Yes, it's exhausting and incredibly time consuming. I basically took a year off from theatre to shoot the second season, edit the entire season, take those pitch meetings… It was the hardest I've ever worked in my life. But it was absolutely worth it, and I don't regret any of it.
What differences do you find in stage and screen — and how do you approach them in an audition? Sides, performance, etc.?
WT: I think the truth is the truth, and it's not this massive change in technique. I would say for the screen, the camera is so close to your face that all you need to do is think the thoughts, and the lens will pick it up. On stage, you're performing for thousands of people, so you need to use your whole body to fill the space and your whole voice to tell the story.
You're constantly in a reading and/or a concert or event. How do you get involved? How do you make yourself involved?
WT: I'm not someone who does well with free time.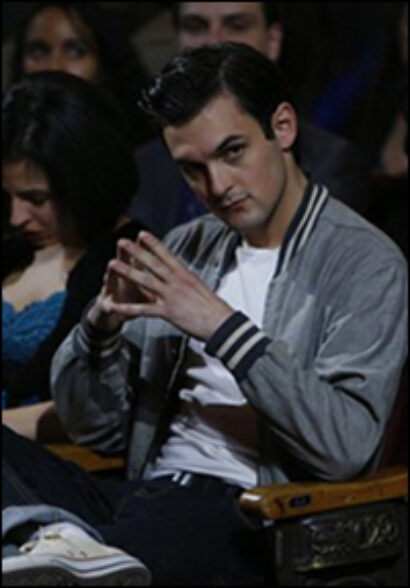 You also teach master classes. What are the top pieces of advice you give to your students about breaking into the biz?
WT: Go to college. Train. Keep studying privately. Go see every movie, every play and quality show on cable. Find out what is current and in demand, and see if you can market yourself within that world.
Your body is your instrument. Stay healthy and in shape. Find your individual brand and try to showcase the best version of you.
Do you believe in "type," or are we living in a theatre generation where "type" is less of a thing? How do you feel out what's right for you?
WT: A few years ago I was nervous I was being pigeonholed as a gay character "type." After the first season of "Smash," I was getting a lot of auditions for television, and every single character was a flaming homosexual.
As time goes by, the less I care about this stigma. I just want good parts. If you're lucky enough to get to that level of your career where you can become a chameleon, well… That's the dream, isn't it? I'm not there yet.
As an actor, what do you do when you're in a rut? What are some ways to dig yourself out of the hole?
WT: Well, what kind of a rut are we talking? Like, bored in a long run of a show? Or like unemployed, broke and no prospects on the horizon? I'll take the latter, since the first is a high-class problem. This is a very unstable career you're choosing with a mental, emotional and financial ebb and flow. What I learned the hard way is when you're lucky enough to land a high-paying job, save. that. money. because nothing lasts forever in this business. Let's talk social media and being your own entrepreneur? What are the advantages and disadvantages for you?
WT: If you're an entrepreneur, social media is a business tool. The advantage? We wouldn't have raised $70K for the second season of the web series if it wasn't for social media. The disadvantage of mixing business with social is obvious: you feel like a whore.
How do you break out of musical theatre niche and be seen as an actor who can do anything — straight plays, television, etc.?
WT: Well, one of the reasons I didn't go to musical theatre school was for this very reason (not to discredit any of my talented colleagues who did; not that they need my endorsement, they are probably kicking their face on Broadway as you read this), for me the dream wasn't Broadway alone. I wanted to be on film and television as well, and I felt a drama program (where I could study voice privately on the side) was more conducive to acting in all mediums.
However, once you're a principal in a couple Broadway musicals, people put you in a category pretty fast. I remember having a hard time even being seen for plays. One of the reasons I love doing those TACT and Project Shaw readings is because I never get the chance to do [George Bernard] Shaw and [Henrik] Ibsen (or any classical text, for that matter) anymore, and it's good for me to keep flexing those muscles.
(Playbill.com staff writer Michael Gioia's work appears in the news, feature and video sections of Playbill.com as well as in the pages of Playbill magazine. Follow him on Twitter at @PlaybillMichael.)