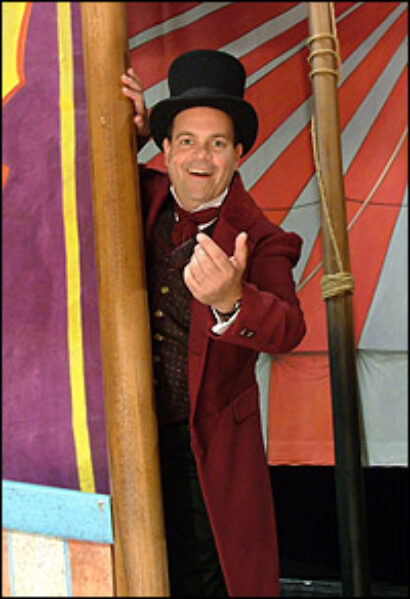 The Ringling Museum of Art, which includes extensive circus collections, is in Sarasota. John Ringling famously partnered with P.T. Barnum to form a traveling circus that still bears their names.
Director Gordon Greenberg's cast, performing through Dec. 20 (after an official opening Nov. 15), also includes Misty Cotton as Charity Barnum, Kevin Kraft as Ringmaster, Debra Walton as Joice Heth, Nathaniel Braga as Tom Thumb, Renee Brna as Jenny Lind, Matt Baker, Deana Dys, Jessica Green, Freddie Kimmel, Alfie Parker, Jr., Amy Shure, Emily K. Bottorff, Alice Eacho, Dean-Carlo Grant and William Cortez-Statham.
Barnum, which launches Asolo's 50th anniversary season, is a co-production between Asolo Repertory Theatre in Sarasota, and Maltz Jupiter Theatre in Jupiter, FL. It plays Jupiter in January 2009.
*
Barnum, a 1980 Broadway hit, has music by Cy Coleman, lyrics by Michael Stewart and a book by Mark Bramble. The creative team features choreographer Joshua Rhodes, music director Helen Gregory, scenic designer Michael Schweikardt, costume designer Alejo Vietti and lighting designer Traci Klainer.
Oscar originated the role of Franz Liebkind in the Broadway production of The Producers, earning a 2001 Tony Award nomination as Best Featured Actor in a Musical. He later went on to play the role of Max Bialystock over 1,200 times on Broadway, on tour, in London and in the Las Vegas production. Other Broadway and New York credits include Spamalot, the original casts of Jekyll & Hyde and Aspects of Love, Gerard Alessandrini's Forbidden Broadway, the Encores! Do Re Mi, as well as Santa in The Radio City Christmas Spectacular in Los Angeles and Branson. At Washington, DC's Arena Stage he recently starred in The Mystery of Irma Vep, Cabaret and Damn Yankees.
A major 19th-century American pop-culture figure, Barnum was a visionary who built famous, populist museums, imported Swedish nightingale Jenny Lind to the rough U.S., promoted outcasts and oddities like Gen. Tom Thumb, and eventually partnered in a circus venture that bears his name today. He is credited with the phrase, "There is a sucker born every minute," and was dubbed "the prince of humbug." Naturally, "Prince of Humbug" and "There Is a Sucker…" are two titles in the muscular, brassy Cy Coleman score, which is packed with circus chases, patter songs, love duets and one delicate tune in Swedish, for Lind.
This Barnum "also gives us the chance to explore Sarasota's rich circus history, forge new partnerships within the local and national arts communities, and create tremendous excitement about our future as we enter our 50th anniversary season," Asolo producing artistic director Michael Donald Edwards said in a statement.
Gordon Greenberg and Josh Rhodes crafted the new revival of Working at Asolo in spring 2008.
Greenberg stated, "I have always been a great fan of Brad Oscar — both as a person and a performer. He was the first person that came to mind in casting the role of P.T. Barnum. We are so fortunate to be able to explore the show anew with such a profoundly talented actor. In many ways, Brad embodies the spirit of Barnum, a born showman with a rich imagination and a keen sense of the public's taste. Barnum was the father of modern advertising and a quintessential symbol of American values. From his humble beginnings in his father's dry goods store in Connecticut to his museums, shows and circus, Barnum was a visionary, bringing us the idea of theatre as family entertainment. This production aims to use the fertile mind and acute ambition of Barnum as fuel for his many successes as well as his personal challenges. It's an incredibly compelling — and all too relatable story, told in the most theatrical and entertaining way — just as Barnum himself would have wanted it!"
Jim Dale won a Tony Award for his charismatic performance in the title role on Broadway. Michael Crawford played it in London (the performance was taped for broadcast). Glenn Close played Barnum's wife, Charity, opposite Dale, and both are preserved on the original cast album.
Barnum is set from 1835 through 1880, "all over America and the major capitals of the world."
Greenberg's recent directorial credits include Jacques Brel… (Zipper Theatre, Drama Desk, Drama League and Outer Critics Award nominations), Pirates! Or Gilbert and Sullivan Plunder'd (conceived with Nell Benjamin, Goodspeed & Paper Mill), Happy Days by Garry Marshall & Paul Williams (Goodspeed, Paper Mill, Boyett Theatricals, national tour), Edges (Capital Rep, Off-Broadway in December 2008 at Urban Stages), The Baker's Wife (Paper Mill, Goodspeed), Cam Jansen (Lambs Theatre).
According to Asolo, "This Broadway hit sparkles with a cast of singers, actors, jugglers, clowns and tumblers. In this grand production, the worlds of musical theatre and circus fuse into a vibrant and entertaining musical celebrating the colorful, creative and driven life of the World's Greatest Showman, Phineas 'P.T.' Barnum. Come follow the band and meet the extraordinary acts that led Barnum from humble beginnings to 'The Greatest Show on Earth.'"
The musical did spawn a song that got some radio play. Perry Como recorded "The Colors of My Life."
Barnum will play 8 PM Tuesday through Sunday and at 2 PM Wednesday, Saturday and Sunday.
This is an Asolo Rep production in the Mertz Theatre, 5555 North Tamiami Trail in Sarasota, FL. Tickets ($11-$58) are available by calling the box office at (941) 351-8000 or toll free at (800) 361-8388 or at www.asolo.org.