Theatregoers can now be a part of the show by paying a visit to one of the many immersive theatre productions in New York that invites audiences into the experience. These site-specific productions, which are performed on interactive sets that embody the plays' locations rather than onstage with audiences watching, invite theatregoers to get in on the act. Attendees can witness a love story unfold in 19th-century Russia, take part in a rave in an abandoned hotel in downtown Chelsea or fall down the rabbit hole into a Wonderland located inside a mental institution.
Click through to read Playbill.com's round-up of immersive theatre in New York.



Photo by Joseph Marzullo/WENN
Natasha, Pierre & the Great Comet of 1812
Inspired by "War and Peace," this rock opera is set in the Kazino Supper Club, completely immersing audience members in the opulent atmosphere of 19th-century Moscow. Seated inside an opulent red-walled dining area and performance space, theatregoers are treated to shots of vodka and Russian-inspired snacks before the show begins, as well as a full meal at the intermission. Tolstoy's story of passion and heartbreak in Moscow's society is staged throughout the entire performing space as the actors run amongst, talk to and flirt with the audience members. Through Sept. 1. kazinonyc.com
Sleep No More
Punchdrunk's immersive experience is a journey to another world — just what the world is depends on each guest's own imagination. Part haunted house, part film noir and part Macbeth, Sleep No More thoroughly transplants visitors into The McKittrick Hotel, a five-story building they can wander from top to bottom while experiencing the sights and sounds, as well as the residents.
After donning a ghostly white mask, which guests are encouraged to wear for the entire time, visitors can follow actors from room to room (of which there are more than 100) or set their own pace, watching song and dance performances as well as drinking in the richly detailed and thoroughly creepy scenery. Indoor graveyards, blood-soaked bathtubs and mirrors with reflections that make one look twice are just a few of the treats the McKittrick has to offer. sleepnomorenyc.com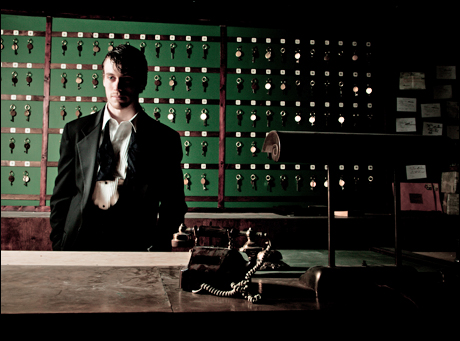 photo by Thom Kaine
Then She Fell
"We're all mad here," the Mad Hatter says to Alice in Lewis Carroll's novel. The same can be said at Then She Fell, the "Alice in Wonderland"-inspired immersive production by Third Rail Projects. Staged in the mental ward of the Kingsland Hospital and littered with characters from "Alice in Wonderland" and "Alice Through the Looking Glass," Then She Fell excites each of the senses by offering guests vials of beverages and bites of food to snack on as they journey through the hospital ward and into Carroll's mind.
The scenes and spaces explore the relationship between Carroll, author of "Alice in Wonderland," and the real-life Alice Liddell, who inspired the fictional character. Visitors may find themselves brushing Alice's hair and discussing first loves with her, sorting through aged medical records in a dimly-lit doctor's office or attending a mad tea party with some familiar characters. thenshefell.com
Speakeasy Dollhouse
Murder and mayhem rule at Cynthia von Buhler's speakeasy-style show. Inspired by the real-life murder of von Buhler's grandfather, Prohibition Era speakeasy owner Frank Spano, Speakeasy Dollhouse invites participants back in time for a night of secrets, lies, love and death. Staged in the downtown building that once served as mobster Meyer Lansky's hangout, the show invites particpants into the bustling bakery, where they can sip on "special" coffee and chat with the dapper gentlemen playing cards before climbing the stairs to a glamorous, secret lounge, where they can enjoy cocktails served in teacups as they chat with the characters of the show while live music is performed by Howard Fishman and his band. Theatregoers are invited to help solve the murder of who killed Frank Spano — if they can stay alive until the end of the night. speakeasydollhouse.com
Murmurs and Incantations
Mixed Green's mixed-media, immersive theatre piece follows a gay, New York performance artist with creative block who travels to Poland hoping to revive his art career. There he is visited by the disapproving ghost of his grandfather, a rabbi killed in the Holocaust. Staged in a Chelsea gallery, Murmurs and Incantations explores how personal history affects the role of an artist and gives audience members the opportunity to move from scene to scene in the real spaces of the art world, while live music is performed and live video is streamed. Aug. 21-22 at 8 PM. mixedgreens.com
Skin
This performance and installation piece explores body image and self-acceptance, inspired by stories of real women and their bodies. The experience combines poetry, live music and movement to celebrate the resilience of the human spirit. Aug. 13-15. skin133.com
Live In Theater
Audiences take to the streets in Live In Theater's productions of the unsolved real-life murders The Ryan Case of 1873 and The Lombardi Case 1975. Participants become rookie detectives and interrogate crooked cops and shady suspects, attempting to solve the case within two hours while fending off colorful characters like hustlers, pimps and junkies. liveintheater.com



Photo by Joan Marcus
Here Lies Love
This participatory disco-musical by David Byrne-Fatboy Slim, about the political rise and fall of Filipino leaders Imelda and Ferdinand Marcos, invited audience members into a nightclub where they partied with the characters. The original production at the Public Theater extended four times before closing, and producers are hopeful it will live on in a future commercial life.
4 Chambers
This immersive blend of dance, theatre, film and visual installation featured corridors that functioned as arteries and veins, leading to four performance chambers that audiences were guided through by cast members. The interactive multimedia performance was performed on Governors Island in July 2013 and will transfer to an eight-week run at Arts@Renaissance in January 2014.