Ten years after original film adaptation of the Tony-nominated musical Mamma Mia! hit movie theatres, Mamma Mia! Here We Go Again, was released July 20, 2018. In honor of the anniversaries, we're looking at which astrological sign would enjoy each musical number. Click on the song title to listen to it on Spotify.
Aries
(March 21–April 19)
"Voulez-Vous" (Mamma Mia!)
Bold and unapologetic, nothing will keep an Aries from the objects of their desire—which is why "Voulez-Vous" is their perfect Mamma Mia! anthem. The frenetic beat and lyrics about living in the moment ("Take it now or leave it, now it's all we get!") embody the fire sign's attitude towards seizing the day and loving every moment of it.
Taurus
(April 20–May 20)
"Money, Money, Money" (Mamma Mia!)
Tauruses are practical, hardworking, and responsible in all things–especially when it comes to their work and finances. But deep, deep down they have an extravagant side that yearns for the finest things in life—from food, to vacations, to fashion. Tauruses will relate to Donna's lament in the song "Money, Money, Money," "I work all night, I work all day to pay the bills I have to pay." Though they may not be on the hunt for "a wealthy man" to make their dream a reality, Tauruses will doubtlessly relate to Donna's elaborate fantasy of a life of carefree luxury and endless leisure time.

Gemini
(May 21–June 20)
"Honey, Honey" (Mamma Mia!)
Geminis have the gift of the gab, so they're able to express themselves with ease. Their curiosity and quick wit make them social butterflies, often the center of any gathering. As Sophie dives into the pages of her mom's old journal, "Honey, Honey" provides the perfect musical setting with its flirty and mischievous vibe. Its light and airy orchestrations complement its playful and affectionate lyrics, to which every Gemini can relate.

Cancer
(June 21–July 22)
"Super Trouper" (Mamma Mia! Here We Go Again version)
Cancers are well-known for nurturing family and building community. They're compassionate and have a strong intuition, and their sensitivity can lead to them hiding within their defensive "crab shell." While "Super Trouper" is featured in both movies, it acts as the grand finale of the sequel, with the entire principal cast joining together in song and dance. The bright arrangements and the optimistic and heartfelt lyrics will have Cancers reaching for the tissues— embrace the emotions!

Leo
(July 23–August 22)
"When I Kissed the Teacher" (Mamma Mia! Here We Go Again)
If you're a Leo, you're no stranger to the spotlight. Confident and charismatic, excitement follows Leos wherever they go. Young Donna and the Dynamos liven up their graduation with a flash mob-esque version of "When I Kissed the Teacher," complete with crowd-surfing. The cheerful revelry that breaks out among the students could only be sparked by a Leo, thanks to their creative and theatrical flair. The sparkling and effervescent vibe of this song will have every Leo pulling out their feather boas and best dance moves.

Virgo
(August 23–September 22)
"Andante, Andante" (Mamma Mia! Here We Go Again)
In all things, Virgos know exactly what they want. They are exacting and prudent, but also deeply sentimental—which is why they will love "Andante, Andante." A love song whose title translates to "slowly, slowly," Virgos will appreciate the beauty and simplicity of the tune, and see themselves in the song's quiet vulnerability and "slow-and-steady" approach to romance.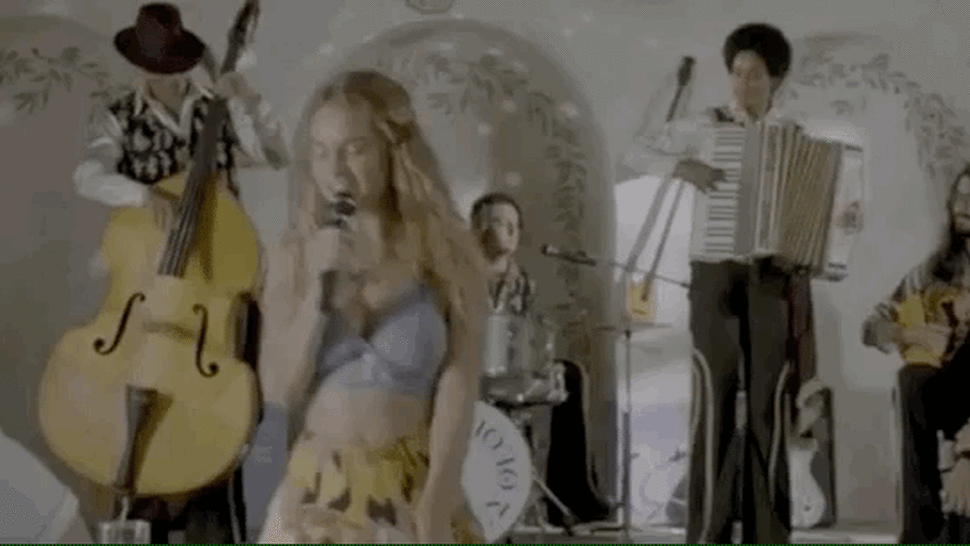 Libra
(September 23–October 22)
"Mamma Mia" (Mamma Mia!)
Represented by a set of scales, Libras are famous (and notorious) for thinking through all sides of any situation. Ruled by the planet Venus (which guides love and romance), Libra will instantly connect to the lyrics (and Meryl's choreo) in "Mamma Mia." The title song describes Donna wavering between remembering the heartbreak of her past and her years of longing. As Eternal optimists with eclectic taste, Libras will adore the tentpole number's eclectic mix of electric guitar, piano, and campy xylophone motif, and relate to a song about a lengthy internal debate.
Scorpio
(October 23–November 21)
"Gimme! Gimme! Gimme! (A Man After Midnight)" (Mamma Mia!)
On the surface, Scorpios remain cool, calm, and collected, but once you get to know a Scorpio, they're known for being passionate, as they feel their emotions deeply and intensely. The lyrics of "Gimme! Gimme! Gimme! (A Man After Midnight)" coupled with its dark and sexy vibes is true Scorpio energy. The electric guitar and synthesizer makes this the perfect song for Scorpios to tap into their sensual side while also maintaining an air of mystery.
Sagittarius
(November 22–December 21)
"Dancing Queen" (Mamma Mia! version)
Sagittarians are happiest when they are chasing freedom and laughter. They're vivacious individuals with a great sense of adventure, so they'd rather be out exploring—enjoying all that life has to offer, rather than get stuck in mundane routines. "Dancing Queen" is all about celebrating youthful energy, thrilling amusement, and the spontaneity that comes with a Friday night out—all things that delight Sagittarians. This upbeat, bubbly song will make you dance, jive, and have the time of your life.
Capricorn
(December 22–January 19)
"Does Your Mother Know" (Mamma Mia!)
Because of their ambition and independence, Capricorns know how to command a room and love to be in charge of situations. They are disciplined and practical in every aspect of life. When it comes to "Does Your Mother Know," Tanya expertly flirts and teases Pepper (who has been pursuing her), proving that she will always have the upper hand, never flinching nor spilling her martini. This spirited and upbeat song will encourage Capricorns to let their hair down a little bit so they can indulge in some spontaneity, while still maintaining their grounded and responsible demeanor.



Aquarius
(January 20–February 18)
"Waterloo" (Mamma Mia! Here We Again)
Aquarians are known for their love of the unconventional and unusual, but also for believing in fate and destiny. (Otherwise, why read an astrology column every week?) "Waterloo" in Mamma Mia! Here We Go Again, perfectly embodies the Aquarian spirit with lyrics that compare falling for a love interest to Napoleon's fateful surrender at Waterloo. The elaborately choreographed number, set in the Parisian cafe where Donna first meets Harry, is over-the-top and full of delightful, whimsical moments that are sure to delight any Aquarius.
Pisces
(February 19–March 20)
"Lay All Your Love On Me" (Mamma Mia!)
Dedicated and romantic, no one falls head-over-heels faster or harder than a Pisces. Sky and Sophie duetting "Lay All Your Love On Me" on a picture-perfect Greek beach, surrounded by an ensemble of bodybuilders, is true Pisces Culture. The upbeat number is steamy and intense, and yet also manages not to take itself too seriously—just like a Pisces.