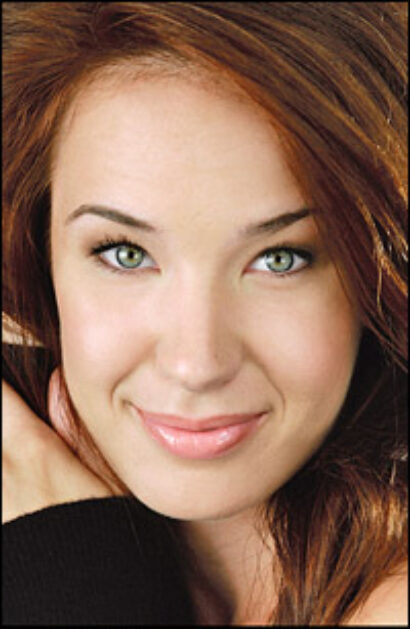 Set in the West Country of England, Rebecca is set to arrive on Broadway after a 2006 Vienna debut, where it played sold-out houses for over three years. It will open on Broadway April 22, 2012. The Broadway production is based on the original Vienna staging.
Tony Award winner Michael Blakemore (Kiss, Me Kate; City of Angels) and Francesca Zambello (The Little Mermaid) will co-direct the Broadway staging that casts Boggess (Love Never Dies, The Little Mermaid, Master Class) as the novel's naïve protagonist, "I."
Additional casting will be announced shortly.
Rebecca has original book and lyrics by Michael Kunze, music by Sylvester Levay, English book adaptation by two-time Tony Award winner Christopher Hampton (Sunset Boulevard) and English lyrics by Hampton and Kunze.
Tony Award nominee Graciela Daniele (Ragtime) will provide musical staging for Rebecca, which will have scenic design by Peter J. Davidson, costumes by Jane Greenwood, lighting by Mark McCullough, special effects by Gregory Meeh and projections by Sven Ortel. Musical direction and supervision is by Kevin Stites. Ben Sprecher, Louise Forlenza, The Shubert Organization, Peter Bezemes, Tony Fusco, Larry Feinman, Nanda Anand and Peter Bogyo produce the Broadway production that is presented in special arrangement with Vereinigte Buhnen Wien GmbH.
According to producers, "Rebecca the story of Maxim de Winter, his new wife ('I') and Mrs. Danvers, the controlling and manipulative housekeeper of Maxim's West Country estate of Manderley – where the memory of his first wife, the glamorous and mysterious Rebecca, still casts a shadow."
Rebecca has also had successful stagings in Budapest, Hungary; Helsinki, Finland; Stuttgart, Germany; St. Gallen, Switzerland and at the Imperial Theatre in Tokyo.
"Rebecca," which was also a 1940 Academy Award-winning film by Alfred Hitchcock, is a suspense novel by British writer du Maurier that begins with the famous line, "Last night I dreamt I went to Manderley again."
Boggess was recently seen as Christine Daaé in the 25th Anniversary Concert of Phantom at London's Royal Albert Hall, which was broadcast globally in cinemas. She originated the role of Christine in Phantom: The Las Vegas Spectacular and returned to the character once again, for the world premiere of Andrew Lloyd Webber's Phantom sequel, Love Never Dies in London. She last appeared on Broadway as Sharon in Master Class with Tyne Daly and originated the role of Ariel in the Disney musical The Little Mermaid, also under Zambello's direction.
Blakemore is the only director ever to win Tony Awards for both a play, Copenhagen, and a musical, Kiss Me, Kate, in the same year. Zambello, a busy opera director, staged the tour of Little House on the Prairie and Broadway's The Little Mermaid.
Hampton's plays, musicals and translations have earned three Tony Awards, two Olivier Awards, four Evening Standard awards and the New York Theatre Critics Circle Award, while prizes for his film and television work include an Academy Award, two BAFTAs, a Writer's Guild of America Award, the Prix Italia, a Special Jury Award at the Cannes film festival, Hollywood Screenwriter of the Year 2007 and The Collateral Award at the Venice Film Festival for Best Literary Adaptation. He has written (with Don Black) the book and lyrics for two musicals — Dracula (2004) with music by Frank Wildhorn and Sunset Boulevard (1992) with music by Andrew Lloyd Webber; and the libretto for two operas Appomattox (2007, San Francisco Opera House) and Waiting For The Barbarians (2005 Erfurt, Germany), both with music by Philip Glass.