*
Sir Ben Kingsley and the untitled (but much beloved) Roger Rees began their acting careers at the Royal Shakespeare Company as "spears in the dark" on the same day back in 1967 and were promptly, ignominiously, put to work as "silent and unlit huntsmen" in Taming of the Shrew. They were so good at it they continued in those roles for the rest of The Bard's canon — a period of time Rees fondly referred to as "my four years as a mime artist." Eventually, both made it to Hamlet — and beyond.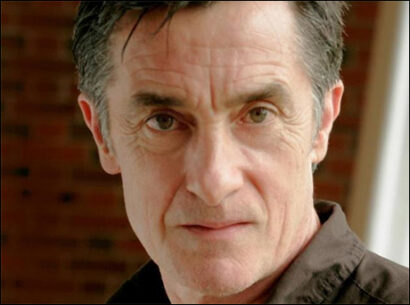 Sir Ben got to the Oscar podium and Rees got to America, arriving 34 years ago in the title role of Broadway's first $100-a-ticket show, The Life and Adventures of Nicholas Nickleby. That got him to the Tony podium and a place to spend his career.
On Sept. 21, the life and adventures of Roger Rees were warmly and movingly celebrated in a memorial service for the Welsh-born actor held at the New Amsterdam, which was packed to the rafters with friends he'd made in the interim. As long-goodbyes go, they don't come any classier. It truly befitted the subject.
Read Playbill.com's obituary of Rees here.
Martin Moran and a choral group Rees was long associated with, Master Voices, began the program, aptly, with a song Rees sang in a 2002 Lynn Ahrens-Stephen Flaherty-Terrence McNally musical, A Man of No Importance, "Love Who You Love."
Disney Theatrical's Thomas Schumacher, who made the hall available and who had been a friend of Rees for 18 years, recalled how the first glimmer of Peter and the Starcatcher as a theatre piece occurred over his breakfast table. Rees and his husband, Rick Elice, immediately loved the idea of making a play of Dave Barry and Ridley Pearson's book and ran with it — Elice as adapter and Rees as co-director.
The torrent of praise for Rees came in waves of notes, letters and telegrams from high, mighty and not-so-mighty around the world. These were fielded and read by Heidi Blickenstaff, Christian Borle, Kate Burton, Mark Linn-Baker and Dana Ivey.
Ivey closed this section with "breaking news" — that Rees' name would be added to the gold-leaf greats on the Gershwin's Theatre Hall of Fame Nov. 16.
Celebrated the life of this gem of a human today. What a gift he was to all in who knew him. #rogerrees #rip pic.twitter.com/sko7Dyi333

— Jessica Lea Patty (@Jesspatty) September 21, 2015
Among the 30-plus who sent messages were lyricist Ahrens, director
Joe Mantello
, RSC artistic director
Gregory Doran
,
Indiscretions
co-star
Kathleen Turner
("a divinely sexy man"), LA's
Center Theatre Group
's
Michael Ritchie
,
Piaf
Tony winner
Jane Lapotaire
,
Jeremy Irons
("I loved him powerfully indeed"),
Hapgood/The Real Thing
co-star Felicity Kendal, playwright
Tom Stoppard
("I don't think Roger had a bad-looking day in his life!"),
Zoe Wanamaker
,
Nicholas Nickleby
publicist Josh Ellis,
David Threlfall
(
Nicholas Nickleby
's Smike),
Edward Petherbridge
(
Nicholas Nickleby
's Newman Noggs),
Ian McKellen
, lyricist
Sheldon Harnick
,
Charles Busch
, ten-time Tony winner
Tommy Tune
, Lincoln Center Theatre chief
Andre Bishop
, director
Trevor Nunn
and
Kenneth Branagh
.
The last word went to Rees: Ivey read his emotionally euphoric 2010 account of performing Waiting for Godot before school children in a gymnasium in South Africa.
The most touching of the write-ins came from Encino, CA. "You don't know me," began Lois Robbins. It seems Rees had been the man in the dark who responded to her cry for help when she suffered a heart attack in a Cineplex. He sped her to the hospital, admitted her to the E.R. and stayed with her until her husband arrived.
She had no idea who he was until she happened to see him one night on "Cheers." Through a contact at Paramount, she managed to get a note to him, thanking him for saving her life. "I wished that I could have done the same for him," she wrote.
Farewell Roger Rees. pic.twitter.com/D42QdTymnf

— Alessandro Nivola (@SandroNivola) September 21, 2015
Bebe Neuwirth
, a frequent Rees collaborator/co-star, took to the stage next and performed a powerhouse rendition of "The Bilbao Song" by
Kurt Weill
and
Bertolt Brecht
, from a show Rees had conceived and directed for her at the now-defunct Zipper Theatre,
Here Lies Jenny
. "This is for Roger, as directed by Roger," she said.
Marshall Brickman, who wrote the book of Jersey Boys with Elice, said his most enduring memory of Rees was not professionally related but was that of a weekend gardener who, on a visit to the Brickmans' summer home in Montauk, converted their garage into a garden that lasted for the remainder of their years' there. "It was typical of Roger that he would leave something of himself behind," he noted.
Brickman also footnoted his remarks with the best laugh of the afternoon: "In his 50-year career, Roger never missed a performance. He was, in fact, the anti-Liza."
Nancy Coyne of Serino/Coyne, where Elice once worked, recalled his early days of courting Rees. He hopped a plane to London every weekend so they could be together. British Airways considered Elice such a valued customer that they sent him Christmas presents every year — and pretty expensive presents at that.
After a film montage of Rees moments (Nicholas Nickleby, "Cheers," The Winslow Boy), playwright McNally stepped up with remembrances. He had written Rees' first and last musical. The actors' illness had become so advanced during The Visit he became disoriented and had trouble finding his way back to his dressing room. Signs were put up: "This way, Roger." He eventually had to quit the show shortly after it opened.
Celebrating #RogerRees - waiting to perform along w/ #MasterVoices, @Chita_Rivera #BebeNewirth &others! #greatness pic.twitter.com/INwzMmC7XZ

— DeAndre Simmons (@DeandresVoice) September 21, 2015
His role was that of a villager who was to be put to death by the townspeople. McNally relayed the special pain of hearing Rees say, "I'm ready," night after night. "It was only a line from a script, but I think Roger was ready. We were the ones who weren't ready."
Chita Rivera, his co-star in The Visit, followed McNally and admitted she felt cheated knowing Rees for such a short period of time. She sang a beautifully lilting song that John Kander and the late Fred Ebb wrote for that show, "Love and Love Alone." "I hope he's listening with Freddie," she said.
Finty Williams, Judi Dench's daughter who had proposed marriage to Rees when she was four, conveyed her mother's sympathies, and John Caird, who co-directed Nickleby with Nunn, recalled he was so out of it on opening night that he had forgotten it was his birthday. Rees remembered and had a cake delivered.
Elice, incredibly composed, graciously returned the serve and had the audience sing "Happy Birthday" to Rees' father-in-law (his dad, Harold Elice), who was in the theatre on his 88th birthday.
The reason Rees was never knighted, reasoned Elice not unreasonably, was that he loved Americans more — "one American in particular." Another mitigating factor could have been the TV movie about Prince Charles' first marriage, "Unhappily Ever After," in which Rees played England's next monarch bound for the divorce courts.
Last standing ovation for Roger Rees. pic.twitter.com/v7yF8TVNsM

— Tim Federle (@TimFederle) September 21, 2015
In July of 2012, the actor returned to London's West End for the last time in his solo Shakespearean show,
What You Will: An Evening By and About the Bard
. The prince attended a performance and met the actor cheerfully afterward. "Do you realize," he told Elice afterward, "I just shook the hand of Prince Charles, who shook the hand of Winston Churchill, who probably shook the hand of Queen Victoria, who probably shook..."
His riff continued spiraling backward until he was content that he had shaken the hand that shook the hand that shook the hand, et cetera, of William Shakespeare.