Nat "King" Cole and Sammy Davis Jr. Untouchable performers. The two legends were unmatched in their talent and sheer star quality. But what did that cost them, especially Cole as the elder, and especially as African-American men? In Lights Out: Nat "King" Cole, the new musical by Patricia McGregor and Colman Domingo examines Nat "King" Cole as he "faces the final Christmas time broadcast of his groundbreaking variety show and weights the advice of his friend Sammy Davis Jr." Dulé Hill inhabits Cole as Watts takes on Davis. Here, the pair spoke about filling gigantic shoes, how their friendship has taught them about Davis and Cole, and the impact their show will have on the world.
Click here, for tickets to Lights Out: Nat "King" Cole.
Dulé, it's exciting to have you back on in the theatre!
Dulé Hill: I'm thrilled to be back on the stage. The stage is my first home. You always have an affinity for it. A love. I love the challenge of it, I love the exhilaration of it, and I love the power of theatre.
It seems a rarity for someone who consistently works onscreen as the way you do, to develop an original musical like this. You were in it since 2017 when they were doing it at People's Light & Theatre in Philadelphia.
DH: I first got together with Colman Domingo and Patricia McGregor. We did a workshop of it at the Old Globe. And did another workshop that same year at New York Stage and Film. And then we made "Some People's Light" in the fall. I was really attracted to, intrigued by what they put down on paper. A play starts with the writer. Start with what they're able to put out there, and they really did a brilliant job of deconstructing an American icon to get at the soul of who we are today. I'm a big believer of tilling the soil. Things don't grow unless you take care of the land. And sometimes you have to extend yourself and make that effort to be able to create something unique, and special, and impactful.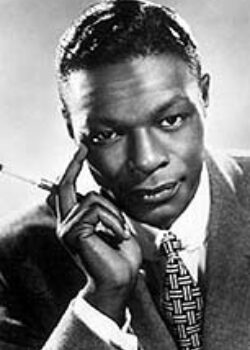 Lights Out sounds more like a play, but of course has the music of Cole. Dulé you called it an "unconventional jukebox musical."
Daniel J Watts: We've been calling it a play with music. A lot of these songs are performance-based.
DH: I wouldn't have even called it jukebox musical at all. It's songs that people know and love, but they have pulled the layers back and gone deeper into the psyche of Mr. Cole. The piece is active. They really take a slice of his life, to really dig in and explore what could be going through his mind at that time.
Dulé, I read that you thought you were signing on for a play about Nat King Cole, and that if you had heard it was a musical, you would have said no.
DH: Oh, I definitely would have said no. Because it was Nat King Cole. There are certain things you just don't go out your way to do. He is the epitome of what it means to sing. I've not tried to mimic Mr. Cole. I've tried to embrace his essence.
What is at his essence? What aspect of him do you hope to illuminate?
DH: I would say his awareness. Just because someone is not overtly speaking on things, or reacting to things, doesn't mean that they're not aware. We know him for "The Christmas Song," we know him for "Nature Boy," we know him for "Unforgettable." When you can get a chance to dive into his voice and get a chance to look at his thoughts, you realize that he was very aware of what was going on around him, and he was very strategic in the way he was approaching his walk on this planet. Yes, he was graceful. Yes, he was elegant, but he was very aware. Putting it in terms of a current context, he was woke.
What about you, Daniel, when it comes to illuminating a piece of Sammy?

DJW: A lot of people don't really understand what Sammy went through as a "first." If Nat is breaking down doors in a way of constantly being graceful there's similar stuff for Sammy. He went to the army and witnessed his first real bouts of racism. He was in the first integrated barracks in the infantry. They hated him. But then he realized when he sang, it charmed 'em a bit. Things calmed down just enough, and that became his MO. He was like, "I'm gonna become a star whether you like it or not."
You were in After Midnight together. How does that shared history help build the relationship between Mr. Cole and Mr. Davis? does it help to have some familiarity to build that relationship between Mr Cole and Mr Davis?
DH: I've been a fan of Daniel Watts since After Midnight. He's an amazing talent. What he's doing in this show is only scraping the surface off all that Daniel Watts is. [When I first considered this] I texted him: "We going to go on this journey?" Because I honestly would not have. The partner that you have to go [with], the people who are in the room with you make a big difference. I couldn't have asked for a better partner.
DJW: Dulé is someone I've admired for a long time. Our tap choreographer, Jared Grimes, he and I did a show together called Stormy Weather. We would hang out afterwards and just watch old footage of different tap dancers, and Dulé was one of them. This gave us another opportunity to connect in a way that we hadn't and learn how similar he and I are to Nat and Sammy. The same way that I would say Nat King Cole is the epitome of grace, that's exactly what Dulé is. I have a little bit of a reputation of being a little bit of a fireball in the same way that Sammy is.
What did you learn about the friendship between Mr. Cole and Mr. Davis in working on this show?
DJW: I was doing some more research and I found Sammy Sings the Nat King Cole Songbook. It has liner notes in it where Sammy just talks about Nat was always Nat. To hear him speak that way about his buddy, who he lost too soon… He was like a precursor for Sammy. They're equals on one level, and then on this other level is that Sammy's been looking up to Nat.
DH: When you have two artists who are on a journey at a similar time, trying to achieve similar things in different ways, there is a backhand that you both can have. Other people just cannot relate to, because they're not on the journey. Jared, Daniel, and myself are actors who sing, and who dance, or dancers who act and sing. Being African-American artists still looking to create space for ourselves to be able to say things—to do work that is impactful—we have a kindred spirit. I can apply that to Mr. Cole and Sammy Davis because they were in a space that not too many of their peers were in at that time.
What is the biggest joy and the biggest challenge of playing Sammy Davis Jr.?
DJW: Oh my god! The biggest joy is that he's been my idol since I was six. My introduction to Sammy Davis Jr. is when he played the Caterpillar in Alice in Wonderland. Sammy Davis Jr. is untouchable, which is the most terrifying thing about playing Sammy Davis Jr. He is the GOAT. He did it better than anybody's ever done it. He could sing, he could dance, he could act, he could play 300 instruments, he could gun-sling, he could do impersonations. I've been trying to remove the pressure of trying to live up to the expectation of this perfect performer.
What's the impact this piece has had on you, so far?
DH: Being an African-American who's been blessed to have a career in television and stage, I'm very much aware that the fact that I could be on The West Wing, to be on Psych, to be on Suits, is directly related to Mr. Cole taking the steps that he took 50, 60 years ago.
DJW: Dulé and I are in the same business of Nat and Sammy. To see the things that they've gone through, it's fantastic to know how far we've come, but also it's equally disheartening to realize, "Wow. I'm still currently going through things that Sammy went through in the '50s." A producer said something very similar to me what was just said to Nat King Cole about sucking it up. It's cathartic in ways, and it's also incredibly frustrating in ways. Hopefully, that shines through.