The 13th season of Project Shaw continues June 18 with a reading of George Bernard Shaw's Buoyant Billions at Symphony Space's Leonard Nimoy Thalia Theatre (2537 Broadway at 95th Street).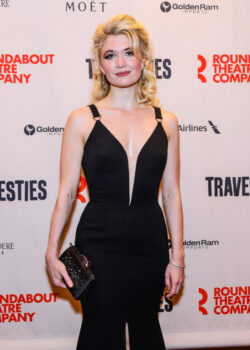 Artistic Director David Staller directs a cast that features Tony nominee Bryce Pinkham (A Gentleman's Guide to Love and Murder), Scarlett Strallen (Travesties), Jim Brochu (Zero Hour), Bradford Cover (A Thousand Clowns), Susan Haskins-Doloff (PBS' Theater Talk), Brandon Jones (Pretty Little Liars), Karl Kenzler (Fiddler on the Roof), Hank Kim, Caroline Kinsolving, Michael McCormick (Hello, Dolly!), Drew McVety (Bandstand), Margaret Loesser Robinson (New Girl in Town), Eason Rytter (How To Be Single), and Lilly Tobin.
Written in 1948 towards the end of his life, Shaw introduces some of his most eccentric characters. In the play, set after WWII, a rich young man decides to venture forth into the world and become a professional "world betterer." Along the way he meets a rich, young, saxophone-playing heiress who treats him so dreadfully that he becomes fascinated by her… and her entire peculiar family.
LOOKING TO CAST OR BE CAST IN A SHOW YOURSELF? TRY PLAYBILL JOBS NOW
"Shaw's last full-length play is a romp of the first order. This wacky comedy is a potent reminder that every moment counts and, since life is so short, gaining some perspective to define ourselves as who we want to be is the most important step to connecting to others and the world around us. Also, money helps," says Staller.
Tickets are $35 and are available by calling (212) 864-5400 or online at SymphonySpace.org. Special reserved VIP seating is available for $50 by contacting the Gingold office (212) 355-7823 or [email protected].

(Updated June 18, 2018)