Celebrity stylist George Brescia – who co-hosted Dress Up! Live: The 2014 Tony Awards Red Carpet, presented by Playbill.com and Stage17 – shared his favorite fashion pics from the New York Spring Spectacular party.
The New York Spring Spectacular opened with a star-studded bang. Black was certainly the color of the night and worn in some wonderful ways. There was so much great fashion, it was very hard to compile this Best Dressed List. Those are my favorite kinds of red carpets!
Click through to see who made the best-dressed list!
Liv Tyler
Liv Tyler's tuxedo jacket was the right amount of formal last night, and her patterned shoes stood out in a great way.
Eleni Tsavousis
Eleni Tsavousis somehow made grey into the coolest color. Her high-waisted pants gave a hint of masculinity to balance out the soft sensuality of her top. Hats off to her!
Dan Stevens looked the perfect gentleman in his classic black suit and crisp white shirt.
Meki Saldana
Meki Saldana struck a pose in her black, backless jumpsuit with lace front. A perfect fit for the beautiful model.
Gayle King
Spring has sprung! Gayle King's floral print really popped on the carpet.
Shanina Shaik
Fashion was on fire last night in the form of model Shanina Shaik. The soft red and black, tunic-style dress was perfectly matched with the hard edge of her lace-up heels.
"Blue Bloods" actress Sami Gayle was red hot in her full-length cream dress. The plunging neckline and leg slit showed just enough skin, and her red nails were sexy but classy.
This may be the third time in a row that Patricia Clarkson has been on this Best Dressed list. Her gold clutch and earrings didn't distract from the white trench, which was eye catching in a sea of black last night.
Alejandra Cata
Alejandra Cata dressed simply and sophisticated in all black. The lace finish, cropped pants and gold trim of her clutch were small details which made it a winner.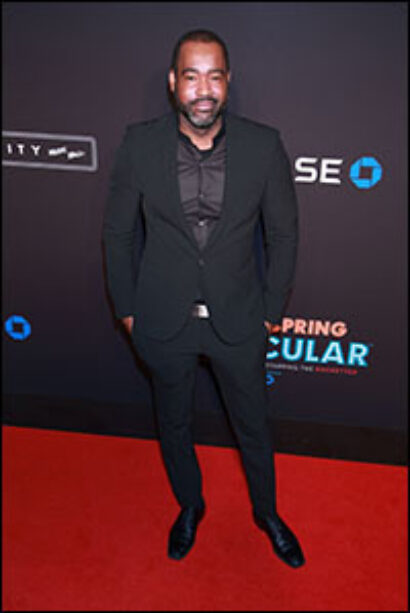 Emilio Sosa
Designer Emilio Sosa knows what it takes to make a good outfit, and it showed in his sleek, all black ensemble.
Nastia Liukin
Nastia Liukin gets my gold medal for her fun, fit and flair dress. The floral design with the sheer sleeves really made this a special look.
Derek Hough was styling with the stars last night at his show's opening. His plaid jacket had just enough color without being over the top, and I love the dark shirt underneath to really let it pop.
Laura Benanti looked amazing in her fringe dress. The white trend is really happening right now, and she worked it beautifully.