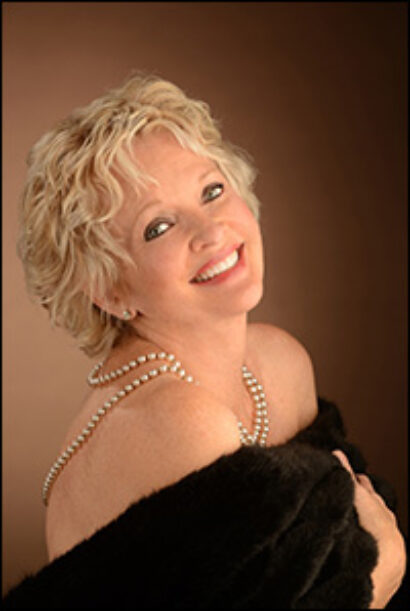 *
Christine Ebersole strides onto the podium at 54 Below in gleaming white, topped by brilliant blonde hair and offset by a glimmering dragonfly pin. She launches into a jazzy rendition of "Big Noise from Winnetka" — the singer is herself a mid-Baby Boomer, from the Chicago suburb with an Indian name which she claims means "affluent Gentiles" — and then slides into Shelton Brooks' immortal "Darktown Strutters' Ball." (That's the 1917 standard that goes "I'll be down to get you in a taxi, honey..."). Ebersole is a jazz singer par excellence, and these two numbers — backed by music director Bette Sussman and her band — suggest a night similar to the star's prior New York cabaret acts.
Big Noise from Winnetka — which serves as the title of the evening — brings us a different Ebersole, though. This is a more personal show, with the singer presenting herself as a stubborn, outspoken child of nine running away in the snow — wearing white saddle shoes — determined to jump in the nearby lake and swim to Michigan to find a family that appreciates her. We get a good deal of biography as well as a full dose of humor. Ebersole, who can be very funny on stage, turns out to be a natural comic.
She also presents her political side, priding herself in being labeled "controversial" by the government. Ebersole goes so far as to launch into an extended attack on the current mayor of New York, unconvincingly so, as she doesn't quite explain her objections. There is also a good deal of talk about her three adopted, multi-racial sons. At the opening night performance, she introduced the eldest — 20-year-old Elijah Moloney — with the spiritual "Elijah Rocks," and then brought him onstage to join her in "Fingers to the Bone." (Ebersole repeatedly refers to him as "my little burrito," which might sound disconcerting to some but clearly not to Ebersole or Elijah).
The song selection — following the opening — concentrates on pop and contemporary. At one point, she veers into a sharply slashing rhythmic explosion that the listener only eventually realizes is Scott Frankel and Michael Korie's "Revolutionary Costume," the original performance of which — in Grey Gardens — made Ebersole a shoo-in for the 2007 Best Actress Tony Award. ("We didn't sing it like that on Broadway," she comments.) Elsewhere, Ebersole mentions that she is now an ordained "Reverend Doctor" minister, courtesy of an online course, and offers to marry anyone in the audience who is so-disposed — so long as they don't wish to hold the celebration at de Blasio's Gracie Mansion. Musical director/pianist Sussman does a good job throughout, frequently joining the female band singer to provide Ebersole with especially effective backup. The four-piece band offers impressive playing, with Larry Saltzman (on guitar) and Clark Gayton (on trombone) standing out. Ebersole — who finishes her eight-night stint at 54 Below Sept. 20 — ends on a high note with the Boswell Sisters' hit "That's How Rhythm Was Born" and another of her Grey Gardens solos, "Will You."