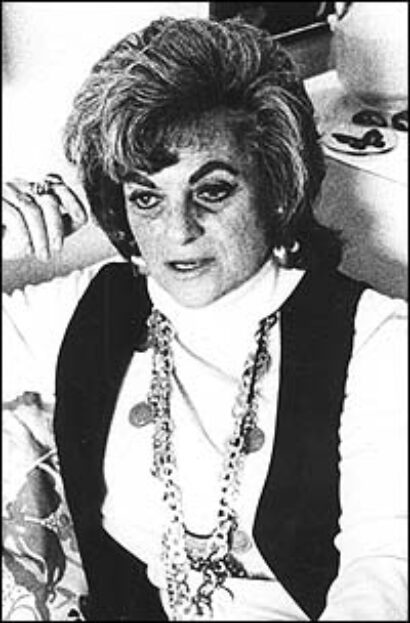 Klotz won the Lifetime Achievement Award, while Messel was given the Posthumous Award. Also winning were David Zinn, the choice for Young Master Award, Vincent Zullo, recipient of the Artisan Award, and Robert O'Hearn, who took the Robert L. B. Tobin Award for Lifetime Achievement in Theatrical Design. The Tobin Award was introduced in 2004. The honor is named for philanthropist Robert L.B. Tobin. The annual winner "will be an artist whose mastery of his or her craft as exemplified through his or her body of work, in one or more disciplines of theatrical design (costume, settings, lighting, sound), has become an inspiration to all designers."
Klotz began her career as a costume designer assisting Sharaff on The King and I. The two also collaborated on A Tree Grows in Brooklyn, Of Thee I Sing, Do Re Mi, Flower Drum Song and Juno. She began her solo career with It's A Bird, It's A Plane, It's Superman. A long association with director Harold Prince led to six Tony Awards for designing costumes for the Prince-directed shows: Follies, A Little Night Music, Pacific Overtures, Grind, Kiss of the Spider Woman and Show Boat. Klotz's other Broadway shows include City of Angels (Tony nomination), On the Twentieth Century, Rags, Jerry's Girls and The Little Foxes (starring Elizabeth Taylor).
O'Hearn is mainly known for his opera design, though he also designs for theatre and ballet. He designing sets and costumes for the Broadway production of The Relapse and scenery and lights for The Apple Cart and Child of Fortune. His designs for the 1951 production of Verdi's Falstaff for Sarah Caldwell in Boston began his career designing operas. He went on to design 12 productions for the Metropolitan Opera and has designed for major opera and ballet companies in New York, Chicago, San Francisco, Miami, Santa Fe, Vienna and Hamburg.
Zinn designed the costumes for the Off-Broadway production of Jonathan Larson's tick, tick...BOOM!, The Dead Eye Boy and Trudy Blue. He is an original company member of Target Margin Theatre in New York City, has designed many of their productions and won an Obie Award for his designs for Mamba's Daughters.
Zullo was a tailor used by many costume designers whose work has been seen in many Broadway shows. In the early '70s he went to work in the tailoring shop of Brooks-Van Horne Costumes and by the late '70s he had become their head tailor. In 1980, Zullo left to form his own company, Vincent Costumes, Inc. He closed his shop in 1996. Designers who used his services include Jane Greenwood, Ann Roth, Colleen Atwood, Tony Walton, Julie Weiss, Martin Pakledinaz, Santo Loquasto, Patricia Zipprodt and Theoni V. Aldredge. Messel was a celebrated theatrical designer in Britain throughout the 1930s, '40s and '50s. According to TDF, "he became the world's most sought-after and highly paid scenery and costume designer, rivaling only Cecil Beaton. He was born in London in 1904. After completing his schooling, he began his career as a portrait painter. Commissions for theatre work soon followed, beginning with his mask designs for a London production of Diaghilev's ballet Zephyr et Flore. Subsequently he created masks, costumes and sets for various works staged by C.B. Cochran's Reviews through the late '20s and early '30s. He first worked in New York in 1932, but it was his scenic design for The Country Wife in 1936 that established Messel in the U.S. During the '30s, he designed numerous productions in London's West End, worked at several opera companies in Europe and began his career in British film, later working in Hollywood as well... His Broadway credits include: scenic design for The Play's the Thing; costumes and sets for Romeo and Juliet; costumes and sets for Rashomon; costume design for Gigi, for which he received a Tony nomination for Best Costume Design; and scenic and costume design for House of Flowers, for which he received the 1955 Tony Award for Best Scenic Design. Oliver Messel died on July 13, 1978."
The TDF/Irene Sharaff Awards are presented through Theatre Development Fund's Costume Collection, which rents professional theatrical costumes at low cost to not-for-profit organizations across the country.