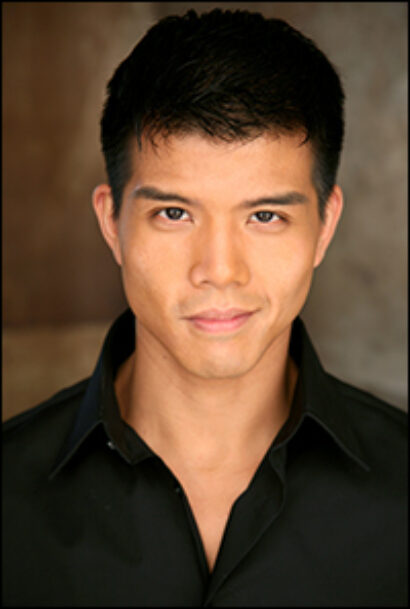 Leung has appeared on Broadway in Flower Drum Song, Rent, Pacific Overtures and Godspell. He also starred in the Old Globe's production of the Broadway-bound musical Allegiance.
Screen work includes "Glee," "Deadbeat" and "Law & Order."
Full given name:
My Chinese name is Leung Hau Tai.
Where you were born/where you were raised:
Born and raised in New York City. Bay Ridge, Brooklyn - where my parents still live today!
Zodiac Sign:
Capricorn
What your parents did/do for a living:
Mom is a seamstress and works in the fashion industry. Dad used to work in the restaurant business - but he's retired now.
Siblings:
I'm an only child. I think it's why I pursued a career in theater. I always wanted siblings when I was a kid. Joining a cast is instant brothers and sisters.
Current audition song/monologue:
"Being Alive" has always been a lucky "go to" song for me. Got me my first two Broadway shows.
Special skills:
I speak Cantonese and I play the piano.
Something you're REALLY bad at:
Where to begin? SO MANY THINGS! First one that pops into mind: any kind of skating or skateboarding.
First Broadway show you ever saw:
It was Cats. And it was magical. Got to see the incredible Laurie Beechman sing "Memory."
If you could go back in time and catch any show, what would it be?
GOSH! So many!! First one that pops to mind: I wish I could have seen Company.
Current or recent show other than your own you have been recommending to friends:
Go see Beautiful!
Favorite showtune(s) of all time:
Such a hard question. Changes all the time. Today, it's "Before the Parade Passes By" from Hello, Dolly!
Some favorite modern musicals:
Rent (of course), Into the Woods, Company, Pippin
Some favorite classic musicals:
Gypsy (in my opinion the perfect musical), West Side Story, Anything Goes
Broadway or screen stars of the past you would have most loved to perform with:
Judy Garland, Ethel Merman, Lucille Ball, Frank Sinatra, Gene Kelly, Madeline Kahn
Your personal performance idols, living or dead:
Whitney Houston, Michael Jackson, Billy Porter, Betty Buckley, Meryl Streep, Lea Salonga, Luciano Pavarotti, Luther Vandross, Chita Rivera
The one performance – attended - that you will never forget:
Patti LuPone's concert at the Walter Kerr in the 90's - when Act 2 was one "11 o'clock number" number after another! "Meadowlark," "Don't Cry For Me Argentina," "I Dreamed a Dream," "As Long As He Needs Me"... one after another!
Music that makes you cry, any genre:
Anything by Miles Davis. Always gets me. He play with so much pain.
MAC or PC?
MAC!
Most played song on your iPod:
I never work out without music and the song that gets me going is "Step By Step" (Whitney Houston - my favorite singer)
Most-visited websites:
Playbill.com - of course!
Favorite Tweeters:
Recently, I've been obsessed with Laura Benanti's hysterical tweets. Also love reading tweets by my friend Sara Chase!
Last book you read:
"Bossypants" by Tina Fey
Must-see TV show(s):
"RuPaul's Drag Race," "Scandal," "Orange Is the New Black," "House of Cards," "Modern Family" - and of course, "Glee."
Last good movie you saw:
"Wolf of Wall Street" was fantastic.
Some films you consider classics:
"Moonstruck" (my favorite movie of all time!), "Amelie," "Sunset Boulevard," "Sound of Music," "Mary Poppins" Pop culture guilty pleasure:"RuPaul's Drag Race" (team Bianca del Rio!) and "Hell's Kitchen"
Three favorite cities:
New York (my hometown), London (where I dream to work on the West End one day!) and Tokyo
Favorite sport/team/player:
What's "sports?"
First CD/Tape/LP you owned:
Mariah Carey's debut album
Favorite or most memorable onstage role as a child/teenager:
My first time on a stage was playing Lewis in Pippin my freshman year of high school. My entrance involved jumping onstage shirtless and kissing my biceps. It was "memorable" alright!
Moment you knew you wanted to perform for a living:
When I saw the original cast of Rent on Broadway, from my $20 rush seat in the front row. Imagine what a "full circle" moment it was for me to join the company in 2006.
How you got your Equity card:
The Muny in St. Louis. The artistic director at the time, Paul Blake, continues to be a show biz mentor of mine. He gave so many people their Equity card.
Favorite pre-/post- show meal:
There's something so "Broadway" about going to Joe Allen's for a drink and a bite after the show. Also love the Glass House Tavern (which was a favorite Godspell hang out!).
Favorite liquid refreshment:
Coconut water
Pre-show rituals or warm-ups:
I swear by my vocal warmups. Liz Caplan (my voice teacher) is a life saver.
Most challenging role you have ever played:
Sam in Allegiance at the Old Globe
Worst flubbed line/missed cue/onstage mishap:
The first time I ever went on for Angel in Rent, my headband fell off my head and my eyelashes had too much glue - so I basically did a blind jump on the table during "Today 4 U"
Worst costume ever:
At The Muny, I was in the ensemble of The Wizard of Oz and played a green poppy. In a unitard. In 100 degree heat. Yuck.
Worst job you ever had:
I did telemarketing once. Never wanna do that again.
Craziest audition story:
Xanadu. See above under what I'm NOT good at! Enough said.
Leading man role you've been dying to play:
The Phantom
Leading lady role you'd like a shot at:
Who DOESN'T wanna shot at Mama Rose?
If you could trade roles/tracks with anyone in the show for a week, who would it be?
I wanna play Rizzo! Something about you that surprises people:I still get stage fright and nervous before a performance.
Something you are incredibly proud of:
Being in the final company of Rent
Something you're embarrassed to admit:
I'm addicted to coffee. I drink A LOT of coffee.
Career you would want if not a performer:
I LOVE to teach. I actually see myself retiring a teacher and not a performer - but I'm not done YET!
Three things you can't live without:
Coffee! (See above!)
Words of advice for aspiring performers:
Never stop studying and being a student. There's always SOMETHING new to learn.