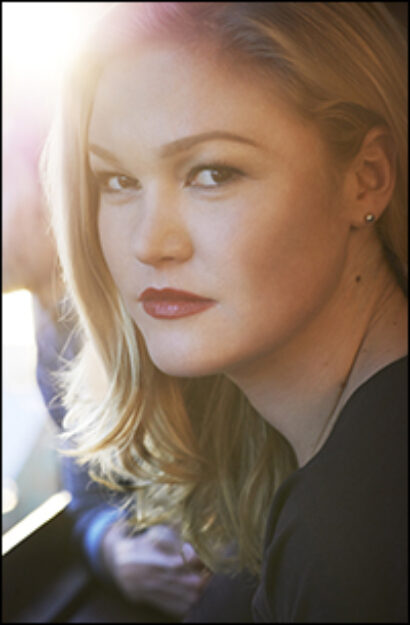 Stiles has appeared onstage in Oleanna (Broadway), Twelfth Night (Shakespeare in the Park) and The Vagina Monologues.
Her extensive screen credits include "Ten Things I Hate About You," "Mona Lisa Smile," "Dexter," "State and Main," "Save the Last Dance," "O," "The Bourne Supremacy," "The Business of Strangers" and "Silver Linings Playbook."
The Cherry Lane Theatre is located at 38 Commerce Street. Visit phoenixtheplay.com for more information.
Full given name:
Julia O'Hara Stiles
Where you were born/where you were raised:
New York
Zodiac Sign:
Aries, Cancer rising
What your parents did/do for a living:
They own a ceramics business. My mom makes the work, my dad sells it.
Siblings:
Two, a younger brother and sister
Do you have any early mentors or people who inspired you to pursue the performing arts?
My grandmother
Special skills:
I'm pretty good at "name that tune"
Something you're REALLY bad at:
Going to bed early
First Broadway show you ever saw:
A Doll's Housewith Janet McTeer, woah!
If you could go back in time and catch any show, what would it be?
Measure for Measure in the park with Meryl Streep
Current or recent show other than your own you have been recommending to friends:
Cavewomanwith Michael Cavadias (you have to search it, cuz it's not on Broadway and it's always a surprise)
Favorite musicals:
All things Fosse, Guys and Dolls, Hair, Cabaret, Threepenny Opera, Rocky Horror
Some favorite modern plays:
Laughing Wild (Christopher Durang) and Hysteria(Terry Johnson)
Some favorite modern playwrights:
Scott Organ! Christopher Durang, Mamet, LaBute, Tracy Letts
Broadway or screen stars of the past you would have most loved to perform with:
Philip Seymour Hoffman. We worked together on a movie, but live performance would have been special.
The one performance – attended - that you will never forget:
Fiona Shaw in Medea
Music that makes you cry, any genre:
Anything with passion. A strong drum beat makes me ecstatic, a thoughtful singer makes me cry.
Your personal acting idols:
Paul Newman, Jack Nicholson, Tim Curry, Natalie Wood ("Splendor in the Grass!"), Catherine O'Hara, Diane Weist, Amy Adams
MAC or PC?
PC, What? PC, Who?
Most played song on your iPod:
"I Follow Rivers" by Lykki Li
Most-visited websites:
Free Will Astrology, NPR music, Literary Jukebox, Chances with Wolves
Last book you read:
"All That Is" by James Salter
Must-see TV show(s):
"Veep"!
Last good movie you saw:
"Obvious Child"
Some films you consider classics:
"Cool Hand Luke," "Clue," "Desperately Seeking Susan," "Three Caballeros," "Vacation," "Splendor in The Grass"
Performer you would drop everything to go see:
Andrew Bird
Pop culture guilty pleasure:
"Dancing With The Stars"
Three favorite cities:
(aside from New York)- London, Prague, Berlin
First CD/Tape/LP you owned:
"She's So Unusual" by Cyndi Lauper
First stage/screen kiss:
"10 Things I Hate About You," with Heath Ledger
Some favorite or most memorable roles as a child or teen:
"Clue," "Desperately Seeking Susan," "Adventures in Babysitting"
Moment you knew you wanted to perform for a living:
As soon as I was old enough to know I had to earn a living.
Favorite pre-/post- show meal:
Two Bridges or Joe Allen's in London.
Pre-show rituals or warm-ups:
Standing in the back row of the house, breathing and stretching on the stage. I like to sing, too, it calms me down.
Worst flubbed line/missed cue/onstage mishap:
Only in my nightmares
Worst costume ever:
A wool army uniform for Twelfth Night. Only because it was summer in the park and about a thousand degrees.
Worst job you ever had:
Babysitting, but because I had some weird allergic reaction to something in the house and when the parents came home my eyes were almost swollen shut.
Craziest audition story:
Are they ever not crazy? It's the most bizarre situation every time!
Some favorite screen or commercial roles:
So many! I really marvel at the ability to make a living at playing dress up and perform. So many performers I know do something else to pay the bills. That said, I don't really take time to look back and pat myself on the back. Should probably work on that. Or not.
What drew you to this project?
The idea of two people in their thirties able to connect on deeply intellectual and primal levels, but with some carry-on baggage. The question of whether their Fight-or-Flight instincts will triumph. It's not cynical, and yet not saccharine either.
What has been the biggest challenge so far?
At this stage, just infusing the one-word sentences with meaning. I know it's there, I know Scott Organ chose each word deliberately, but remembering why my character says "Yeah" versus "Okay" versus "Right" is a welcome challenge.
What has been the most fun or fulfilling aspect of this show/character? Playing!!! Meaning, this is the first time in my career I feel like I am exploring and experimenting without feeling I have to get something right.
Most challenging role you have played onstage:
Carol in Oleanna
Any upcoming or side projects you can talk about?
Ask my agents.
Leading lady role you've been dying to play:
Lady M
Leading man role you've been dying to play:
I've joked with Jimmy that we should switch roles in Phoenixeach night, but I don't think the gender-bending works, generally. Men are men, ladies are ladies. That said, there are lots of fun roles for dudes. Most of the Mamet guys. And the Sam Shepard guys too.
Something about you that surprises people:
I'm funny. But like funny ha ha, AND funny strange.
Career you would want if not a performer:
Do teachers count as performers?
Three things you can't live without:
Music, Exercise, Water
"I'll never understand why…"
... God (or the Universe, evolution, whatever) made child birth painful. Population control?
Words of advice for aspiring performers:
Focus on the story you want to tell, not the applause.