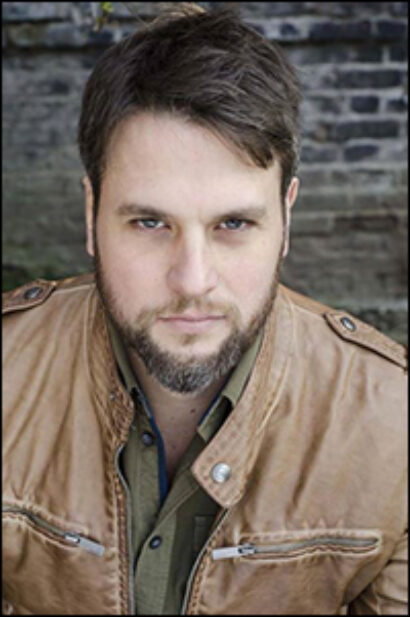 Prior to joining Phantom, Rauch enjoyed a three-year run playing Jean Valjean in Les Misérables at the Queen's Theatre and in the Spanish production of Los Misérables (Madrid and Barcelona).
Other theare work includes Mary Sunshine in Chicago, Jesus in Jesus Christ Superstar (Spain and Argentina), Doody in Grease and Feuilly in Les Misérables.
In 2002 he won the "Popstars" TV talent competition in his native Argentina and went on to record three multiple-platinum albums with his group Mambrú.


| | |
| --- | --- |
| Full given name: | Geronimo Enrique Rauch |
| Where you were born/where you were raised: | Born and raised in Buenos Aires |
| Zodiac Sign: | Aquarius |
| What your parents did/do for a living: | My father is a doctor and my mother is a casting director and agent. |
| Siblings: | My youngest sister and my brother are both actors and my eldest sister works with my mother as an agent. |
| Current audition song/monologue: | I always prepare the song that requires the role that I'm auditioning. But just in case I have a big repertoire of musical theatre and opera. |
| Something you're REALLY bad at: | I'm not a good dancer but I really enjoy dancing. |
| First show you ever saw: | Don't remember if it was Cats or Kiss of the Spider Woman in Buenos Aires |
| Did you have any particular mentors or inspirations when first starting out? | My first singing teacher Christian Bruno helped me a lot. He was a very good mentor. My inspiration was Freddie Mercury and mainly all the rock bands from the 80´s like White Snake, Van Halen, Guns and Roses, etc. |
| If you could go back in time and catch any show, what would it be? | I would love to see the original cast of Les Miserables |
| Current or recent show other than your own you have been recommending to friends: | Once. I'm a big fan of the movie and the musical is beautiful! Very talented performers! |
| Favorite showtune(s) of all time: | "Somewhere" (West Side Story), "One Day More" (Les Miserables) |
| Some favorite modern musicals: | Once |
| Some favorite classic musicals: | West Side Story |
| Broadway or screen stars of the past you would have most loved to perform with: | Colm Wilkinson, Julie Andrews, Marlon Brando, Chita Rivera |
| Your personal vocal idols, living or dead: | Freddie Mercury, Stevie Wonder, Tom Jones, George Michael, Aretha Franklin, Celine Dion |
| The one performance – attended - that you will never forget: | Anthony and the Johnsons in Madrid |
| Music that makes you cry, any genre: | Anthony and the Johnsons |
| MAC or PC? | MAC |
| Most played song on your iPod: | "Gravity" by Sara Bareilles |
| Most-visited websites: | Amazon, eBay or YouTube |
| Must-see TV show(s): | "The Walking Dead" |
| Some films you consider classics: | "Brave Heart, The Godfather" |
| Performer you would drop everything to go see: | Freddie Mercury |
| Pop culture guilty pleasure: | Addicted to eBay and Amazon |
| Three favorite cities: | Buenos Aires, Madrid, New York |
| Favorite sport/team/player: | Tennis, Roger Federer |
| First CD/Tape/LP you owned: | Queen's Greatest Hits |
| First stage kiss: | Les Miserables- Understudy of Marius |
| Moment you knew you wanted to perform for a living: | I was 20 when I decided to become a singer for the rest of my life. |
| Favorite pre-/post- show meal: | Thai food in Busaba every Saturday in between shows |
| Favorite liquid refreshment: | Water |
| Pre-show rituals or warm-ups: | I usually warm up my voice and do some weight lifting to wake up the body. The rituals? I'll keep them secret. |
| Most challenging role you have ever played: | I could say that it is between Jesus and Valjean |
| Single most difficult song you have performed live or on television: | "Gethsemane" live on TV and live every night at the theatre |
| Worst flubbed line/missed cue/onstage mishap: | Confused my line in "One Day More" and sang the lyrics of "Who Am I?" while doing Les Miserables in Spain. |
| Worst costume ever: | Must be Mary Sunshine in Chicago. I´ll never do that again hahaha. |
| Worst job you ever had: | I played a monkey and my parents paid for tickets to see me but they didn't know who I was! |
| Craziest audition story: | It was a group audition and they made us pretend to be a nun, then the priest, the church, then the tower and finally the bell. I started laughing because I felt ridiculous. |
| What was your first Phantom experience? Do you remember who you saw? | It was in the year 2000 in NY. Don´t remember the name of the Phantom but he was very good. |
| If you could trade roles with anyone on the West End for a week, who would it be? | I will definitely try to play Billy Elliot! |
| Most memorable stage door experience: | Someone brought me a Spanish Ham pillow because they know I'm a Jamon Serrano addict! |
| Leading man role you've been dying to play: | The next I would love to play is Jekyll. But I already played the 3 main roles that I wanted and I wouldn't mind playing them again. |
| Leading lady role you'd like a shot at: | Elphaba! Haha! |
| Is performing on Broadway something you aspire to? | Yes! Definitely. |
| Any upcoming or side projects you can talk about? | I´m recording a few songs and I hope I could soon sign for a record label. I´m also planning my first trip to India for a yoga retreat that I´m really looking forward to. |
| Something you are incredibly proud of: | The family that I have. They are the reason of my happiness. |
| Something you're embarrassed to admit: | I cry every time I watch "The Notebook." |
| Career you would want if not a performer: | Producer-Director |
| Three things you can't live without: | My wife, my baby. And if you are asking for something material: MY MAC! |
| "I'll never understand why…" | … human beings keep committing the same mistakes. We are destroying the world in a selfish way that hurts. |
| Words of advice for aspiring performers: | Don´t try to be like someone else! Be yourself. And follow your dreams. |