*
"When I came to Arena Stage 12 years ago," artistic director Molly Smith says, "I began speaking to its search committee about what kind of theatre they dreamed Arena would become. They said they felt that Arena, which was one of the mother ships of the not-for-profit theatre in America, had presented such a broad array of work, but there wasn't an Arena stamp. That day, I was in a bookstore, and all the ideas that kept jumping out at me had to do with American writers. I began thinking about what it would mean to have Arena focus on American writers."
That idea has attained new heights with the opening in October in Washington, DC, of Arena's new Mead Center for American Theater, after a $125 million fundraising drive and almost three years of building. The center, designed by architect Bing Thom, includes the renovated 514-seat Kreeger Theater and 683-seat, in-the-round Fichandler Stage and the new 200-seat Arlene and Robert Kogod Cradle, devoted to new or experimental work.
"Because it's our capital city, Washington is such a crossroads for communities coming together," Smith says. "Once that idea gained roots, it became clear that the works we could produce at Arena Stage would encompass such a wide and brilliant variety, from one-person shows to American musicals — our seminal art form — to dramas, comedies, adaptations of novels. I really believe that American voices in the theatre are so important, and we don't have many places in the United States that focus in this way. Most of our theatres are looking over their shoulders at what's happening overseas, in London. I really want to celebrate and move forward our American stylists."
Arena's first season in its new home — the theatre's 60th since its founding as one of the first not-for-profit theatres in the United States, a pioneer of regional theatre — is a precise indication of the all-American future Smith has planned. It includes more than 45 American projects — eight full productions, seven presentations from the National Endowment for the Arts New Play Development Program and public readings from all 30 of Edward Albee's works. The season-opener is a revival of Rodgers and Hammerstein's Oklahoma!, boasting a multi-cultural cast, directed by Smith. "The American musical is so important to American theatre," Smith says. "I wanted to choose one of the best American musicals. Arena is in a new frontier, as Oklahoma in that moment was still a frontier — it was a territory, not a state."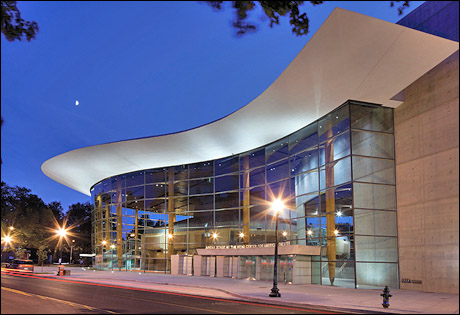 photo by Nick Lehoux, courtesy of Bing Thom Architects
The first presentation at the Kogod Cradle is the world premiere of Arena Stage's commission of Marcus Gardley's every tongue confess. "Marcus is a writer I've been very interested in for a long time," Smith says. "He seemed like a perfect example of a young writer who I think really deserves the platform of a larger stage. Even though the Kogod Cradle is the smallest theatre at Arena Stage, because it's the newest theatre there will be a great deal of focus on it." The play "takes place in Alabama in the 1990s, when 400 African-American churches were being burned down by arsonists," Smith says. "It combines an artist's touch with a poetic sensibility." It stars Phylicia Rashad and Leslie Kritzer; Kenny Leon directs.
Productions scheduled for 2011 include Lynn Nottage's Pulitzer-winning Ruined; Anna Deavere Smith's Let Me Down Easy; Mary Zimmerman's The Arabian Nights; the world premiere of A Time to Kill, Rupert Holmes' adaptation of John Grisham's novel; Steppenwolf Theatre Company's production of Albee's Who's Afraid of Virginia Woolf?, starring Tracy Letts and Amy Morton; and Albee's At Home at the Zoo.
Smith says that she hopes Arena Stage will be "a place in the country where audiences come and see work from some of our best and brightest from around America — Texas, North Carolina, Oklahoma — distinctive voices that people may not have heard of before, voices that have a regional feel. I'd love to see this as a theatre that welcomes diverse work and diverse populations, as it has over the years, and to go further in that direction. As a place where audiences and artists can come to study the American theatre, when we work on giants like Edward Albee and Sam Shepard — and where we can bring international companies that are working on their own interpretations of our American writers."
Edgar Dobie, Arena's managing director, says the "purpose of the center is producing work in a friendly, accommodating and supporting environment for playwrights, actors, directors and designers. Here for the first time we have everything under one roof. There's everything we need — rehearsal halls, scenery shops, costume shops, lighting and sound studios."
The community — "a really important element of Arena's history, programming and purpose" — is very much part of it all, Dobie says. The theatre's community engagement programs, including an after-school drama program and a Students Playwrights Project for grades 5 through 12, had been in a separate location. "It's now under this roof, too," Dobie says. Then there's "our major commitment to development of new work, with playwright residencies, established under our American Voices New Play Institute," he says. Five playwrights — Karen Zacarias, Katori Hall, Lisa Kron, Amy Freed, Charles Randolph-Wright — have been given three-year residencies to develop their work.
"And we have a beautiful new lobby where audiences will collide on their way to and from the theatres," Dobie says. "Hopefully the right kind of combustion will happen."
For more information about Arena Stage in Washington, DC's southwest neighborhood, visit www.arenastage.org.