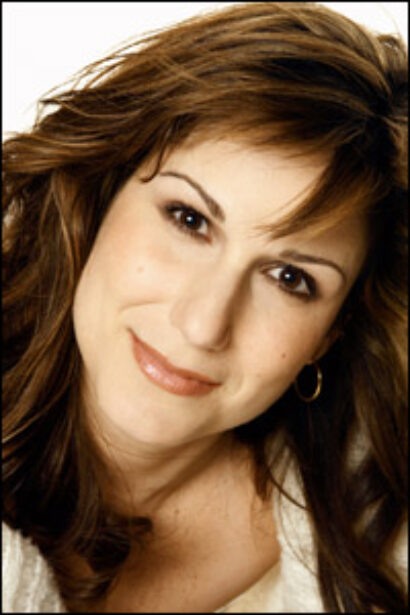 STEPHANIE J. BLOCK
Stephanie J. Block, a Drama Desk nominee for Best Actress in a Musical for her work in 9 to 5: The Musical, recently stepped into the Tony-winning tap shoes of Sutton Foster in the Tony Award-winning revival of Cole Porter's Anything Goes at Broadway's Stephen Sondheim Theatre. Block, whose textured, rangy Broadway belt has also been heard in Main Stem productions of The Boy from Oz, Wicked and The Pirate Queen, is playing a limited engagement as nightclub singer-turned-evangelist Reno Sweeney through Nov. 22 while Foster films a TV pilot. The brief run gives Block a chance to thrill audiences with her renditions of such Porter classics as "I Get a Kick Out Of You," "Blow, Gabriel, Blow," "Friendship" and the title tune. I recently had the pleasure of chatting with the good-natured, upbeat singing actress just a few days before her first performance in the critically acclaimed revival; that interview follows.
Question: How did this limited run as Reno come about for you?
Stephanie J. Block: This came about where Roundabout called my peeps and just said, "Kathleen Marshall would love to meet with you. She knows you. She knows you can sing. She knows you can act. She's never seen you do this type of dance, and we just kind of want to see what you do and what you're about." So, I had a wonderful work session with Kathleen, and this was maybe about two months ago, and I thought nothing of it than it was a great time to spend with a Tony Award-winning choreographer and fantastic director, and I let it go. About two-and-a-half weeks ago, I got a call—sincerely out of the blue—and they said, "How would you like to play Reno for a couple weeks here on Broadway and this would happen in the next ten days to two weeks?" [Laughs.]… There was a brief period of silence and then I started to giggle a lot, but, you know, when these opportunities show themselves, you say yes. [Laughs.] So, I absolutely said yes, and as far as everything else, I just was going to roll with the punches. I was going to smile and enjoy every second of this very short and frantic process, and just be thrilled to be singing Cole Porter tunes, working with Kathleen Marshall, working with Joel Grey, and stepping in some pretty big shoes that Sutton has won the Tony for. Like I said, the rehearsals have been wonderful, but… this is kind of the first time that I've… learned [a] show in increments, four hours here, two hours here, watch the show, watch from the wings. It will be like a total of 20-30 hours that I've had to learn Reno Sweeney, and hopefully wow the people on Friday! [Laughs.]
Question: Have you ever been in a production of Anything Goes anywhere before?
Block: Never have! Nope.
Question: So, you're coming at it totally…
Block: I'm coming at it totally fresh, totally new. Now, I have seen the production. I'd seen the production months ago, and was in awe of the entire magnitude, and how quickly paced and how clean and brisk and beautiful the whole production is. And then, of course, seeing the Anything Goes eight-minute tap number on the Tonys, your jaw drops and you go, "Wow! That's amazing." And, Sutton does have this remarkable talent of making kind of a mammoth role look surprisingly easy, and it's big. I'm going to use that word again—it's a mammoth role—especially with these beautiful dance numbers that Kathleen has put together. Question: Will you be doing the same vocal and dance arrangements?
Block: Same everything. The only thing that we've adjusted is I do not do the splits in "The Gypsy in Me." Other than that, nothing's been modified.



photo by Joan Marcus
Question
: How are you approaching playing Reno? What's your take on who she is since it's not like it's a real person…
Block
: No, it's not. Again, the beauty of it is that I've had, although just about four to five hours with Kathleen, she's pretty remarkable in giving her vision and [the character's] back-story. I think she's giving me very similar direction [that she gave to] Sutton. Now, of course, because we are completely different actors, we are going to interpret that differently, but I love the fact that Kathleen [believes] that Reno and Billy have grown up together kind of in the Lower East Side—is what we envision—and Reno has made herself a star. She's kind of like… Lady Gaga. [Reno] has kind of invented herself—this is what Kathleen envisions for 1934 Reno. This woman has
invented
herself to be a star, to be an evangelist, and everybody knows who she is, and everybody recognizes her right off the bat. So, I'm taking a lot of that with me that when she's in public, she is a star and absolutely recognized with paparazzi around, but… the love of her life is missing, which makes her this tad bit vulnerable. With that, I think I'm going to find out a lot this Friday, this Saturday and this Sunday. This weekend is going to tell me, and inform me, a lot as to who my Reno is once I'm onstage with the fellow actors and start becoming this woman.
Question: Have you gotten to work with any of the actors in the show?
Block: They've all been very welcoming and very gracious with their time. Adam [Godley] has come in a couple times. I met with Colin [Donnell] for the first time yesterday. I've got nice hour/hour-and-a-half chunks with each of my actors that I share scenes with tomorrow, and then Friday, all day, I'll be doing my put-in before that evening's performance. So, the entire cast really has to dedicate their time and their afternoons off to get onstage with me and get me up to snuff. [Laughs.]
Question: I remember talking to Sutton and her saying how she grew up with the Patti LuPone cast recording. I was wondering if there were any recordings of the show that you listened to.
Block: You know what's funny, I am more familiar, probably, with the Ethel Merman version, and it's kind of her tone that I hear in my head. Patti, of course, she's the ultimate Broadway diva and the ultimate Broadway broad, but my broad goes back to Ethel Merman, so it's kind of her tones and direct forwardness that is kind of in the back of my head.



photo by Joan Marcus
Question
: Do you have a favorite in the score yet?
Block
: I love "I Get a Kick Out of You." I think it's a beautiful piece, and the way that that is done in the show. I always pictured that song to be done introspectively and the character by herself, but having Billy there and showing kind of her rawness and her saying, "I really do want somebody in my life, and you're very special to me," it really adds a whole other layer that I think is beautifully done. And, I love singing "Blow, Gabriel." [Laughs.]
Question: Is there any talk of—I know Sutton has extended through April—that you might take over for her?
Block: There's a lot of rumors, a lot of chatter, but I am seriously just focusing on these next three weeks and making sure I hold the show's integrity and keep it as beautiful and as polished and as lively as it was when Sutton was flap-ball-changing her buns off. [Laughs.] Question: Since you did see the show, as you're rehearsing it, what seems different to you from the actor's point of view than from the audience? What were you surprised at?
Block: You know what, I was really surprised at—and, again, this is completely attributed to Sutton's amazing professionalism and her sort of grace and ease on stage—is that "Anything Goes" and "Blow, Gabriel, Blow" are… exhausting! To smile through it all, turn around, take a deep breath and belt a D, it's truly a discipline and a workout that I don't think the audience could ever know, nor should they… They should always feel completely comfortable and that this is a beautiful glaze that just happens, but it really does take an extraordinary amount of work, breath control, concentration, and she does it with such beauty that I had no idea sitting in the seats. You watch it and say, "Wow, that's really wonderful," but to take into account what it takes to make that happen is a completely different thing until you are up on stage actually doing it.
Question: Getting to a past project, Vera Stark—what was it like for you doing a non-musical versus the demands of doing a musical?
Block: I loved it. I mean, singing is my lifeblood and it's always a part of me, but I loved the fact that I woke up every day without sort of worrying about allergies or weather or the sinus flu that was going around during the spring. [Laughs.] It was really a gift to tell a story strictly through words, and I did get a completely different perspective on storytelling doing that. I won't kid you, of course it's exhausting in and of itself, but it's a different exhaustion, and musicals really take it out of you. There's no two ways about it. [Laughs.] Doing a musical eight times a week, it really, really, really puts a toll on you, but it's one that I love and I know I will always come back to. But, Vera Stark was such a gift, and working with Lynn Nottage and Second Stage, and it really was wonderful to tell a story, like I said, without breaking into song—strictly sticking with the spoken word.



photo by Joan Marcus
Question
: I know there were some rumors at one point of maybe that coming to Broadway. Any more on that?
Block
: I have heard rumors. The cast is a bit abuzz. None of us—I think I am not speaking out of turn here by saying that I don't believe anybody within the cast has been notified if it moves forward, whether we're attached or not, but we're thrilled simply for Lynn. Finally this genius playwright, hopefully her piece will get on Broadway where it really deserves to be.
Question: Your first leading man [Hugh Jackman] is back on Broadway. Have you gotten a chance to see him or talk to him?
Block: I have not. He and I run into each other—we share a voice teacher. Our [appointment] times, a lot of the time, are back-to-back, so we hug, we touch base, we check in on each other. Unfortunately, because of this rehearsal schedule and me just kind of wanting to absorb every second I can here at Anything Goes, I haven't been able to see him, but… I know that man is genius because his heart shines through everything he does, and the audience can feel that and you feel like you're so special just to be in the audience witnessing what he does.
Question: I was wondering if you and your husband [Sebastian Arcelus] ever talk about either doing a show together or a concert together?
Block: We would love to do a show together. Of course, we have what would be our dream roles together, but no, we've not planned anything as of yet. Every time we sit down and think, "Ah, this is going to be a time we can write something or look into…" the phone rings… and your life changes for the next six months. It's never something that you can plan, so every time we think we will have a breath to plan something as a couple, either he gets asked to do a fantastic project or like this, the phone rings and two weeks later you are doing something you never thought you were going to do.



photo by Joseph Marzullo/WENN
Question
: Do you mind sharing what your dream show is together?
Block
: We always thought at one point he would play Tateh and I would be Mother in
Ragtime
. We just love the score so much, and as obnoxious as it might seem, when we're in the car, we like to sing that. [Laughs.] Can you picture us? Off in our Volvo singing the score of
Ragtime
… We always dream that Sondheim is going to write us something, but we are just going to keep putting that out into the universe. [Laughs.]
Question: Do you have any other projects in the works or just focusing on Anything Goes?
Block: Right now I am just focusing on this. There is always talk and there are always seeds being planted for the next year, but this, I'm sure, has consumed my life. It will continue to consume me for the next three weeks, and happily so.
[Tickets for Roundabout's Anything Goes are available by visiting Telecharge.com or calling (212) 239-6200 or (800) 432-7250. Visit roundabouttheatre.org.]
Well, that's all for now. Happy diva-watching! E-mail questions or comments to agans@playbill.com.