EMILY SKINNER
It's always a pleasure to chat with Tony nominee Emily Skinner, who is thankfully once again brightening The Great White Way with her many talents. Following nearly a year in the first national touring company of the Tony-winning musical Billy Elliot at Chicago's Ford Center/Oriental Theatre, the celebrated singing actress is now bringing to full life the role of dance teacher Mrs. Wilkinson in the Broadway production of that hit musical at the Imperial Theatre. Earlier this week, I spoke with the down-to-earth Skinner, whose Broadway resume boasts roles in Side Show (Tony nomination, Drama League Award), Jekyll & Hyde, The Full Monty, James Joyce's The Dead and Dinner at Eight (Outer Critics Circle nomination), about her latest part; that brief interview follows.
Question: How did you get involved with Billy Elliot for the Chicago run?
Skinner: Well, I had auditioned originally for the Broadway company when they were considering casting an actress in the U.S. So I auditioned for it way, way, way back, and then they remembered me for the tour. They had originally hired a wonderful Australian actress who had done the role in Australia, and Equity wouldn't allow that contract to happen, I think, because they said, "All right, you've now had two … women doing the role [on Broadway] who are not American [and who got special permission from us to perform]. Now, suck it up and cast an American." [Laughs.] And so they had to find someone who could replace fast, because it was getting close to when they had to start [rehearsing]. So I got a call right before last Christmas, saying, "Will you come back in and meet with Stephen Daldry?" And I did, and he basically said, "Will you do the role?" And I said, "Sure!" [Laughs.]
Question: What was it like performing in Chicago?
Skinner: I loved it. I love Chicago. I absolutely adore Chicago and would go back to Chicago again [if ever] anyone asks me! I love it. I feel like it has everything great about it that New York has without any of the dark underbelly. [Laughs.] I really fell quite in love with Chicago.
Question: Did you know when you went to Chicago that you would be doing the role later on Broadway, or did that come up separately?
Skinner: They had mentioned it early on, but they didn't specify when that would happen. I assumed it would happen after the run in Chicago and once the first national [tour] moved on to Toronto. But they ended up bringing me in fairly earlier because Kate Hennig, who is Canadian, is going to do this company in Toronto, and she wanted to have some time off beforehand. So I'm basically here slightly earlier than I would have been for that reason. [Laughs.]
Question: How does it feel to be back on Broadway?
Skinner: Oh, it's lovely! It's lovely. My God, you know, there's nowhere like Broadway! There's nowhere like doing great theatre in the theatre district in New York. You feel like you're part of a wonderful community.
photo by Joan Marcus
Question: I know you've said in concerts that you were a big musical theatre fan as a kid. I wonder how performing on Broadway compares to what you imagined it would be like.
Skinner: Well, my gosh, I don't have an answer to that question! ... I don't know if it's so much Broadway as being in a show that you think is great. You know what I mean? For me, that's what gives me a charge as an actor. If that's on Broadway, that's fantastic. If it's in a regional theatre, that's also fantastic. What's not fantastic is being in a show that you don't think is so great, and you've still got to do it eight times a week. Even if that's on Broadway, that's not so great. So I have the best of all possible worlds right now. I'm in a role that's fantastic, in a show that's fantastic, and it happens to be on Broadway! [Laughs.] I'm living a wonderful dream right now.
Question: How would you describe Mrs. Wilkinson?
Skinner: I think she's an inspirational survivor. I think she's a wonderful, inspirational survivor. I'm heartened by her abilities to survive. She's in an awful personal situation. She's married to a drunk who doesn't love her. She's in a town that's dying, and she's got this ballet class that she teaches once a week, and that's the thing that … keeps herself getting out of bed … in the morning. And then, when she finds Billy, it's like, "Oh, my God!" Then, there's even more of a reason to get out of bed in the morning. And so when he leaves in the end, I think it's incredibly tragic on many levels. Not tragic, I shouldn't say tragic. But I hope that the audience is left wondering not only what's going to happen to Billy, but what's going to happen to her now that he leaves. I think, "What's going to happen to this woman now?"
Question: When you were preparing for the role in Chicago, did they give you a chance to find your own version of the character?
Skinner: To a degree, yes. The show is very regimented in a way that it has to be, but they're smart people, this creative team. They're not looking for anyone to be cookie cutter-ish, because they're smart enough to know that that's not what's going to serve the piece. I think that my Mrs. Wilkinson is feistier than many Mrs. Wilkinsons in the past have been. She's pretty darn feisty, and I think that she has a huge emotional investment in this kid doing well and getting out of there.
Question: Did you draw on any of the teachers that you had in figuring out how you would play the character? Does she remind you of any of the teachers you had?
Skinner: Oh, yeah, sure! I think the best teachers have emotional investments in their students. They're passionate about [the students] wanting to get what they're teaching, to improve their lives, to become the people that they want to be. Absolutely, absolutely. I've had some wonderful teachers in my life. And if I ever get an award for anything, I'll get up and thank those teachers! As they should be thanked!
Question: What are some of the challenges or maybe some of the benefits of working with different actors each week, having different, rotating young leading men?
Skinner: I have to say, it's kind of fantastic because it's always fresh. It is always fresh. You never do the same show with the same Billy. It's constantly fresh, and they're all so different, so it forces you to be really in the moment with them. So that aspect of it is really fun, and I've never been in a show where I've felt like that. It's kind of a great thing. There are other aspects of this show that are harder. The show's on a raked stage, which I don't know that audiences are aware of, because it doesn't really look like it's a raked stage, but it actually is a raked stage. And boy, raked stages are insidious. They are rough to have to run around on eight times a week. They do a real number on your alignment, on your body, on your knees and your hips and your back. And so part of my job is about maintaining my physical ability to do that, to run around the stage in three-inch heels on a raked stage. I'm in physical therapy a lot. [Laughs.]
Question: Do you have a favorite moment in the show for your character?
Skinner: Yeah. I play the whole show so I can play the last class scene. I love that scene. I think it's a perfect gem of a scene. It's a great scene, and it's phenomenally well written. There's so little that's written, and there's so much going on underneath, and it's a wonderful thing to play, and like I said, it's different with every boy. They all play it differently, so I get to play it differently with each one of them, so it's a lot of fun.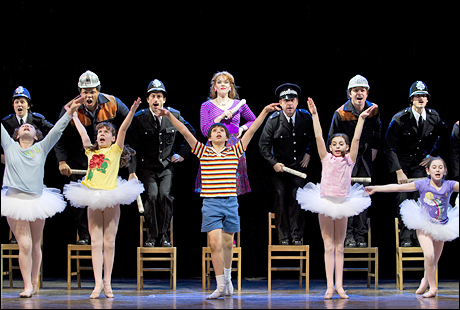 photo by Joan Marcus
photo by Joan Marcus
Question: Do you find yourself becoming at all motherly with the Billys, or is it a more professional relationship?
Skinner: You know, it's funny. I mean, I definitely have my maternal moments, but I think my Mrs. Wilkinson – I think the maternal aspects of herself, she isn't particularly comfortable with, and so she tries to repress them. I think she's one of those people who's not particularly comfortable with emotion, and this is a very English thing. [Laughs.] I don't think she's particularly comfortable living inside the great wellsprings of emotion. And so the interesting moments in the show for me come from trying to repress that. One of the very first things that Stephen Daldry said to me about this role was that she's not Dead Mum. Dead Mum is Billy's mother in the show. … And so my Mrs. Wilkinson is really a polar contrast to Dead Mum. At least, that's how I play her.
Question: When the mother reappears, she's supposed to be this warm, heavenly creature, so I guess they wanted something different from Mrs. Wilkinson.
Skinner: Well, yeah, and I think it's even more interesting when Billy is sort of transferring that to someone who isn't necessarily warm and cuddly. That's somehow even more moving. That he just needs to have this transference so badly that he's willing to do it with this woman who's sort of been through the mill and is a little hardened. I find when I go to theatre... [that] the characters who have the most hardened outer shell, and they're not overtly vulnerable, the moments that they are vulnerable take my breath away. So in my thinking about this characterization, that's sort of what I have gone for. I think the moments when she does show her emotion – her emotion does get the best of her – should be really potent, because she isn't a woman who allows herself that a lot, which is why the last class is a potent scene to me.
Question: Do you have an idea of what happens to her after the show?
Skinner: Oh, I don't want to think about that. It's too bleak. [Laughs.] I don't want to go there. I'd like to think she survives. [Laughs.]
Question: I know you also have a concert act that you do around the country. How does that compare for you with working in a show?
Skinner: Oh, well, that's something totally different, and I get to get up there and sing a bunch of Broadway stuff that I love, and tell stories about it and tell stories about why I like those particular songs and why I'm drawn to them. The act is sort of basically about what I talked about before, which is how I was drawn to musical theatre as a child, and what I love about it, not only the old stuff, but the new stuff as well.
Question: What did draw you to it when you were a kid?
Skinner: I was really, really hyper as a little kid. I was so hyper they were gonna hold me back from kindergarten. One day, my kindergarten teacher said to me, "Okay, Emily, you're gonna get to have ten minutes every day where you can entertain the class. You can do whatever you want. After that ten minutes, then you have to sit down and be with the rest of the class for that day." And that sort of opened Pandora's Box for me, and I would do all sorts of things. I would do puppet shows and I would come in and play dress up. And then I sort of got desperate for ideas, and so I started listening to my mother's cast- album collection. My mother was a big fan of musical theatre, and she had a great cast-album collection of Broadway musicals. And so I would go through that, and then I would take those in and I would lip synch to them in front of the class. [Laughs.] But that was the start of it for me, listening to my mother's cast albums of iconic shows from the '50s and '60s. Question: Did any of the other kids get jealous that they didn't get to do this?
Skinner: [Laughs.] You know, I've never actually asked! I don't know what they thought about my ten minutes of glory. I don't know. I'm sure they were like, "Oh, God, it's that time again."
Question: They probably enjoyed it.
Skinner: I hope so! I hope so. [Laughs.]
Question: Do you have any other projects in the works? Any chance for a new CD from you?
Skinner: No CDs. I'm in talks about some projects that would happen after my run of Billy Elliot ended, but I'm not sure exactly when that's gonna play out. I know I'm definitely in Billy Elliot through June, so we'll see what happens after that. . . . [But] I have a really good time doing it, I have to say. It's probably one of the most fun things I've ever done. [It's] a great show. … I'm telling you, despite saying I've never worked harder on a show, I don't know that I've ever felt as gratified being in a show, because I feel like the work is all worth it.
[Billy Elliot — The Musical plays the Imperial Theatre, 249 West 45th Street. For tickets call (212) 239-6200 or visit www.telecharge.com.]
FOR THE RECORD
"Betty Buckley Bootleg: Boardmixes From the Road"
For those who missed Betty Buckley's Oct. 16 concert at Town Hall in Manhattan, fear not. Many of the highlights of that emotionally transporting evening of song are featured on the Tony winner's new CD, the equally terrific "Bootleg: Boardmixes From the Road," now available on iTunes.
The first eight of the nine tracks that comprise the CD are culled from live performances Buckley has given around the country, while the final track, a deceptively simple, yet majestic take on Irving Berlin's "Blue Skies," is a preview of her newest studio album, "Ghostlight," which is being produced by the legendary T Bone Burnett and is scheduled to arrive in 2011. But getting back to Buckley's "Bootleg": I have always felt that as wonderful as her studio recordings are, the singing actress' live discs are even more exceptional because they have an extra layer of emotional spontaneity. Just listen to her stellar Carnegie Hall recording or her vocal brilliance in her debut solo disc, "Betty Buckley," to hear that breathtaking mix of actress and singer that defines all of her concert and musical theatre work. And, that same passion and voice can be found on "Bootleg"; in fact, the voice remains startlingly beautiful. Buckley's tones were always stunning, but now the emotion that ripples through her silvery vibrato seems more potent than ever. And, the sound of these live recordings is intimate yet tremendously clear and powerful — it sounds as if Buckley is singing to you in your own living room.
High points of the new disc include the haunting, heartbreaking "Ghost in This House," a duet with guest vocalist Peter Eldridge; "Falling in Love," a wonderful story song by Lisa Loeb that Buckley infuses with a lifetime of love lost and found; "Bye Bye Country Boy," a little-heard Blossom Dearie-Jack Segal gem that is surprisingly touching; the first-ever recording of Michael McDonald's "Honest Emotion" that Buckley imbues with a wealth of honest emotion; and a thrillingly belty version of the Billie Holiday classic "Stormy Blues." These live recordings, Buckley explains in her liner notes, were taped by her sound engineer of two decades, Terry Gabis, which leaves this Buckley admirer to wonder what other treasures, audio or video, remain unreleased. In fact, one can only hope that this is just the first of many "Bootleg" recordings to come..."Bootleg: Volume II," anyone?
Well, that's all for now. Happy diva-watching! E-mail questions or comments to agans@playbill.com.