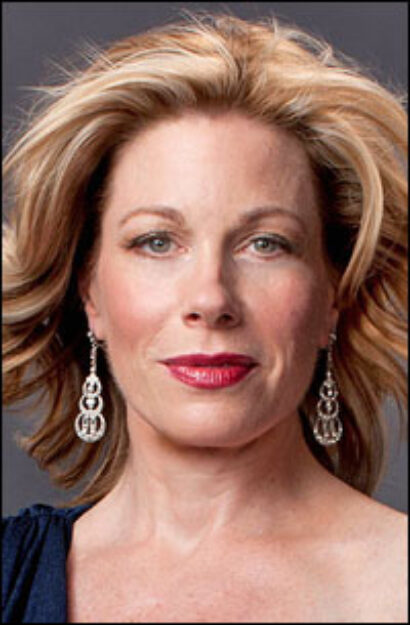 *
MARIN MAZZIE
The striking versatility of Marin Mazzie, the three-time Tony nominee, has been on full display to New York theatregoers this past year.
In March the singing actress, who created the role of Clara in Stephen Sondheim and James Lapine's Passion, took part in the star-studded 80th birthday celebration of composer-lyricist Sondheim with the New York Philharmonic. Mazzie, in fact, was one of the select few women — joining Bernadette Peters, Patti LuPone, Donna Murphy and Elaine Stritch — chosen to be draped in red gowns as each performed Sondheim classics: Mazzie wrapped her rich soprano around the Follies heartbreaker "Losing My Mind."
"Both nights were beautiful," Mazzie said last week about Sondheim: The Birthday Concert. "I think Lonny Price, who put it together, and Paul Gemignani did such a beautiful tribute to Steve . . . . I think the idea of us in the red dresses was just so thrilling to all of us, and being able to sit up onstage with my amazing colleagues and to be able to be among them was such an honor, and it really was fun to watch everybody get up and sing. But not only that, the whole evening – being able to see Mandy [Patinkin] and Bernadette and Chip [Zien] and Joanna [Gleason] and George Hearn and to sing a duet with my husband [Jason Danieley], it was such a great tribute to Steve. . . Everybody was there to celebrate [Steve], and I think that came through in the performances and hopefully that will come through in the [upcoming PBS] broadcast."
A month later, the actress was seen in her first non-musical Broadway outing, playing corporate vice president Claudia Roe in the Rupert Goold-directed Enron, a London hit by Lucy Prebble that failed to repeat its success in New York. Although Mazzie says the run was "way too short," she says the experience was a "fantastic" one. "I loved every second of it. I truly believe in that play, and I think it is an amazing, amazing piece of theatre. I think Lucy Prebble wrote such a brilliant piece of theatre. And, Rupert Goold — how it was directed, it was so different and exciting and what it was dealing with was, obviously, so topical. I was thrilled to be a part of that, also, and it was a great, great cast. I just really thought it was an exciting piece of theatre that made people really think, and I'm just sorry it's not still there." About the brevity of the run, Mazzie says, "It wasn't, unfortunately, given a chance to build an audience, and I do believe there is an audience really wanting it because the people that came to see it loved it, and still, when I'm seeing people at the stage door of Next to Normal, [they] still tell me how much they loved it."
And, now, Mazzie and husband Danieley are playing a couple struggling with mental illness in the aforementioned Pulitzer Prize-winning musical Next to Normal at the Booth Theatre. Mazzie and Danieley succeeded Tony winner Alice Ripley and Brian d'Arcy James, respectively, as Diana and Dan Goodman, in July.
photo by Joan Marcus
Like her predecessor in the role, Mazzie is offering the performance of her career, a brilliantly layered and thrillingly sung turn that is utterly moving. Looking back, the actress says another recent role — Blanche DuBois in Barrington Stage Company's August 2009 production of the Tennessee Williams classic
A Streetcar Named Desire
— was a good warm-up for her current assignment. "I think of Blanche as sort of a Diana 50 years ago because there are various similarities," she says. "I believe that, probably, Blanche was bipolar, but [in that era they treated] mental illness [by putting] you in a hospital and [giving] you a lobotomy or [by giving] you ECT in a much more violent way than they do it now. Or people drank, which Blanche did, but they had some sort of traumatic experience that I believe triggered — or maybe a disease that was already there or they were predisposed to — but something dramatic and traumatic happened in their lives and brought that on . . . Now I'm looking back, that's how I'm looking at [the role of Blanche], but I didn't explore that [at the Barrington]."
Mazzie says that neither she nor her husband had seen Normal prior to the offer to join the Broadway production. "We loved it," Mazzie says of her and Danieley's first encounter with the musical drama. "We were so excited at the prospect of doing this meaty, emotional, compelling story and being able to play husband and wife on stage. We've always wanted to do a Broadway show together and haven't yet, so this was a great opportunity, and I'm so thrilled that [producer] David Stone decided to put us together in it."
[Read Playbill.com's recent Leading Men interview with Danieley, who speaks about his Next to Normal experience.]
Prior to beginning performances, Mazzie says she "did a lot of reading about mental illness just to try and understand it. It's really hard to understand unless, I think, you have mental illness. To really know what that darkness is that lives with you constantly, in your brain, every single day, and dealing with the drugs and the treatments and the episodes and all these things that people go through on a daily basis. I did want to read accounts of people who are living with the disorder so I could try and put some of that into Diana. But you know, when you start reading about people's accounts, everybody is different, and it manifests itself so differently in everybody. I think that's why it's something that is so hard to manage and figure out, because no one person has the same thing going on [as another]."
The acting couple had three weeks of rehearsal before they began performances; although the time to prepare was brief, Mazzie says "what we did have was [director] Michael Greif. We had Michael Greif for a good deal of our rehearsal time. Having us go in together, and then having Meghann Fahy — who took over from Jennifer Damiano — we basically had a new family going in. . . . No one ever was wanting us to, nor could we, be who our predecessors were. So we came in as a new family unit and working on it from our points of view and how we dealt with these characters and [how] we think about these people."
photo by Joan Marcus
Working with her husband has been a rewarding experience and has made tackling such an emotionally demanding role a little easier. "What's so great about working with Jason is having the person that you love the most and that you trust the most standing up there with you on stage every night. . . . Just being able to do something so really, truly emotional, gut-wrenching, where I'm breaking down and sobbing every night — I just have to open up my soul to do this piece on stage. There's no other way to do it. . . . It is one of those pieces where you've got to go for it. You've got to get into it and be there, and every night is different in that sense, which is so exciting about it, also. But I think for the rehearsal process, and certainly for [the performances], just the weight of the fact that we've been married for almost 13 years [and have] been together 14 years. That alone, I mean, just that, that we know each other so well, that we've lived with each other and we know each other's stuff — you just bring that on stage. That's already there. . . .But we just have really similar sensibilities, and I think he's brilliant. I think he's a brilliant actor and, obviously, an amazing singer. It's been such a great journey to go on together, to explore these people and this life and how it affects them and their children."
Mazzie says it has also been rewarding listening to stories she hears from fans, both at the stage door and by mail. "As we go out of the stage door every night," she explains, "there are people there that are dealing with mental illness in some way, whether they have it or their family, their mother, father, their sister, their brother [do]. I get lots of letters from people. You realize you're doing something that's really reaching people and also giving a voice to people. [People have told me] that they didn't feel they had a voice until they saw this show, that there are so many elements of this show that are them."
"It is rewarding," Mazzie adds, "but it also just makes you go, 'It's so important what I'm doing every night.' Not what Marin is doing, but this is why you become an actor, to tell stories that hopefully touch people and reach out. I mean, Tom Kitt and Brian Yorkey wrote a great friggin' show, and to able to be the vessel that delivers that every night has really been a great experience." She also says that singing the Kitt score is "so amazing because it runs the gamut. It's rock, it's kind of pop-folky. I do feel like I get to use a good legit mix of my voice. It's so great because I can use all parts of my voice, and I absolutely love that. Singing Tom's music is so beautiful to sing. It's really exciting."
Mazzie also has high praise for Mark Wendland's three-tired, Tony-nominated set, which she says "works so beautifully for the show. . . . I'm not too afraid of heights. I don't have to go up to the third level. Kyle Dean [Massey] is the one that has to go up there and spin around. I don't think I'd like to be spinning around like he is. When I'm up there on the edge, I'm holding firmly on the poles, and I like to lean out and kind of fool around, but I'm not doing anything dangerous," she laughs. "Jason has a moment, though, on the second level, where it's completely dark, and he has to move — he's like, on the edge, and he has to move to sit down and get up, and he's told me that it's a little vertigo-ish for him. And I know Kyle Dean had some issues with it at first, but man, he's all over that set, hopping and spinning and running and jumping! But like I said, I don't ever go up to the third level."
photo by Joan Marcus
And, does the actress find riding the emotional roller coaster that is Diana Goodman draining or cathartic? "It's a little of both," Mazzie answers. "It's very draining, but also, I feel hope at the end. I feel hope at least for a relationship with Natalie and that Natalie's going to be able to somehow go forward in a better way, and so I feel that there is hope there for her. And Diana will always struggle, that will always be, but I think she has had clarity and some sort of understanding of what she's been doing. And I also feel that from the audience, the catharsis because we share it together. I mean, every night, you hear people sobbing in the audience along with me. So we're all sharing this experience together. And then meeting people at the stage door — there is definitely a catharsis that goes with that."
Another benefit of working with her husband is that once the performance is over and the two head home, "I don't have to explain anything that happens, nor does he. We were there. We experienced it together. We met the same people, we heard the stories. We do talk about people that we met and stories — we will talk about that, and if there's something that happened or that we need to talk about. But for the most part, we try to come home and not bring it home. Because the day is all about [the show] — I wake up in the morning and I'm thinking about Diana. My day is about [that]. And Jason's is, too. I mean, since you're talking to me, I'm talking about myself, but [my day typically] is about preparing for the day and preparing for the evening or the five-show weekend that we have coming up. You know, I carry her around with me. I think about her all the time in life and dealing with what she must deal with. Even waking up, not being able to get out of bed. I can get out of bed, but [sometimes] you wake up and you think, 'There are a lot of people [for whom] getting out of bed and going to take a shower may take them all day.' And when you start to really think about that, it's just devastating. But that's just one teeny-weeny example of what this can do to people."
And, how does Mazzie feel her performance has changed since she stepped into the critically praised musical? "I just think we've fine tuned it, Michael and I, in just little elements. I'm a very strong person, and I feel like my Diana has a lot of strength to her, but she starts at a very compromised point, 16 years into it, so she's been beaten down a lot. So I think just fine-tuning that element of what I can bring to something — I'm talking little line readings and attitudes, that sort of thing. And now we're at a really good place, and Michael's just said, 'Mess it up,'" Mazzie says with a laugh. "So I feel like we're pretty where we're supposed to be, and now it's just playing and discovering every night, which is just great. The piece really allows for that because these characters are so rich. I mean, Diana's life is endless to me, what I can cull from it and the experiences she's had. It's just sort of one of those characters that you can just keep building in your ground, in your head, and that's so great."
[Next to Normal plays the Booth Theatre. Visit NexttoNormal.]
Well, that's all for now. Happy diva-watching! E-mail questions or comments to agans@playbill.com.