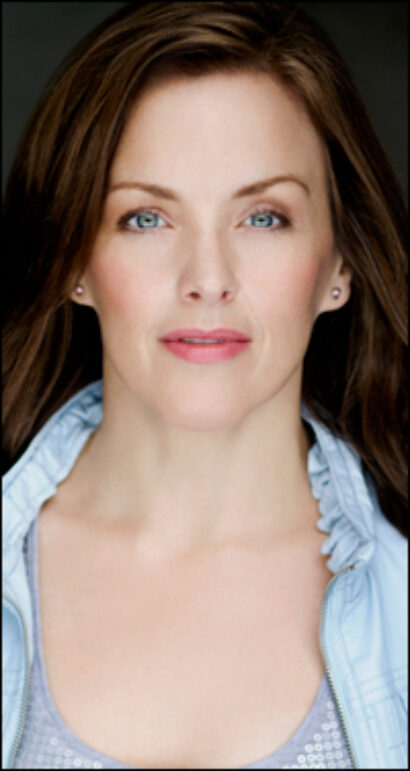 ALICE RIPLEY
Singer-actress Alice Ripley is currently back on the New York stage for the first time since she dazzled audiences and won a Tony Award for her heartfelt and breathtaking performance in the Pulitzer Prize-winning musical drama Next to Normal. The gifted artist is starring in the world premiere of Thomas Higgins' Wild Animals You Should Know, which is playing a limited engagement through Dec. 11 at the Lucille Lortel Theatre. Directed by Trip Cullman, the MCC production also features Patrick Breen, Gideon Glick and Jay Armstrong Johnson. Ripley, who also impressed with her work in Broadway's Side Show (Tony nomination), The Who's Tommy, James Joyce's The Dead, The Rocky Horror Show, Sunset Boulevard and Les Miserables, recently spoke about her role as Marsha in the new work from the author of This Modern House, The Elephant Party and The Home Maker; her thoughts about touring the country in Next to Normal; her musical theatre dreams and more.
Question: The last time we talked was right before you were going to launch the tour of Next to Normal. I was wondering what that experience was like for you—taking that particular musical around the country.
Alice Ripley: It was a great learning experience. I got to visit all these different towns and cities, but it's funny how you notice that people are pretty much the same everywhere you go. I noticed that the impact the show had on the audience was a uniform impact, the way it grabs the audience by the heart and won't let it go. It seemed to do that across the country, and it seemed to have gone by real quickly. I can't believe it's been a year already since I talked to you.
Question: I remember at the time you were joking how you were leaving a hit Broadway show to go on tour, which is sort of the reverse of what you would normally do. Were you happy with that decision?
Ripley: Yeah, I feel like I got what I wanted from the tour. I was looking to connect with those kids in the small towns and be inspired by them, and I was. I did find those kids all across the country.
Question: Is there any audience member or anything that anyone said to you along the way that particularly stands out in your mind—how they were affected, or any stories that were shared with you?
Ripley: Well, I think it's the ordinary quality of the story that makes it resonant somehow… You kind of hear the same story from everybody. They all have different details. They're all sharing their own personal experience with pain or grief, but I can picture people in my mind that stand out… When I was in Des Moines, there were only a few people who would come to the stage door. And, at one point, there was this young kid named Nick, and he struck me as just a real enthusiastic theatre person, and he was a young kid out in the middle of Des Moines… I remember him, not so much his story, although he had one just like everybody else, and because of the internet it's easy to keep in touch with these people—through Twitter or Facebook or whatever—and you can just reconnect and say, "Hey! How's Des Moines doing?" [Laughs.] "Where are you going to go to college?" That was a specific person that stands out, but I noticed that the impact that the show has is a unified one on the audience.



photo by Joan Marcus
Question
: How would you say the show affected your life both personally and professionally?
Ripley
: Well, they're intertwined, aren't they? It's just another chapter in the life-long story that you have. It's the relationship that you have with your work, so there's a major chapter for me playing Diana, and playing her so many times in a row. And, I'm still enjoying spontaneous naps to recover from the energy that I put out to play her—not while driving, of course. [Laughs.]
Question
: The musical is now popping up in regional productions. Would you ever be interested in seeing it or would that be difficult watching someone else do the role?
Ripley
: Well, I think I'd be curious to see the show. I did see it in Cincinnati a few months ago.
Question: What was that like?
Ripley: The experience of watching somebody else play Diana… I don't know what it was like to watch me, so all I can say was that it did seem like a different show, which is probably a good thing.
Question: Getting to Wild Animals, how did this role come about?
Ripley: Oh, well it just kind of fell into my lap. And, I'm enjoying playing Marsha. She's the den mother of all these boys all around her. Some of them are actual boys and some of them are grownups, but they all act like boys, and so she's trying to make sense of that for herself and for them.
Question: Tell me about working with Trip Cullman. What's he like as a director?
Ripley: Well, you can't picture Trip without picturing a knit cap on top of his head. He's been side-by-side with Thomas Higgins, the playwright, figuring out where the words go. At this point, we know the play, and with the luxurious weeks that we had of rehearsal—which seem luxurious because it was three whole weeks—I watched Thomas and Trip work real closely together to figure out what the play is. And, I think that that's something that I really admire in Trip, his dedication to the play that way.
Question: Do you have a preference, working with directors, as to how much they give you or to how much they let you explore it on your own?
Ripley: Well, I don't think you can really afford yourself any kind of preference… It's a working relationship, but it's personal at the same time—you find a way to communicate, whoever it is. Whoever you're teaming up with as a director, you find a way to communicate. Sometimes it's difficult, and sometimes it's easy, just like it would be with any person. Some people, you hit it off right away and you kind of get what they mean. Other people, you feel like you're misconstrued or you can never really understand what they're trying to tell you. I have found this with the directors I have worked with over the years—you always find a language, and then you work from there.



photo by Joan Marcus
Question
: Do you think the play has a message or what does it say to you?
Ripley
: When I read this play, it reminded me of
The Crucible
because there's this force that's being used basically for evil, really. I mean, sometimes, evil is wicked and that's kind of fun. The play allows the audience to giggle when the lights come up at the very beginning, so they're giggling, giggling. Then there are moments where everybody is just completely silent—nobody's breathing—because of what's being suggested on stage, which might be titillating, it might be thought-provoking… This show deals with this young boy who is pretty much bored and then this other person who becomes a victim of that. That's how I see it, and my role is that of the den mother, and I'm trying to organize things and encourage these boys. Marsha's role in that world is relatively small. She doesn't have too much of an impact on them. They have their own dynamic going on, all the boys and all the men.
Question: How does it compare for you, working on a play versus a musical?
Ripley: I think it's very similar, and I would venture to say that a well-written musical has a well-written play at its core that it can be distilled down to—the story and words. This play has comedy, it has rhythm to it, it has flow, and there's a musicality to the way the words come out and the way the phrases are joined together, juxtaposed. So, when I'm in rehearsal with Thomas and Trip and I have a line that says, "Because I did Cub Scouts with Matthew, I did the little kids part of it, but this is about becoming a…" They wanted to cut the "of it," so it would just say, "I did the little kids part," and it made total sense to me, immediately, because it just made it more musical the way the line came out and the way that there's a melody to the lines of your character and how they fit in with the other characters. Sometimes it takes a little while to figure that out. It's funny because the more complicated it is, the more you can get away with, but the more simple it is—like this play is very concise—the more diligent you have to be about that.



photo by Joan Marcus
Being a part of that process in rehearsal, and being able to weigh in my idea of what a line might read or what a character might be thinking, it means a lot to an actor to be able to do that, even if the end result doesn't include your idea. It doesn't matter because you were there in the rehearsal room, in the moment, and you were contributing, and that's really what it's all about, for us, anyway, in rehearsal. When we get into performance, we're in a relationship with the audience. But when you're figuring it out, it's like playing volleyball or something. When you're working on a new piece like this, the actors have a little more of a say of their role—how they own the role—because of that. I've found that to be true, but that's true with a musical as well. I don't see them as much different, really. My favorite voice teacher told me that singing is just an extension of speaking, so you can fit that into the question about the play and musical and how they relate or how they differ. It's just an extension.
Question: Is the high or the emotional-release the same in doing a play as in a musical?
Ripley: Well, it's more extreme when you're in a 1,200-seat house and you're unzipping your soul for the audience to peer into, and it's a rock concert, which is what I was doing in Next to Normal. With Wild Animals You Should Know, I have a character that goes through change, and I show my vulnerability at the end, but it's not anywhere near as an intensified, prolonged performance as what I was doing in Next to Normal because Next to Normal, I didn't really ever leave the stage. I hardly ever left except to change clothes and at intermission. It was like a one-woman show—it felt that way. Of course, it wasn't, but I felt like I was out there the whole time. With this play, it's much more reasonable. [Laughs.] I have a few scenes, and then I can go up and paint my nails.
Question: I know everyone wants to do new musicals, but are there any classic musical roles you'd love to do on Broadway?
Ripley: Wouldn't it be fun for me to play Norma Desmond in Sunset Boulevard… for those of us who were around for the first one? [Laughs.] It would be fun, wouldn't it? I will admit that when I was in college and Evita had been out just a few years, I told myself back then, "By the time this is revived, I'll be the perfect age." At the time I didn't consider that I was about as Puritan as they get and not from Argentina. [Laughs.] However, I think that that score is such an awesome score, and it's a real challenge to imagine singing it. So, that's still really attractive to me, all these years later, that idea. Question: I guess once you have a Tony, you're not going to want to be the matinee Eva.
Ripley: [Laughs.] Well, that's something that I might be adjusting in the future—how much of a break I get while I'm performing. How much of a break I get and how often I get it. It depends on what you're doing. With Wild Animals You Should Know, we could run on Broadway for five years and I would probably never miss a show. [Laughs.]
Question: Evita was the show I was hoping to get to see you in at some point.
Ripley: Well, you know, it's not too late and you never know what's going to happen. But, the idea of singing those phrases and telling that story, it really is a challenge. It would be a real challenge to portray her because she was unique and what she went through at the end… Because she's a real person, I think that would be tricky to get it right. When I go to schools and talk to students, I always tell them to steal—if you're going to do a role that's already been done—steal from the original or from whatever one you can actually look at or listen to because there's probably a reason why it was done that way… Coming through you it's going to be different than it was coming through that other person because you're different, so that's something that I try to remember. I would try to steal everything from Patti LuPone, as much as I possibly could.
Question: Can you talk about the Lifetime series?
Ripley: I did shoot a pilot called "Modern Love." It stars Eric Stoltz and Ally Sheedy and Mamie Gummer. It's just a pilot at this point, but I liked it very much. The script reminded me of "thirtysomething," which was always one of my favorites.
Question: Any recordings in the works or other projects you can talk about?
Ripley: Well, I'm about to do a couple of gigs before the end of the year probably at the Copacabana. I haven't told the Copacabana yet! [Laughs.] I'm thinking about that space. I was doing them at Dopo Teatro last summer, but I guess they're not doing them right now, but I would like to do a couple of gigs with my guitar, and I'm ready to record my next album. I've been practicing for a while—definitely ready to do that.
Question: What type of material will be on that?
Ripley: I don't know yet. I'm not sure if it's going to be all new material or another album of covers. If it will be covers, will it be just one artist? I haven't decided yet, but I definitely have a lot to choose from at this point, so that's nice to get up in the morning and play and think, "Hmmm… I like that one. I kind of like that one. How would they fit together? How would that work?" So, that will probably happen before the end of the year I would guess.
Question: Maybe you can get "Rainbow High" into that.
Ripley: Oh yeah, right. I'll bring Seth Rudetsky. He's a variable that must be there at some point in everybody's life… Whenever I think of Evita, I think of Seth Rudetsky. I don't imagine him as Evita, necessarily. [Laughs.] He brought me on to his show one time on Sirius and I sang "Rainbow High" with him and it was really fun. We had a great time doing that.
Question: I'd also love to hear you do the high parts in "A New Argentina."
Ripley: Oh, yeah. Well, I still do conjure up those lines when I'm warming up and in the shower and walking up stairways and stuff like that. You kind of just want to test what it feels like, and it still feels like Evita. [Laughs.] But I think I would [also] love to play Mrs. Lovett.
Question: I can see you playing that, too.
Ripley: And, I just think it would be a nice story if I played Norma. And, then I can play Max at some point… [Laughs.] If I ever shave my head.
[Visit mcctheater.org. The Lucille Lortel Theatre is located at 121 Christopher Street.]
Well, that's all for now. Happy diva-watching! E-mail questions or comments to agans@playbill.com.