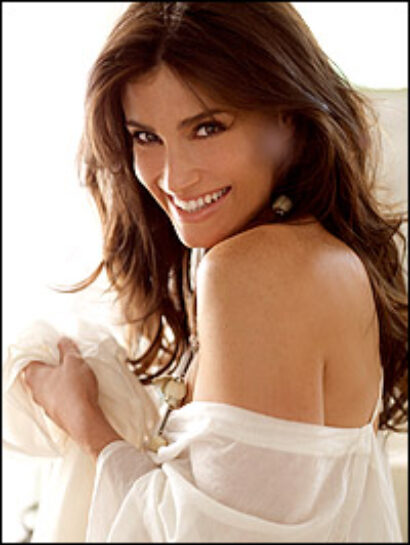 IDINA MENZEL
It's a busy time for Tony Award winner Idina Menzel, who is gearing up to launch her first major concert tour later this summer. The soulful-voiced Menzel, who will kick off her tour June 18 at the Lobero Theatre in Santa Barbara, CA, will be accompanied by Joe Kennedy on keyboards, Simon Smith on bass, Jimmy Paxson on drums, Emerson Swinford on guitar and Holly Palmer on acoustic guitar with back-up vocals by Palmer and Fannie Bell Johnson. The singing actress, who re-created her critically acclaimed work as the misunderstood, green-faced Elphaba in the London production of Wicked, has also just released her second solo recording, "I Stand," on the Warner Brothers label. Songs from that recording, which were penned by Menzel and Glen Ballard, will comprise much of the actress' upcoming concert tour, although fans can also expect a good dose of songs from her musical theatre outings. Menzel also recently took part in starry concerts of Chess at London's Royal Albert Hall, which will be televised on PBS in 2009, and she will be seen on the June 15 Tony Awards with other members of the original (and current) cast of the Tony and Pulitzer Prize-winning musical Rent, which will end its lengthy run in September. I recently had the pleasure of chatting with the humorous, down-to-earth performer, who spoke about her upcoming tour as well as her work in London's Wicked and her recollections of Tony night 2004. That interview follows.
Question: How have your concerts been going?
Idina Menzel: We didn't really start yet. I taped a PBS special last month . . . so I went on a small tour to rehearse for that, [but] in two weeks I start my actual summer tour. . . It's something I've always wanted to do. I'm going to be on the bus with the band!
Question: Tell me about your songwriting process. Does music come first, lyrics?
Menzel: It comes all different ways. I collaborate. In this case I collaborated mostly with Glen Ballard, who is an incredible producer and songwriter. He is really known for sitting in the studio with an artist and encouraging them to bring their own ideas. Sometimes I would come in with lyrics from my diary, and other times just melodies from my little cassette recorder that I [use] walking in the street or in the shower. Other times he had an idea, and he'd play me some chords, and we'd set up a mic, and I'd just sing what came to me, and we'd record for a while and see what happened.
Question: What's it like singing your own music versus singing a song from a show?
Menzel: It's different — I guess it's a little scarier. You're a little bit more transparent. There's no costume or character I'm hiding behind. It's just me and my words and my stories. So, in that regard, it's more challenging, and yet sometimes it's more rewarding because of that. Once you put yourself out there and people are singing along to your songs that you wrote, it's an incredible feeling. On the other hand, doing a new role on Broadway is pretty challenging itself. I think you're only good when you make yourself vulnerable anyway, so performing is going to be that for me in any medium.
Question: I enjoyed the song you had written that you performed recently on the Memorial Day concert.
Menzel: Thank you. That was called "Where Do I Begin?"
Question:
What was it like performing at that outdoor event?
Menzel:
I was very flattered because I did a World War II medley to pay tribute to the soldiers from that time. Then they asked me, in addition to that, to do this song that they liked from my album. That was really an honor for me that they picked that, knowing that most people wouldn't know it. That they had the faith in me to sing that at that time was really, really wonderful. I didn't write that song with soldiers in mind and families saying goodbye to their loved ones, so it's such a gift when you write a song and it takes on new meanings.
Question:
Who would you say were your musical influences?
Menzel:
I have lots of different influences. It's sort of all over the spectrum. I have my singing influences in Aretha Franklin and Chaka Khan and Sarah Vaughan and Billie Holiday, people like that. And, then there are the Joni Mitchells and Annie Lennox, the singer-songwriters who had these amazing voices but also were incredible storytellers and lyricists. And, then there are people like U2 and Bono and Sting and Seal — I just think their music is so beautiful and sort of timeless. I'm kind of all over the map I guess.
Question: Will you be doing any of your musical theatre songs in the concerts?
Menzel: Yeah. It's not such a hard stretch because the shows I've been in are contemporary. I take them out of their context and unplug them a little bit and strip them down and put them more into the context of my show. They seem to work really well, and they're not changed so much that die-hard theatre fans would be disappointed, I don't think. I feel like I'm getting a good response. So that's really nice for me, to kind of join all my worlds together, and it doesn't feel like it's so erratic. It feels cohesive, and it feels like all one artist.
Question: What was it like for you revisiting the role of Elphaba for the London production of Wicked?
Menzel: That was a life-changing experience. I didn't expect to have such a spectacular time. I guess I was going over there as the only American in the cast, and I just made really wonderful friends that showed me the city in a way that I didn't feel like a tourist. I felt like a local, so that's always great. I also had the confidence, having come from doing Wicked [on Broadway]. It's really nice to rediscover a role like I got to do with Rent [on film]. I feel really lucky in that respect. To come back to something years later with a little bit more confidence, you take even more risks. I feel like I was able to discover new things about these characters, and mostly I was able to enjoy myself. I wasn't worrying about getting fired or what people thought as much. I was able to just say, "Okay, this is something I know connects with an audience, and I should just be excited to help further it to an international [audience]." What an honor to be able to do that.



photo by Joan Marcus
Question:
You also were able to have a real final performance this time around.
Menzel:
That's true. I had "closure," quote, unquote. I hate that word, but it's true. I got to finish the show without falling through a hole. [Laughs.] Helen Dallimore, who became one of my closest friends, who played Glinda, gave me a magnificent speech that really just made me feel so good. And, the cast gave me this gift that no one else has except me and Martin Ball, who has it in his computer. It was a calendar that looked like it said "Wicked," but it really said "Naked." It used all the same graphics. It looked like "The Grimmerie," the book that people buy at Barnes and Noble — the coffee-table book that they made for
Wicked
. If you open ["Naked"], each month there's a different person, different actor, different character from the London cast naked! But somehow their costume covers just their privates. So January was Glinda blowing bubbles sitting on her fridge in her dressing room, crossing her legs just perfectly so that you couldn't see anything. And, the Scarecrow, Adam Garcia, was sitting in a box of straw with a little bit of his scarecrow makeup on, but he's got his great bod popping out. And, they got the whole cast, all the guys and the girls separately, to do one…The boys all got on the roof and took their robes off in the freezing cold, all at once took them off, and they arranged their positioning so that each person's body was covering some private part of the next guy. They were on the fire escape on the roof. It was just incredible! And I'm the only one who has it. It's a limited edition. [Laughs.] As soon as the curtain came down, they gave that to me after the last matinee. That's just an example to show how I felt very loved over there and had a wonderful time. And, I got to go back recently to do
Chess
with Josh Groban and Adam Pascal.
Question: How was that experience?
Menzel: That was fantastic! I got to see all my friends, and I made new friends with this cast. Something about taking on a new city, being by yourself and doing it, is such an accomplishment. You get to know your way around, and you make new friends and you understand the culture. To go over there and do Chess and meet a new cast… it's something I love. I love to travel and meet new people.
Question: Is there any talk of bringing Chess over?
Menzel: I think if they did anything, it would remain in its concert form, so we'll see what happens with that. But I got to spend some time with Tim Rice, which was great, and Adam Pascal, who was in Rent with me. That was really nice because we haven't been able to spend any quality time in awhile. And Josh, just singing with Josh is incredible. He's actually guest-appearing on my PBS special. He's doing me a really big favor, and we've become friends. I guess I should keep it a little bit of a surprise, but we sing one of his songs that we turn into a duet. So that was really exciting for me. . . .They recorded the Chess thing for PBS as well. So this summer should be a fun summer. I'm going to be doing the Tonys. We're going to go and say goodbye on the Tony Awards. I'm waiting, actually, to find out what I'm supposed to be memorizing and relearning. [Laughs.] They always assume we remember all these songs, and it's like, "Come on now, let us do some homework!" [Laughs.]
Question: What are your thoughts about Rent closing?
Menzel: It's always been a bittersweet experience. It's been the most wonderful, rewarding experience of my life and the most sorrow-filled, sad time because all of this stuff happened without [Rent creator] Jonathan [Larson]. It always kept it a very unique perspective for all of us . . . I feel like it kept us all grounded at a time when we were all young and didn't know what was going on. It's something that I hold onto now, and it's sort of living in the moment and trying to appreciate what I have when I have it and not let the stresses and the pressures of this industry chip away at that.
Question: I think that's important in this business.
Menzel: It's always come back. It always resurfaces in our lives, whether it was the five-year anniversary or doing the movie or now doing the Tonys and saying goodbye. It's always come at a time when I need to get back in touch with that for myself, where I feel like I'm losing sight of what's important. Like this summer, to remind myself that I've always wanted to go on my own tour with my own music and not be so nervous and worry about every thing and every note and every band member and every review. I'm doing what I love to do and what I've wanted to do since I was a kid. I just want to be able to appreciate that, truly appreciate it, and not just be able to say it. That's really hard — the more successful you get, it's harder, I find — the more [bad] things you read about yourself. [Laughs.]
Question: I think you have to never read anything on a chat board.
Menzel: Yeah. You gotta try and stay away from it. The projects I've been a part of are so important, especially to young audiences, that there's just the responsibility and a gratefulness I feel for these specific projects. I've worked on other great shows, but Rent and Wicked so resonate with people and affected the way they think about themselves and how these young people are growing up and treat each other. Whether it's about sexuality or about being the "green girl," the person that doesn't fit in, or whatever it is… I feel like, for some reason, I feel like I'm on that path.
Question: You're so loved by the younger generation.
Menzel: I hope so. I feel it. I just got this amazing gift from my fans. They took my song "I Stand," the first song on my album, and they all submitted these pictures and videos of them holding up posters saying "I Stand," and the next cut would be the back of the posters saying what they stood for. It was everything from world peace to music in schools to getting a good pedicure. [Laughs.] I was beside myself. I never in a million years thought that the song would evoke something like that. I'm just really looking forward to getting out there and seeing them during the summer and doing our show and connecting with my fans. That's really what it's all about, performing for me, whether it be my own music or being on a Broadway stage or in front of a camera.



photo by Aubrey Reuben
Question:
Since this column is going to run Tony weekend, I just wanted to talk a little about your Tony experience and what you remember the most from the night you won the Tony.
Menzel:
Honestly, I remember most the look on my husband [Taye Diggs]'s face. He was just so proud. I remember he had tears in his eyes. That morning I tried to take a yoga class to kind of get centered. I was really nervous. I hadn't written a speech because I honestly didn't think I was going to win. My agent wrote me an email that day. She wrote, "Please don't be your self-deprecating self and not be prepared. Please write a speech. There's a chance you could win." I left yoga early because I couldn't concentrate. [Laughs.] I went home and I just had a little meltdown. Taye was trying to take a nap before all of the craziness ensued. I lay down with him, and I remember just crying and literally snotting all over his bare chest. And I thought, "This is true love, you know?" [Laughs.] I said, "Honey, everybody's telling me to write a speech, but I don't want to because if I don't win, I got my hopes up and I don't want to get my hopes up." He said, "Who cares? Let's get our hopes up, and if it doesn't happen, it doesn't happen." So we spent a day of our hopes being up, and you can get over that. He said, "Who do you want to thank?" He took me through it, and we verbally went through my speech. He was so proud that night that when I won I actually hit all the points that he helped me with that morning. He said, "I don't know if I could have done that under the nerves and the adrenaline and remembered everything." That's what I remember the most is him doing everything right that day. He let me be me and have my cry, and he was really supportive. The other thing I remember is when they were reading off the [nominees'] names and they read Donna [Murphy]'s name, I was smiling, and he leaned over into my ear and he said, "If they don't read your name, the smile you have on your face now is perfect for when the camera hits you. Just keep that smile, it looks very good." And I looked at him and I was like, "Like this?" and he was like, "Yeah, just keep that if you don't win." [Laughs.]
Question:
Where do you keep your Tony?
Menzel:
It's in my living room on a shelf. Next to it is the Playbill [binder] that I think is even cooler, the thing they read your name from. It says the category and on the back your name and the seal that Renee Zellweger and Rob Marshall broke. That's kind of cool that they're next to each other.
Question: Do you think the Tony affected your career?
Menzel: Yeah, I think the industry gives you a couple of extra chances and new doors to walk through. Theatre is theatre — it only goes so far in L.A. I think, more than the Tony, to be honest, is the success of Wicked and how it's exponentially gotten more and more palpable. Even by not being in it, it's going on and on all over the world. I just meet celebrity after celebrity who says their kids are so touched by this and therefore they are touched by it. So, for that reason, I think it's given me more prestige — more than the actual trophy is the magic and the potency of the show. Question: What are your thoughts about returning to the stage at this point?
Menzel: I'm dying to. I'm trying to find the right project. I'm really proud of the fact that I've been able to do original characters. Not that if the right revival came up I wouldn't be interested, but I do feel it's important to encourage new musicals and new stories and not just recycle hit movies. As great as some of those may be, I'm trying to find some interesting new source material and meeting with people that I love in that part of the business and kind of brainstorming with them. There's nothing to really speak of yet, but that's sort of where my head is.
[For more information visit www.idinamenzel.com.]
DIVA TIDBITS
Two-time Tony Award winner
Bernadette Peters
will autograph copies of her best-selling children's tome, "Broadway Barks," July 12 at 12:30 PM at the Broadhurst Theatre. The book signing at the Broadhurst (235 West 44th Street) will precede the tenth annual
Broadway Barks!
dog and cat adopt-a-thon in Shubert Alley, which is scheduled for 3:30-6:30 PM in Shubert Alley (located between 44th and 45th Streets, between Broadway and Eighth Avenue). Celebrity presentations of pets from citywide animal shelters will take place beginning at 5:30 PM. A list of celebs taking part in the event, which will be co-hosted by Peters and
Mary Tyler Moore
will be announced at a later date. The afternoon event, sponsored by the ASCPA and Pedigree Food for Dogs, will also feature an auction of celebrity-autographed memorabilia. Proceeds from the auction and other donations received during the day will benefit the shelters and organizations attending
Broadway Barks 10!
. For more information call (212) 840-0770, ext. 477, or visit www.BroadwayBarks.com.
Julie Andrews — The Gift of Music
will play the Hollywood Bowl July 18 and 19 at 8:30 PM. The first half of the program will include Rodgers and Hammerstein tunes from
The Sound of Music, The King and I
and
Cinderella
. The second portion of the evening will feature a concert reading of the stage version of Andrews and
Emma Walton
's children's book,
Simeon's Gift
. In addition to Andrews,
Gift of Music
will also feature the talents of
Anne Runolfsson, Kevin Odekirk, Stephen R. Buntrock, Christiane Noll
and
Jubilant Sykes
.
Ian Fraser
will conduct the Hollywood Bowl Orchestra. The Hollywood Bowl is located at 2301 North Highland Avenue in Hollywood, CA. For tickets, call (323) 850-2000. Visit www.hollywoodbowl.com for more information.
The second annual Summer Broadway Festival will be presented at Town Hall in Manhattan in July. Created by Scott Siegel, the series will kick off July 14 with A Night at the Operetta II. Among those scheduled to perform songs by Sigmund Romberg, Rudolf Friml and Victor Herbert are Nancy Anderson, Christine Andreas, John Easterlin, Alexander Gemignani, Jason Graae, Marc Kudisch, William Michals and Jennifer Hope Wills. The 8 PM concert will be directed by Dan Foster with musical direction by Fred Barton. Siegel will provide commentary. Broadway's Rising Stars II is the title of the July 21 concert, also at 8 PM. Emily Skinner and Scott Coulter will co-direct the evening, which features young talent from AMDA, CAP 21, Julliard, CCM, Carnegie Mellon, NYU's Steinhardt and Tisch Schools, Marymount and The New School. The series will conclude July 28 with All Singin' All Dancin' II. Siegel will direct the evening with choreography by Josh Rhodes. Expect songs by Berlin, Porter, The Gershwins, Rodgers & Hart (and Hammerstein), Kander & Ebb and Stephen Sondheim. Casting for the 8 PM performance will be announced at a later date. Town Hall is located in Manhattan at 123 West 43rd Street. For tickets call (212) 307-4100 or visit www.ticketmaster.com.
The Ogunquit Playhouse, the historic summer theatre in southern Maine, will host the New England premiere of the rock 'n' roll musical Breaking Up Is Hard to Do beginning June 25. Directed by Gordon Greenberg, the production will feature Farah Alvin as Marge, Robb Sapp as Gabe, Ed Staudenmayer as Del, Stuart Zagnit as Harvey, Amy Goldberger as Lois and "The Nanny" star Renee Taylor as Esther. Breaking Up features the songs of Grammy Award winner Neil Sedaka. The musical, according to press notes, is "set at Esther's Paradise Resort somewhere in the Catskill Mountains during the summer of 1960. Relive the trials, tribulations and rewards of teenage life caused by infatuations, break-ups and those special summers of days gone by." Audiences can expect to hear such Sedaka classics as "Love Will Keep Us Together," "Stupid Cupid," Laughter in the Rain," "Calendar Girl," "Happy Birthday Sweet Sixteen," and the title tune. Performances continue through July 12. For tickets, priced $39-$58, visit www.ogunquitplayhouse.org or call (207) 646-5511.
Chess in Concert, the two-night, star-studded event that was presented at London's Royal Albert Hall May 12-13, will be aired on PBS stations across the country in 2009. The concert will air as part of the 2008-2009 Thirteen/WNET NY's "Great Performances" season. A spokesperson for "Great Performances" told me last week that the concert of the Benny Anderson-Tim Rice-Björn Ulvaeus musical will air in 2009. BBC-TV is also expected to broadcast the program. Chess in Concert featured Tony Award winner Idina Menzel as Florence, Tony nominee Adam Pascal as Frederick Trumper with internationally acclaimed vocalist Josh Groban as Anatoly Sergievsky, London Wicked star Kerry Ellis as Svetlana, David Bedella as Molokov, Clarke Peters as Walter and Marti Pellow as The Arbiter. Hugh Wooldridge, who adapted the musical for the concert, directed; David Firman conducted the orchestra.
Karen Mason, who is currently playing Velma Von Tussle in the Tony Award-winning Hairspray, will celebrate the release of latest solo recording, "Right Here/Right Now" (Zevely Records) with an appearance at the Barnes and Noble at Lincoln Triangle June 18 at 5:30 PM. Mason will offer a few tunes from the new CD and will also be on hand to autograph the recording. Song titles on the new CD include "All That Jazz," "Secret Love," "Like the Heavens Hold the Stars," "Diamonds Are a Girl's Best Friend," "Help"/"Being Alive," "Hurry! It's Lovely Here," "Make Someone Happy," "Right Here, Right Now," "Get Happy," "As If We Never Said Goodbye," "Everything Old Is New Again" and "Look for the Silver Lining." The Barnes and Noble at Lincoln Triangle is located at 1972 Broadway at 66th Street in Manhattan. For further information call (212) 595-6859 or visit www.bn.com.
And, finally, I will be blogging live from Radio City Music Hall June 15 to give a first-hand account of all the goings-on in the Tony Awards press room. My blogging will begin at approximately 7:15 PM ET at www.playbill.com. Enjoy the Tonys!
Well, that's all for now. Happy diva-watching! E-mail questions or comments to [email protected]