JOAN COLLINS
It was about a decade ago when the idea for a one-woman show was suggested to Joan Collins, the Golden Globe-winning and Emmy-nominated actress best known around the world for her work as the powerful Alexis Carrington Colby in the hit '80s television series "Dynasty." "I was at a dinner, sitting next to Gregory Peck," Collins recently told me, "and he said, 'You know what you should do one day is what I've been doing. I've had the best fun. I'm going around the country doing a one-man show, talking about my life and my movies.' And he said, 'Everybody loves it, and I'm enjoying it tremendously.' And I said, 'Well, that sounds kind of interesting! Maybe I should do that.'"
It was after her marriage to Percy Gibson when Collins began to pursue the idea in earnest. "Percy and I, shortly after we got married, we started talking about it, and he said, 'Yeah, that's kind of a good idea. Let's work on it.' So we worked . . . and we had hours and hours and hours and hours of material to choose from, so it was very, very, very difficult. We spent months going through it and kind of refining it and polishing it and taking things out and putting things in, like any Broadway show, but of course, it's much more difficult, because this is [just] me on the stage. And then, we wanted to have — apropos — we've nonstop clips of newsreels, of clips from movies that I've done, photographs, family pictures — all of this stuff would be going on in the background while I would be referring to it."
Although Collins says that she hasn't seen too many one-person shows, she did say that she was "incredibly impressed by Billy Crystal's one-man show." Her own show, One Night with Joan, debuted in England and will play a limited run in the Ballroom of Feinstein's at Loews Regency Nov. 16-27.
About first performing the show in the U.K., Collins says, "Well, it was obviously quite intimidating at first because I didn't have what one always relies on — a fellow actor to bounce off. I'm bouncing off the audience or my clips in the background, so it was somewhat nerve-wracking at first, but luckily, I got used to it after a while. We did a series of gigs throughout England, ranging from 3,000-seaters to, like, 400-seaters, so I got a chance to work with all different audiences." The Feinstein's Ballroom seats less than 200, which Collins thinks will be a nice change. "I think it'll be more intimate," she says, adding, "I'm going to try to persuade them that we [not] be miked. I spent a year-and-a-half at drama school learning how to project, and now I find that everybody wants the actors to be miked these days. I don't particularly like it — I'd like to use my own voice."
When asked what it's like for the actress to revisit moments from her life on stage, Collins says with a laugh, "Well, I don't know. I don't really think about revisiting them! I'm always interested in seeing all the clips. We've got some wonderful clips. We've got a wonderful clip from 'Dynasty,' we've got great clips with Gregory Peck and Paul Newman. We have a fabulous one with Bette Davis and the wonderful Shirley MacLaine and Debbie Reynolds. So I'm always very interested in seeing those. But I have to say, I enjoy the show. I'm having fun doing it."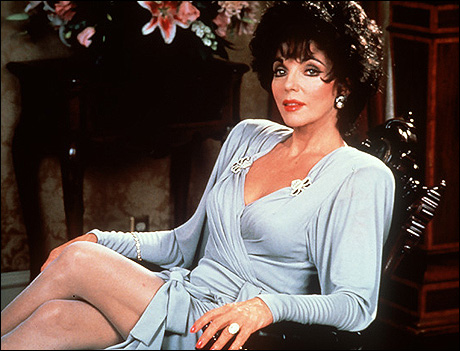 photo courtesy ABC
photo by T. Charles Erickson
Collins, who made her Broadway debut opposite Simon Jones in the 1992 revival of Noel Coward's Private Lives, says she would like to return to the Great White Way. "I would very much like to do Hay Fever by Noel Coward. … Maybe Fran and Barry [Weissler will] see [this interview] and say, 'Oh, that's a good idea!,'" she laughs. "There was talk about me doing it in England and then it was too soon after Judi Dench had done it. But I'd like to do comedy — I like comedy."
In addition to her many acting credits — Collins has appeared in more than 60 feature films and dozens of television series — the actress has also penned several novels and memoirs; in fact, she is currently working on her latest book, "The World According to Joan." "It's very early days right now," she explains. "I don't even have to deliver [it] until March. It's not coming out until September, but basically, it's about 12 chapters with various subjects like marriage, manners, morals, men, beauty, and a chapter about my opinions and revelations . . . You know, I've come to the stage in my life [where] I'm not doing anything that I don't enjoy," she adds. "We have to do certain things we don't enjoy like cleaning our teeth or going to the doctor, but other than that, I'm not going to do anything, career-wise, that I don't enjoy. I'm lucky that I don't have to."
With so many irons in the fire, it seems natural to ask what Collins is most proud of in her career. "Well, you know, honestly, I don't ever look back on my career," she laughs. "I very much live totally in the today, because there's so much going on in my life right now. I mean, I'm doing this [one-woman show], and I'm doing pantomime in England, Dick Whittington. I write books, I've got a TV show up and I'm talking about two or three TV projects. I very rarely look back, except in this show!"
photo by Fadil Berisha
And, finally, when people hear the name Joan Collins, what would she like them to think?
"Gosh. Well, it depends who the people are! If it's my children and my family and my close friends, I'd like them to feel very happy and think, 'Oh, I'm gonna see her soon. That'll be fun.' People that I don't know — I honestly don't really have an opinion." She does, however, have more to say about her upcoming New York run: "I'm looking forward to the fact that I really, really hope that people are going to have a fun time and enjoy it. Everybody says, 'Oh, my God, it's only an hour and ten minutes! It felt like it was 15 minutes!' It does go fast, I think — maybe for them, not for me! It's a lot to remember. But I would like it to be a success, of course."
[Joan Collins will offer One Night with Joan Nov. 16-27 in the Ballroom at Feinstein's at Loews Regency, 540 Park Avenue at 61st Street. Show times are Tuesday-Thursday at 8:30 PM and Friday and Saturday at 8 PM and 10:30 PM. For tickets, priced $60-$125 with a $40 food-drink minimum, call (212) 339-4095 or visit ticket web.com.]
Well, that's all for now. Happy diva-watching! E-mail questions or comments to agans@playbill.com.