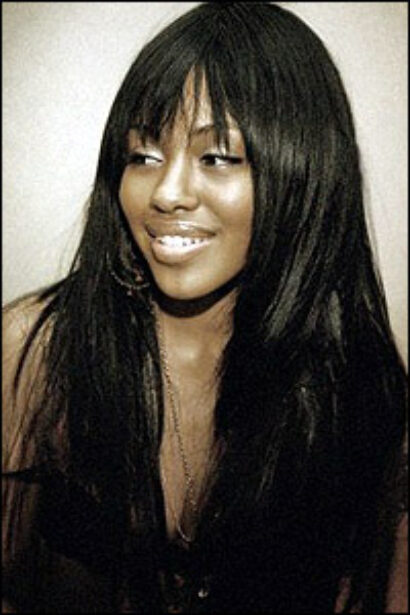 SASHA ALLEN
As soon as Sasha Allen opens her mouth to sing the first few notes of the Galt MacDermot-Gerome Ragni-James Rado classic "Aquarius," audiences at the Tony Award-winning revival of Hair know they are in for a thrilling ride. Allen, who was arguably the vocal find of the 2008-2009 season, possesses a lush, rich alto that simply soars throughout the Al Hirschfeld Theatre. The young singing actress — who is featured on Christina Aguilera's "Back to Basics" DVD as well as on John Legend's "Once Again" and Babyface's "Playlist" — is currently making her Broadway debut in the '60s musical in a stellar ensemble cast that also boasts Gavin Creel, Will Swenson, Caissie Levy, Darius Nichols and Bryce Ryness, among others. I recently had the chance for a quick chat with the performer, who spoke about her Broadway bow, the 2009 Tony Awards and her plans for the future; that brief interview follows.
Question: How did the role in Hair come about for you?
Sasha Allen: I was actually in L.A. doing some other business, and I got a call from my agent, and she asked me if I wanted to come in and audition for Hair. I flew back to New York, and I had a pretty good audition.
Question: Was it a musical you were familiar with? Had you ever seen the show or done the show?
Allen: Not at all. [Laughs.] I was not familiar at all. When I got the audition I flew home, because New York is home for me, and I told my mother, and she was like, "Oh, my God, I love that show! I saw it in the '60s. It was great." So I got a little bit of information from her and then went in to audition.
Question: Do remember what you sang for your audition?
Allen: We actually had to prepare music from the show, so I sang "Aquarius" and "White Boys."
Question: What's it like getting to open the show every night with "Aquarius"? I think you have such a beautiful voice.
Allen: Thank you. It feels very uplifting … I don't know how to put it, but when I open my arms, I feel like I'm really opening myself to everybody. I just feel grateful that I get to be the first thing that they hear. Question: How would you describe Dionne?
Allen: I would say that she is a sensual, sassy thang ! [Laughs.]
Question: Do you have a favorite moment in the show for her?
Allen: My favorite moment is "Aquarius," but a really fun moment, I would say, is "White Boys." At the end [of the show], when Claude is laying on the flag and I get to open my heart to the audience, it evokes an emotion in me and it evokes an emotion in them. I think that's the most powerful part that Dionne has.
Question: Do you think the show has a message, or what does it mean to you?
Allen: As the show's been going on, it's been meaning more and more to me. When you're working on it, you get what's happening and you're trying to dive into it. But now I feel like, now that it's settled, I'm able to be in the moment — really, really be in the moment — it's so powerful and so devastating. To hear some of the comments that the audience say to me afterwards — people that were actually there at that time and how moved they are, I just know that it's really for a purpose, a purpose of change. We always need change. The same things that were happening then are happening now, just in a different way. I'm just happy to be a part of such a powerful and moving piece of work.



photo by Joan Marcus
Question:
The cast has gotten to sing on so many TV shows and so many different events. Is there any one that sticks out as particularly memorable?
Allen:
Well, we just did "The View." That was lots of fun: Meeting all the hosts on "The View" — Barbara Walters was incredible, and Whoopi… all of these people that are so important in my life. I see them on TV all the time. Getting a chance to actually be in their presence was great. And "Letterman," I also had a really great time. I'm just lucky that they choose my song, and that's what they want to hear! [Laughs.]
Question:
Tell me about Tony Awards night. What was that like for you?
Allen:
That was my first Tony Awards. I've never been to the Tonys before. I've done a lot of work in the pop industry and the R&B world, so I've been to the Grammys a lot, but this was really great and very, very different. To watch all of the performances — just watching people take their art so seriously, and [they] are clearly very passionate about what they do.
Question: What was it like when the show won the Best Revival award?
Allen: Oh, my God, people were crying and jumping and acting completely crazy! It was a beautiful thing. The show is really an ensemble piece, and the fact that we won as an ensemble was great.
Question: What's it like backstage at the Hirschfeld? Is there a sense of community among the cast?
Allen: Oh my God, this is one of the best groups of people that I have ever worked with. In thinking about, eventually in the future, moving on to other projects, I just get heartbroken because I wonder if I'll ever meet another group of people as great as these guys.
Question: Since we've never spoken before, let's go back a bit. Where were you born and raised?
Allen: I was born in Harlem Hospital in Manhattan and raised in New York City.
Question: When did you start performing?
Allen: I originally thought I was going to be a classical pianist. I went to Manhattan School of Music.
Question: At what age did you start playing piano?
Allen: I started at six.
Question: When did you start singing?
Allen: At about ten, I guess, my mother realized that I could sing, so she put me in a theatre program. And then at 14 I started auditioning, and I got Andrew Lloyd Webber's Whistle Down the Wind [in Washington, DC].
Question: Was your mom or anyone in your family a singer?
Allen: Nobody else sings. [My mother] was a dancer, and my grandmother was a pianist. My dad has nothing to do with music at all. [Laughs.]
Question: Were there any artists that you particularly admired at that age?
Allen: Whitney Houston. . . . I got signed to Elektra. I kind of had a very all-over-the-place career, but it was always based on my voice.



photo by Aubrey Reuben
Question:
You've also worked with a lot of different pop stars.
Allen:
Yes, lots of pop stars — Christina Aguilera, Leona Lewis, Alicia Keys, John Legend, Babyface and some others.
Question:
Is there anyone who you enjoyed working with that stands out for you?
Allen:
Different people for different reasons. Alicia Keys is the sweetest and such a hard worker. Christina Aguilera works her ass off and is a perfectionist. John Legend is completely soul-filled, and Leona Lewis [is] the sweetest girl I have ever met. Everybody had something different about them that I was able to really get into.
Question: You're also putting together a solo album, right?
Allen: Yes, I am.
Question: What type of music will that be?
Allen: I would say it's a cross between rock and soul.
Question: Will it be original music?
Allen: Yes, mostly original. I did do a cover of "If God Was One Of Us," the Joan Osborne song. The way I sing it is a cross between rock and soul.
Question: When are you looking to release the CD?
Allen: I actually don't have a due date at the moment. Currently I'm so busy with Hair, but I've released some singles. Question: Where can people find the singles?
Allen: iTunes.
Question: How long do you think you'll stay with Hair?
Allen: Well, I have a year contract, so that's definite. And, hopefully longer. I'm really enjoying it.
Question: Where would you like to see your career go from here? Would you like to do more theatre?
Allen: For awhile I didn't know exactly what direction I wanted to go in, but from doing Hair and getting into theatre, I'm actually hoping to stay on Broadway for awhile.
[Hair plays the Al Hirschfeld Theatre, 302 West 45th Street; for tickets call (212) 239-6200 or visit telecharge.com or hairbroadway.com.]
DIVA TIDBITS
Tony Award winner Betty Buckley will offer a Song Interpretation Workshop in September and October at the Fort Worth Community Arts Center in Fort Worth, TX. Presented by Imagination Celebration, the six-session course will kick off Thursday, Sept. 3. Classes, which last four or five hours, begin at 6:30 PM. For further details and to arrange an interview, call (817) 875-0256 or email S[email protected]. . . . Buckley will also join Grammy winner John McDaniel for three "Concerts @ The Modern" Aug. 29-31 at the Modern Art Museum of Fort Worth, TX. The Broadway By Request shows are scheduled for Aug. 29 at 8 PM and Aug. 30-31 at 7 PM. Those purchasing $100 tickets to the Aug. 30 performance are invited to a post-show reception at the Gentling Studio in Fort Worth. Net profits from the concerts will help fund the FWISD after-school program, "Workshop for Young Singers & Storytellers," which is sponsored by Imagination Celebration. The "Workshop" — 20 after-school sessions — is for gifted and underprivileged children and will also be taught by Buckley throughout the school year. Interested students and parents should call Imagination Celebration at (817) 870-1141.
Singing actress
Susan Egan
and composer
Georgia Stitt
will team for an upcoming concert at The Catalina Jazz Club in Hollywood, CA. Show time at the famed jazz venue is Aug. 30 at 7:30 PM. The duo recently presented their new show,
All Knocked Up! (again)
, at the Metropolitan Room in Manhattan. "Come join these gal pals for a raucous evening as they sing their own tunes and others amidst juicy gossip and the occasional pee break," according to press notes. "Fans should catch them before their contractions set in!" Catalina Jazz Club (Bar & Grill) is located at 6725 Sunset Boulevard (one block east of Highland) in Hollywood. For tickets, priced $20 (plus food/drink minimum), visit www.catalinajazzclub.com or call (323) 466-2210.
Brandi Burkhardt
, who is currently playing Sophie Sheridan in Broadway's
Mamma Mia!
, will host the Aug. 31
Monday Nights, New Voices
concert at the Duplex Cabaret Theatre. The evening, which begins at 7 PM, will celebrate the work of composer
Katie Thompson
. Vocalists will include
Brad Greer, Anna Harrington, Antoine Smith, Jackie Washam
and
Alex Wyse
. Thompson will also be on hand to relate stories associated with each of the presented songs. Music director
Paul Staroba
will accompany the singers on piano. The Duplex Cabaret Theatre is located in Manhattan at 61 Christopher Street. There is a $12 music charge and a two-drink minimum; for reservations call (212) 255-5438 or visit theduplex.com.
Tony Award winner Kristin Chenoweth duets with Grammy Award-winning violinist Joshua Bell on his new CD, "At Home with Friends," which is due in stores on the Sony Classical label Sept. 29. The former Wicked star performs the classic Rodgers and Hart ballad "My Funny Valentine," accompanied by Bell. The new disc of instrumental and vocal duets also features guest appearances by Sting, Marvin Hamlisch, Nathan Gunn and Josh Groban, among others. For more information visit www.sonymasterworks.com.
The second annual Broadway in South Africa: The Concert will be presented Oct. 5 at the Peter Norton Symphony Space in Manhattan. The 7:30 PM concert will feature original songs based on stories written by Broadway in South Africa students who participated in a four-day arts intensive that was held in January in Cape Town. Those commissioned to pen these songs include composers Deborah Abramson, Scott Alan, Jeff Bowen, Joe Iconis, Daniel Larsen, Selloane Nkhela, Ryan Scott Oliver and Katie Thompson. The new songs will be performed at the upcoming concert by Shoshana Bean (Wicked), Sean Bradford (The Lion King), Lili Cooper (Spring Awakening), Darius de Haas (Kiss of the Spiderwoman), Eden Espinosa (Wicked), Frankie James Grande (Mamma Mia), Adam Kantor (Rent), Tracy McDowell (Rent), Selloane Nkhela (The Lion King), Courtney Reed (In The Heights), Kate Shindle (Legally Blonde) and Lisa Nicole Wilkerson (The Lion King). The evening will also feature a performance by South African recording artist and producer Sipho "Hotstix" Mabuse as well as a concert dance piece choreographed by Charles O. Anderson , artistic director and founder of Dance Theater X. Jen Bender will direct Broadway in South Africa: The Concert with musical direction by Jesse Vargas . Individual ticket prices range from $20-$100 and are available by calling Symphony Space at (212) 864-5400 or by visiting www.symphonyspace.org. VIP sponsor packages range in price from $5,000-$25,000 and are available by contacting Sean Bradford, BSA Co-Founder and Executive Director, at [email protected] or (917)370-6915, or by visiting www.broadwayinsouthafrica.com.
Shirley Jones, who played Marian in the film of The Music Man, and Rebecca Luker, who played that same role in the musical's recent Broadway revival, will take part in "The Music of The Music Man" concerts Nov. 27-28 at the Kennedy Center Concert Hall. The three concerts will feature the National Symphony Orchestra conducted by Marvin Hamlisch. The City Choir of Washington will also be part of the concerts celebrating the Meredith Willson musical. Luker will play Marian Paroo with Jones as Mrs. Paroo. Show times are Nov. 27 at 1:30 and 8 PM and Nov. 28 at 8 PM. The Pops performance will begin with a medley of Willson's best-known tunes. After the intermission, a line-up of Broadway stars — including Luker and Jones — will offer tunes from The Music Man, including "Seventy-Six Trombones," "My White Knight" and more. For more information visit www.kennedy-center.org.
Tony Award winner
Lillias White
, who will return to Broadway this fall in the new musical
Fela!
, will go so it solo at the Triad in Manhattan next month.
Lillias White Live!
will play the West Side venue Sept. 14, 21 and 28. Part of the Just a Piano concert series, the 9:30 PM concerts will feature
Timothy Graphenreed
on piano. The Triad is located at 158 West 72nd Street. There is a $25 cover charge plus a two-drink minimum; for reservations visit www.triadnyc.com. Well, that's all for now. Happy diva-watching! E-mail questions or comments to
[email protected]
.