It's a busy time for Judy Kuhn, the three-time Tony nominee who created the role of Cosette in the original Broadway production of Les Misérables. The celebrated singing actress, who boasts one of the more glorious voices in the business, will join the cast of the revival of that hit musical at the Broadhurst Theatre Oct. 23 in the role of Fantine, Cosette's mother.
Kuhn has also just released her second solo recording, "Serious Playground: The Songs of Laura Nyro" (Ghostlight Records). The former star of Chess debuted many of these songs last winter during Lincoln Center's American Songbook series at The Allen Room at Jazz at Lincoln Center, and she is spending Monday nights this month reprising that acclaimed concert for Joe's Pub audiences (her last concert is scheduled for Oct. 22 at 7 PM).
On her new disc Kuhn has applied her silvery, vibrato-filled tones and her gifts as an actress to 14 Nyro tunes, none more beautiful than a slowed-down, lyric-intense rendition of "Stoney End." Having been covered by the likes of Linda Rondstadt and Barbra Streisand, "Stoney End" may be Nyro's most famous song; Kuhn's version holds its own with the previous renditions, and her take may be the most moving. She also scores with an emotional "Lonely Women"; the upbeat "Luckie" and "California Shoeshine Boys"; and a powerful "Save the Country," which is as relevant today as it was when Nyro penned the tune in the late sixties.
Last week I had the great pleasure of chatting with the down-to-earth and good-humored Kuhn, who spoke about her return to Broadway and her deep appreciation of the songs penned by the late Nyro.
Question: You performed these Laura Nyro songs in January. What's it been like revisiting them at Joe's Pub the last few weeks?
Judy Kuhn: It's been fantastic! Doing something once is never enough. [Laughs.] Working on the CD was an opportunity to step back and really work on [the songs] more, so it's been great going back to them and doing them in concert again. My husband, who is one of my most reliable critics, says he thinks it's better than it was at Lincoln Center. I'm not sure why, exactly, except that I probably just feel more comfortable with the material and know it better. Question: I love your rendition of "Stoney End." It's hard for me to get through the CD because I just keep going back to that track.
Kuhn: Oh, thank you. Jeff [Klitz] did a beautiful arrangement of it I think. I love that song.
Question: What's it like to perform "Stoney End"?
Kuhn: I love it. Both times I've done it at the Pub, it's practically stopped the show. It's gotten the longest applause at the end, which is always unusual for a song that's quiet. It's one of those songs that's familiar to people, but I think the way that we're doing it, people hear it completely differently. There have been a lot of people who have told me that they never really knew what the song was about. They never knew what the words really were, which is why we wanted to do it that way. Originally it was done as kind of an uptempo, poppy, jingly song, and it's really a song about somebody who wants to die. [Laughs.] It's kind of eye-opening, I think, and people really respond to it. With all of these songs, I love doing them because I just think the words are so incredible. As an actor and as someone who loves words and language, they're great to perform because every time you perform them, you can find something new.
Question: Were these songs at all difficult to approach — theatre songs usually tell a story, while a lot of these seem to paint a picture or set a mood. Did you do any research to see what Nyro meant with some of the songs?
Kuhn: There were a couple [songs] that I know that had very specific meaning for her in her life. I read somewhere that she wrote "Been on a Train" after a cousin of hers died of an overdose. I know that "To a Child" she wrote when she was a new mother, so I know they had specific resonances in her own life. I think she's a great storyteller — I think there are always things you can find in [the songs] to make personal. I think one of the reasons that people love this music so much — even people who were unfamiliar with her music before or people like my child, who is almost 13 and certainly didn't grow up listening to her — is because they're really timeless and very universal. All the feelings and thoughts and stories that she tells — people just respond to them.
Question: And, certainly "Save the Country" is as apropos today.
Kuhn: Absolutely. People start applauding in the middle of that song. They're so excited to hear it, whether they've ever heard it before or not. [Laughs.]
Question: Have you heard from any of Nyro's fans, people who might not have known your work but knew you were doing Nyro songs?
Kuhn: Yes, last Monday there were a couple of people there. One said he had been one of her closest friends. He went on about how much she would have appreciated how I'm singing her songs, and how it meant so much to have someone out there singing the songs and paying tribute to her. He was so grateful and so sweet. It was incredibly moving to me. There was someone else there who said he'd been a Laura Nyro groupie and how much he appreciated that there was someone out there singing her songs. It's a relief to me that those friends and fans aren't upset with the way I'm singing them. [Laughs.] Someone did actually tell me that they were wary [about coming to the concert]. They thought it was going to be hard to listen to somebody else sing her songs, but they really loved it, so it's been very gratifying. It was very nice to hear. Question: Do you have a favorite Nyro song?
Kuhn: It's too hard to say. Obviously I love them all or I wouldn't have chosen them, but there are certain ones like "To a Child," which I feel particularly attached to because I have a child, and "Mother Spiritual," where I feel like Nyro's spirit is somehow in that song. I just always think about her when I sing that one.
Question: Would you like to take this concert elsewhere?
Kuhn: Oh, yeah. I'm doing it at the Kennedy Center on Oct. 26, and I'm very much looking to book it elsewhere late spring, in the fall, whenever. I do think that it's music that a lot of people would like to hear.
Question: Now, getting to Les Miz. How did the offer come about to play Fantine?
Kuhn: I got an email [from one of the producers] when I was on vacation in Spain in August, saying that Cameron [Mackintosh] had brought the idea up, and [the producer] was feeling me out to see if I'd be interested. And I said, "Sure. I'm on vacation, but when I get home, let's talk about it." [Laughs.] It just seemed like the right time to do something like this and that it would fit into my life. I was ready to go back to work in that way, and I thought it would be fun to revisit this show that was such an important part of the beginning of my career.
Question: What stands out in your mind about the rehearsal process for the original production?
Kuhn: It was kind of like being in school in a way. John Caird and Trevor Nunn are really teaching directors, and I learned so much from working with them. I was so green then. I had some experience on Broadway and working on a big piece like that but not very much. It was really an education, and it was so exciting to be part of this big ensemble telling this big story. I think that's what I learned most about is the specificity of storytelling and how you tell stories as an actor. They were really great about that, I thought, and I think that's what's sort of wonderful about the show. It's thought of as this kind of spectacle, but it's really not. There's hardly any scenery in it at all. It's really actors moving chairs and tables around and playing lots and lots of different parts to tell this story that's peopled by many, many, many characters. I love that about it. The rehearsal process was just very exciting. They really challenged us to be inventive and to use our imaginations. Despite the fact that there had been another production, we felt like we were doing it for the first time. They allowed us to make our own discoveries. It was very exciting.
Question: What's the rehearsal process been like this time around?
Kuhn: I've only just begun. I started on Tuesday [Oct. 9], so so far it's only just been me and the stage manager. I had the opportunity, just by happenstance, to talk to the associate director from London, who just happened to come by the theatre on Tuesday. We sat down and had a long talk about Fantine and her story, which was really useful, but mostly I've just been learning the blocking and working on the music. On Friday I start working with the other cast members.
Question: You get to sing what's probably my favorite song in the score, "I Dreamed a Dream."
Kuhn: It is a great song.
Question: How are you approaching the song?
Kuhn: Well, I don't know yet. I've just gone back to the novel because I wanted to read [Fantine's] story again. I read it 20 years ago, but I don't remember the specifics of her story. Partly I wasn't looking for the specifics of her story at that time, but also it was a long time ago. [Laughs.] The thing about her story is [that it is] so important, but it's so short in the show, and it's told in very broad strokes. I feel like my job is to really fill in all the blanks, all the months in between… There's that one sequence, which they call "The Docks," where she sells her locket, then she sells her hair, and then she becomes a prostitute. Knowing that between each 30-second or one-minute sequence, months pass, my job is to find out what happens in all those months to her physically and emotionally.
The thing about "I Dreamed a Dream" is you get her back story. That's also my job, to really understand those teenage years when she has this love affair [and] what [those years] were like. What happened to her when she was abandoned? I see her as a very positive and resilient and strong person. I don't see her as a victim at all. I think she is victimized by circumstances, but I think that she's a fighter. She fights until the very end. I just have to find out where that comes from in her. That's sort of where I am right now, but I have many questions and not very many answers, so I have to find some answers in the next two weeks. [Laughs.]
Question: I remember years ago on one of the White House salutes, you performed "I Dreamed a Dream." At that that time were you ever thinking that someday you might play Fantine, or did you just like the song?
Kuhn: Actually, they asked me to sing it. Marvin Hamlisch was the music director, and I met with him to talk about what I would sing. He said, "I want you to sing that song from Les Miserables," and I thought, "I don't really have any songs in Les Miserables that I could sing out of context." And he said, "You know, that 'I Dreamed a Dream' song." I thought, "Uh oh! That wasn't my song!" [Laughs.] I couldn't really say no at that point. I did feel a little badly about it, but I did it. And I loved doing it. It was a song that I loved, but I don't think at that point I ever imagined myself playing Fantine.
Question: What are your thoughts about playing the mother of the character that you created 20 years ago?
Kuhn: I guess I feel like I have more to bring to it now being a mother — I know what it is to be a mother. I think that's obviously very key part of who she is — that she sacrifices everything for her child ultimately. She does sacrifice her life, and I think that it's hard to understand why someone does that unless you have a child. It's a very deep impulse to feel that you would die for somebody else like that.
It's funny because the whole idea of playing the mother of a character you played, it sounds like, "Oh, now I'm old enough to play the mother." Except that actually in the show they're not that different in age the way they appear in the show because of the passage of time. [Laughs.] . . . I probably wasn't grown up enough [to play it years ago] … even though I would have been the right age to play Fantine then. Age sort of doesn't seem to make that much of a difference in casting the actor who plays her. She's been played by actors of many different ages, but I don't know that I would have had the maturity then to play her.
Question: Why do you think this show has remained so popular? It ran forever originally, and now this revival keeps getting extended.
Kuhn: I think it's just such an incredible story, and I think it touches on so many things that have great meaning to people: whether it is the story about parents and children or the story of the downtrodden somehow finding some kind of spiritual and moral salvation, which is something everybody can cheer for and appreciate. I just think it's a beautiful story. It's beautifully told, and people love good stories. Question: How long will you stay with the show?
Kuhn: Six months.
Question: You mentioned your daughter earlier. Does she have any interest in performing?
Kuhn: She likes the theatre and she likes performing, but she hasn't shown any particular obsession with it, which is fine with me. [Laughs.] She likes so many different things, I have no idea what she'll wind up doing with her life. I think she'll probably do theatre in school, and who knows what'll happen.
Question: Were there any performers that influenced you when you were younger?
Kuhn: Gosh, I suppose I should think about this so I can have these answers ready. [Laughs.] You know, I don't think I can name anyone specific. Growing up, I went to the theatre a lot, and my parents took me to the theatre. I just loved watching actors. I grew up in Washington and went to Arena Stage, and I remember seeing these productions. It was actually the bicentennial year, and they did in rep The Front Page, Our Town and Death of a Salesman. Robert Prosky and Max Wright and all these amazing actors did all three plays. I remember watching them and, to me, what was incredible was that I had this awareness of these actors who were playing these parts. I had this awareness of the artifice of it, and yet at the same time [was] completely transported by it. It completely suspended my disbelief. I can remember that feeling. There was some kind of magic in that, and I think that's always what I've been drawn to in terms of the theatre and being an actor — to kind of find that transformation and that magic. I've always admired actors, whether they sing or speak, whether it's musical or non-musical theatre. That kind of transformation has always been magic to me. I think that's what has always inspired me. It's been, I would say, many, many, many actors. I remember seeing Glenda Jackson do Hedda Gabler when I was in high school, at the National Theatre, and sitting in the third row. I think I went with my literature class, and [I remember] thinking it was one of the most extraordinary things I'd ever seen. Moments like that. I was living in New York when I was ten, watching Richard Kiley do Man of La Mancha and, again, thinking, "I know I'm in this room with these people who are pretending, and yet I'm weeping. Why is that?" I think it's more moments of experience I have in the theatre more than a specific actor or performer who I thought I wanted to be like.
Question: When do you think you knew that it would be your career? I imagine you did theatre in high school.
Kuhn: I don't think I knew it until I was in New York actually doing it and someone was paying me for it. I think I always fantasized about it, and I kind of tried to resist it, and then I thought, "I'll give it a try, and I can always do something else." I think once I was sort of doing it and being paid for it, I thought, "I guess this is what I'm doing with my life, at least for now." [Laughs.] I think I've always had this idea that when I find something else to do, I'll do that… but it hasn't happened yet. [Laughs.]
Question: Do you have any other projects in the works?
Kuhn: Now that I'm sort of into the idea of creating my own concerts, I'm always thinking, "Well, what will the next thing I do be?" and trying to gather those ideas so that when I have time to work on that, I will.
Question: Do you enjoy putting these concerts together?
Kuhn: I love it. There are endless possibilities of things to do, and it's great to be able to create your own work and not [have to] wait for the phone to ring and someone to offer you a job.
[Les Misérables plays the Broadhurst Theatre, located in Manhattan at 235 West 44th Street. For tickets and information, call (212) 239-6200 or visit www.telecharge.com or www.lesmisnewyork.com. For tickets to Kuhn's Joe's Pub concert, visit www.joespub.com.]
BRIAN STOKES MITCHELL at Carnegie Hall
with Headley, Rashad, Daniels and McEntire In the past two decades several of the leading ladies of the American musical theatre — including Tony Award winners Betty Buckley, Patti LuPone and Bernadette Peters as well as current Les Miz star Lea Salonga — have graced the stage of Carnegie Hall with thrilling solo debut concerts. In that same time period, only one of Broadway's leading men has done so: Brian Stokes Mitchell, the Tony-winning Kiss Me, Kate star who made his solo Carnegie Hall debut this past Monday in an evening stylishly directed by Richard Jay-Alexander that featured a 42-piece orchestra led by Paul Gemignani.
Mitchell, who was also Tony-nominated for his performances in Ragtime, King Hedley II and Man of La Mancha, may be one of the most at-ease performers around. If the singing actor was at all nervous, it showed not a bit as he bounced onto the stage of the famed hall, arms outstretched and a smile as large as his many talents. Mitchell kicked off his generous, three-hour concert — a benefit for the Actors Fund of America — with the classic West Side Story tune "Something's Coming," which can also be heard on his self-titled debut solo recording on the Playbill Records label. Mitchell then launched into the South Pacific ballad "Some Enchanted Evening," and out poured his powerful lush baritone; when he sings in this vocal range, Mitchell's voice is so rich and beautiful that the sound alone is emotionally stirring.
After the tumultuous applause subsided, Mitchell simply stood centerstage and said, "Practice." The answer to the classic joke — "How do you get to Carnegie Hall?" — drew a big laugh from the sold-out crowd. Not only a gifted singer, Mitchell is also a supreme entertainer, and he delighted the audience with descriptions of the backstage of Carnegie Hall before delivering the Kurt Weill-Ira Gerswhin tongue-twister "Tchaikovsky." A medley of "Another Hundred People" and "Take the A Train" preceded the evening's first show-stopper, a roof-raising duet of Ragtime's "Wheels of a Dream" with special guest, Tony Award winner Heather Headley. Mitchell and Headley's voices soared as they belted out, "And we will ride on the wheeeels of a dream!" The two then offered a second, unexpected duet on the sweet "Dreamgirls" ballad, "You Are My Dream (When I First Saw You)."
Mitchell, who is also the president of the Actors Fund, said he felt like "a kid up here [on this stage] — a kid with a happy childhood." In fact, he was filled with so much joy that he wanted to share the experience with someone in the audience and brought to the stage a concertgoer named Russ, so he could also bask in the glow of the Carnegie Hall spotlight. Mitchell then recounted a period in his youth when he was not so confident, explaining, "I was a fat kid. Well, they used to call it husky," he laughed. His discussion of that period in his life preceded a medley of "Bein' Green" and an especially poignant and memorable version of Bruce Hornsby's "Hooray for Tom."
Another highlight of the evening, Maury Yeston's "New Words" — dedicated to Mitchell's 3¾-year old son — followed. Mitchell's version, featuring an extended ending, was particularly moving."
The first half also featured the comic "Twisted"; a duet with Phylicia Rashad on Jelly's Last Jam's "Last Chance Blues" (Mitchell also demonstrated his tapping abilities); and two Brazilian songs — Antonio Carlos Jobim's "Waters of March" and Ivan Lins and Vitor Martin's "The Island," which features English lyrics by the Bergmans.
Mitchell concluded the first act with a roof-raising version of the Man of La Mancha anthem, "The Impossible Dream."
If the first half of the evening demonstrated Mitchell's ease with a wide array of musical styles, the second secured his position as one of the leading men — perhaps the leading man — of the American musical theatre. The bill featured songs from six decades of Broadway and Off-Broadway tunes.
Mitchell began the second portion of the concert with Funny Girl's "Don't Rain on My Parade," which the actor began slowly and then built to an exciting, full-voiced climax. Nikki Renee Daniels — who filled in at the last minute for opera star Harolyn Blackwell — lent her lovely soprano to her duet with Mitchell on Porgy & Bess's "Bess, You Is My Woman Now."
A potent, lyric-driven reading of Sweeney Todd's "My Friends" preceded a glorious, "unplugged" version of South Pacific's "This Nearly Was Mine" that allowed Mitchell's creamy tones to spread throughout the cavernous Carnegie Hall unamplified.
The concert's final special guest — country superstar Reba McEntire — joined Mitchell for a delightful duet of Annie Get Your Gun's "Old-Fashioned Wedding." McEntire, who had previously shared the Carnegie Hall stage with Mitchell in the acclaimed (and later televised) South Pacific concert, then took centerstage to deliver "I Got Lost in His Arms," which she said was her very favorite song from Annie Get Your Gun, the show that marked her Broadway debut when she succeeded two-time Tony winner Bernadette Peters in the role of Annie Oakley. Mitchell and McEntire also lent their voices to a duet of the pop hit "I Can't Make You Love Me." A jazz-tinged arrangement of Cy Coleman and Carolyn Leigh's "It Amazes Me" — featuring pianist Tedd Firth — was dedicated to Mitchell's wife, actress Allyson Tucker. A powerful "How Glory Goes" — the stirring ballad from Adam Guettel's Floyd Collins — and the Gershwins' "How Long Has This Been Going On?" followed.
Mitchell concluded his evening with John Bucchino's "Grateful." The Broadway Inspirational Voices — led by Michael McElroy — joined Mitchell for the beautiful song, which brought the crowd to its feet. As Mitchell sang, "Grateful, grateful, truly blessed and duly grateful," it was a sentiment felt by all who had attended his wonderful evening of song.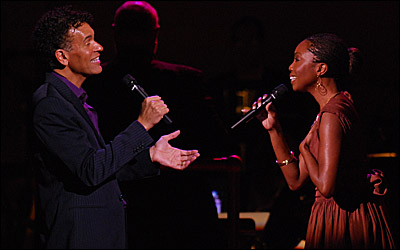 Brian Stokes Mitchell and Heather Headley

(The evening also featured the presentation of the Actors Fund Medal of Honor to lawyer and
Chorus Line
producer John Breglio. Tony and Olivier Award winner Patti LuPone drew some of the biggest laughs of the evening with her terrific introduction.)
DIVA TIDBITS
The lead role in the York Theatre Company's upcoming production of
The Baker's Wife
has been cast:
Renée Elise Goldsberry
, who created the part of Nettie in
The Color Purple
, will star in the title role and get the chance to wrap her voice around the show's best-known tune, "Meadowlark." The cast will also feature
Max von Essen
(as Dominique),
Lenny Wolpe
(as the Baker) and
Gay Marshall
(as Denise). The Mufti series is presented at the Theatre at Saint Peter's, which is located at 54th Street, east of Lexington Avenue. For more information or to purchase tickets, call (212) 935-5820 or visit www.yorktheatre.org.
The Kaufman Center's Broadway Close Up series will continue Nov. 5 with Sheldon Harnick: To Life!. The 8 PM concert at the TimesCenter will boast the talents of Rebecca Luker, Megan Lawrence, Jan Maxwell, Richard Kind, David Margulies, Christine Pedi, Nancy Anderson, Ben Schrader, Erica Schroeder, Todd Thurston and Sy Adamowsky. The evening will also feature three young students from the Kaufman Center's Lucy Moses and Special Music Schools: Luke Rosen, Jesse Murray and Oliver Betz. John Znidarsic will direct the concert with musical direction by Richard Danley. Sean Hartley hosts. Harnick, who penned the lyrics to Jerry Bock's music for The Apple Tree, She Loves Me, Fiorello! and Fiddler on the Roof, will chat about his creations during To Life!. The TimesCenter is located at 242 West 41st Street, between Seventh and Eighth Avenues. For tickets call (212) 501-3330. For more information visit www.kaufman-center.org.
The work of Jeff Blumenkrantz, the celebrated composer who received a Tony nomination for his contributions to the score of Urban Cowboy, will be presented at Birdland Nov. 4. The composer-lyricist will be joined on the intimate stage of the famed jazz club by Adina Alexander (Wicked, The Wedding Singer), Donna Lynne Champlin (Sweeney Todd, Hollywood Arms), Laura Patinkin (Beau Jest, Fiddler on the Roof), David Perlman (Calvin Berger) and Alysha Umphress ("XL Star," Funked Up Fairy Tales). Show time is 7 PM. "What sets this show apart from the concerts I've been doing for the past few years," Blumenkrantz told me earlier this week, "is that, instead of presenting the same old songs from my songbook and podcast, I'll be premiering songs that have never been heard before: spec songs, cut songs, new songs, songs from abandoned projects [and] a song written as an assignment for my first year in the BMI Workshop." Birdland is located in Manhattan at 315 West 44th Street. For reservations call (212) 581-3080 or visit www.birdlandjazz.com.
The Nov. 1 broadcast of the award-winning ABC comedy "Ugly Betty" will feature scenes filmed on location at the Pantages Theatre, current home of the Los Angeles production of Wicked. The episode, which is titled "Something Wicked This Way Comes," will feature guest appearances by L.A. Wicked stars Eden Espinosa (Elphaba), Megan Hilty (Glinda) and Kristoffer Cusick (Fiyero). The 60-minute program, penned by Henry Alonso Myers and directed by Wendey Stanzler, is described as such: "Betty and Henry continue their illicit romance and plan a secret date to the Broadway musical Wicked. But things don't go as planned when Daniel, thinking Betty's dating Gio (guest star Freddy Rodriguez), gives her tickets for the two of them instead - tickets which Gio refuses to give up." "Ugly Betty" airs on ABC-TV from 8-9 PM ET; check local listings.
PS Classics will record the original cast recording of the new musical Xanadu, which currently plays the Helen Hayes Theatre. The cast of the acclaimed musical — including Kerry Butler, Cheyenne Jackson, Tony Roberts, Mary Testa, Jackie Hoffman, Curtis Holbrook, Anika Larsen, Kenita Miller and Andre Ward — will head into the recording studio Oct. 29. Jeffrey Lesser will produce the CD, which is expected to arrive in stores Jan. 8, 2008. The cast recording will be available the first week of December by visiting the PS Classics website, the Xanadu website or the Helen Hayes Theatre. For more information visit www.xanaduonbroadway.com or www.psclassics.com.
Well, that's all for now. Happy diva-watching! E-mail questions or comments to agans@playbill.com.