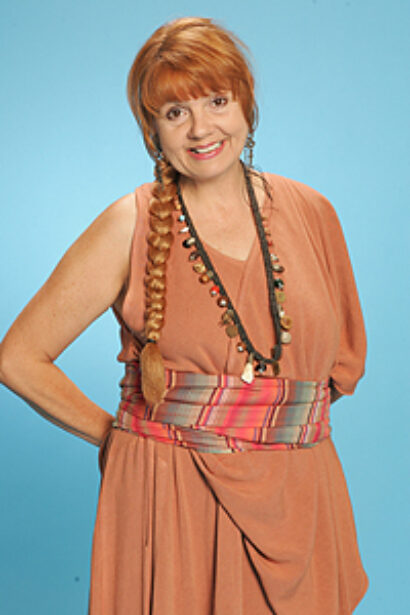 ANNIE GOLDEN
There is something completely genuine in the performances of Annie Golden, who made her Broadway debut as Mother in the 1977 revival of Hair, later appearing as Jeannie in the 1979 film of that Gerome Ragni-James Rado musical. Blessed with a powerful rock-n-roll belt that seems to be unaffected by time, Golden always brings truth and a down-to-earth grittiness to all the characters she portrays. She was most recently on Broadway in the hit David Yazbek-Terrence McNally musical The Full Monty, playing Georgie Bukatinsky, a role she created in the show's original workshop and one she continued to play throughout the show's two-year run. Now, Golden is back onstage in the new Off-Broadway musical The Ark at the 37 Arts Theatre. Golden stars as Noah's wife Eliza in Michael McLean and Kevin Kelly's musical, which features direction and choreography by Ray Roderick. I recently had the chance to chat with the charming actress; that interview follows:
Question: How did you originally become involved with The Ark?
Annie Golden: I was leaving for North Shore [Music Theatre in MA] to do Cinderella . . . and David Clemmons Casting [and director/choreographer] Ray Roderick let me come in ahead of everybody else and sing and read. So, I sang and read, and then I went away to North Shore, and then their stage burnt down. What softened the blow was, I came back on a Sunday and that Monday The Ark [producers] offered me the role of Eliza. I was home for the summer, which I didn't expect to be, but I had a job lined up, so that was great.
Q: The press materials say The Ark offers a contemporary look at the classic story of Noah. What exactly does that mean? Tell me a bit about the show.
Golden: What could be more timely than the floods unfortunately? First of all, the music is glorious and just so wonderful and magnificent. What the books concentrates on is the family and family relationships: couples, man and woman and fathers and sons, which was kind of the theme of The Full Monty as well . . . . The book really concentrates on the humor of that — mothers and fathers caring for their children and children caring for their spouses and children caring for their siblings and everybody being thrown together and forced to be who they are in an enclosed situation. [Laughs.] Because of the nature of the piece, it can deal with survivors' guilt, it deals with the black sheep of the family, it deals with the father being the figurehead. It has very modern topics — women who take the initiative with the romantic life of their relationship. The women are very strong in this piece: Eliza, the mother, and also the three wives. They're all very different, [yet] they all are devoted to their men. There's a newlywed couple onboard. The baby brother gets married to his childhood sweetheart, because they're taking off [on the Ark]. The flood's gonna come, and then there's the independent-thinking older son. He never got along with his father, and he just comes back for the mother's sake, introduces her to his bride. [Then there is] the middle son, who does everything for his dad and mom's approval, [and] has a wife who also tells him what to do and when to do it. [The show has] all these wonderful personalities that I think anybody in a family can relate to.
Q: Does the show address all the different animals aboard the Ark?
Golden: It totally does, even [a topic like] animal rescue, which is, unfortunately, such a contemporary topic today with what we're going through after the [hurricanes in the] Gulf Coast. Animal rescue is really wonderful because what it says is to honor all creatures great and small. [The show is] very Greenpeace, too, because it has to do with honoring the environment and honoring the creatures and the pecking order and the food chain. All of that comes into play in this piece in a very contemporary way.
When I took the job, I wanted to work with Ray Roderick. I heard the music, and I wanted to do it. It was the female lead, the mother. I was like, "Wow, here we are complaining that they don't write roles for women of a certain age," and I was very encouraged by the Tonys when Victoria Clark and Adriane Lenox were honored, and I was even encouraged by the Emmys when Blythe Danner and Jane Alexander stood up looking absolutely knockdown, dragout gorgeous, and S. Epatha Merkerson stepping up and getting her "Lacakwanna Blues" Emmy — just the matriarchs and what strong women have to offer and what women who've lived through something have to offer.
It's also very timely that all ages and all species [have to] live together and take care of each other and realize that it's one world. It's timely and not in a hoaky way. This is not bible class. They are not going to be hiring Annie Golden for the lead role if they're going to do bible class! [Laughs.]
Q: You mentioned before The Full Monty — what was your experience like in the show, since you were with it from . . .
Golden: . . . the very beginning. I was just telling the kids [in the show] today that there were five original [Full Monty] members. What I mean by original is [people who were there] from the first sit-down, around the-table readthrough, when Terrence [McNally] was first adapting it. There were five original people who wound up going to Broadway — two couples and one single person. It was John Conlee and [me], and then Jason Danieley and Romain Frugé and Todd Weeks, the character man, who also went on for Harold and Malcolm several times. It was a wonderful experience, absolutely wonderful.
Q: Did you stay with the show through the whole run?
Golden: Yes, I did . . . and with 9/11 in the middle of [the run].
Q: What was it like being in a show during that time?
Golden: It was absolutely devastating. We had already suffered a major blow. I'm a [show-business] veteran, but this Broadway experience was the best of times and the worst of times for me in that I created the role, I stayed with it with my scene partner throughout the Broadway opening, and then Kathleen Freeman passed away while she was in the show, which was devastating for us. Then 9/11 happened, and Broadway is never dark. There is something totally romantic and something totally wrong about the show must go on regardless. We learned both of those when Kathleen was sick and dying, and she did her last show on a Thursday and she passed away [a few days later]. And, then after 9/11, the city was a ghost town. . . . I actually was home with my family, picking my nephews up from Catholic school. My brother-in-law came up to me and said thanks for picking them up and [told me] their mother was walking over the Brooklyn Bridge from work. And I said to him, "Well, I can stay with them until about five, and then I have to get to the theatre." And, my brother-in-law looked at me and said, "Baby, there ain't no [show] tonight." I guess I was in denial or I didn't realize it because in the acting profession you never say that you can't do it. It's always "they" say it's called off or "they" say it's not on. And, in a way, that ties in with the theme of The Ark, when you just have blind faith and you just trust.
Q: Last year you had the chance to revisit Hair in the Actors' Fund benefit concert. What was that evening like for you?
Golden: What it says to me is that it's really wonderful to realize as a long-time, ongoing artist that your work, past and present, will sustain you. I had created Assassins for Stephen Sondheim, and they had the revival, and then when Stephen's 75th birthday celebration came up — both in Symphony Space and with [Young] Playwrights at the New Amsterdam Theatre to honor Stephen — I had the opportunity to sing "Unworthy of Your Love" with Alexander Gemignani, so he was the new John Hinckley and [I was] the old Squeaky Fromme. And, then when we did it for Stephen's birthday, we did the finale, and I got to sing with Alexander and Michael Cerveris. I got to sing with the revival of Assassins, so that was old and new. And, then with the Actors' Fund — Seth Rudetsky, he does so many things in the Broadway community, we see each other coming and going, and he's a champion of mine. I was really on board because of him. He called me and said, "We're doing the Actors' Fund benefit, and I was wondering if you would sing 'Frank Mills.'" I said to him, "Don't you want to pull some young chippy from Rent?" [Laughs.] And he was like, "No, we want you." So I got to sing "Frank Mills." And, now I have to tell you, it's become somewhat of my signature song [even though] people don't realize that I didn't sing it in the movie. It wasn't my character's song, [but] I'm very, very fortunate.
Q: Tell me a little bit about what happened with this summer at the North Shore Music Theatre when you were doing Cinderella.
Golden: We went out there, we rehearsed for two weeks, we put it up. We had maybe two preview performances. And, on our opening night, we did the performance, and it was absolutely beautiful. Thankfully, [the fire] wasn't as big a tragedy as it could have been. There was a youth ensemble in that piece — there were children in the theatre. And, we all left and went to the party afterwards. And the powers that be ducked out early, and we found out the next morning that it was a ten-alarm fire through the state of Massachusetts. They all came because they could not find the origin of the fire, so it kept burning. Thank God nobody was hurt — everybody was gone at the time. So one performance only, and then we were all released from our contracts and sent home.
Q: You've done a couple of interesting productions recently — Rag and Bone at Long Wharf and Mimi Le Duck at the Fringe. Anything happening with those shows?
Golden: Yes, Mimi we hope to get up in the spring. I hope to be Mimi after I'm Eliza. Here I am a biblical mother, and then I play a Mormon mother. [Laughs.] What's that about? That's typecasting! . . . We're hoping to get a theatre [Off-Broadway].
You mentioned Rag and Bone, and I had worked with [director] Tina Landau at the Public Theater in Adam Guettel's Saturn Returns. But what was interesting — and this has happened three times in my career — non-singing roles become singing roles. The first time was when I went out to Yale Rep and I did Ah, Wilderness!, directed by Arvin Brown, with the likes of Colleen Dewhurst and Jason Robards. The tart — typecasting! — at the top of the second act sings a period song with the player piano. So the dramaturg pulled the music, and they had a player piano play the song as the second curtain rose. So, Arvin directed me to sing the song. It's not a musical, it's an O'Neill play, but the dramaturg taught [the piece] to me. The sound engineer made a player piano roll of it, and at the top of the second act, I'm sitting in the pub singing this song. . . .
Then, the next time was On the Town. I was Lucy Schmeeler — that's not a singing role. After I auditioned for George Wolfe at the Public Theater, he called me at home and asked me if I would consider a non-singing role in his musical. And, I said, "To work with you, yes, and thanks for asking!" So then I was Lucy Schmeeler, who had the cold but not a song. And, then when we got to the Delacorte, George had this idea, and he presented it to Betty Comden and Adolph Green. And he said, "I have an idea. After Lucy gives her cold to the leading man, she should sing a reprise of the most beautiful ballad in the show." So he gave me eight bars to sing, which historically that character does not sing. And, Adolph and Betty said okay. Then, when he went to Broadway, I got eight bars to sing at the end of the show.
And then in Rag and Bone, Noah Haidle had written this role of this hooker, and she sings this beautiful lullaby from the Disney film "Dumbo," "Baby Mine." So, as I'm bathing a john of mine in this gritty, surrealistic, esoteric wonderful piece, I break into song, this lullaby, that my mother sang to me.
Q: Tell me a little about Mimi Le Duck because I didn't get the chance to see it.
Golden: Mimi Le Duck is just a really lovely piece. It follows a Mormon housewife who's unhappy with her lot. She's raised her two boys in the Mormon faith, and they go off to be missionaries. And, she feels unfulfilled as a lot of middle-aged mothers do. It's dealing with the empty nest syndrome. And, she goes off — there are elements of that for Eliza in The Ark in that she feels like she's doing for everyone and she hasn't done for herself. Eliza claims to be burnt out, but what Mimi Le Duck does is she takes off for an adventure. She's actually inspired and commanded by the spirit of Ernest Hemingway, who in the piece, it seems, is trapped in limbo . . . By the universe's laws he took his own life, so now he has to inspire someone, he has to guide someone. Ernest Hemingway says to Miriam Sanders, the Mormon housewife — he tells her to follow her muse and go to Paris to paint. So, she's a painter, but she sells her paintings on QVC. She's kind of a celebrity because she's on television, but she's not happy. So she goes on this adventure and meets all these wild and wonderful people in Paris, and then her husband, who adores her . . . follows Mimi to Paris, and he doesn't recognize the woman he sees when he gets there because . . . she's been liberated. . .
It [does have] a happy ending — people profess their love for each other. It has beautiful music by Brian Feinstein. And, it's just a beautiful piece, and I'm excited to do it. . . It's very challenging. What I'm happy about — and I think Eliza will do this in The Ark as well — is it will show [me] in a very diverse vein [with] some surprises for the audience [with things] they don't expect me to do or say or sing. I'm excited, and I'm happy right now to be here in [The Ark].
[The Ark plays the 37 Arts Theater, located in Manhattan at 450 West 37th Street. Tickets, priced at $66.25, are available by calling (212) 307-4100 or by visiting www.ticketmaster.com.]
BERNADETTE PETERS
I have been an admirer of Bernadette Peters for over two decades, and I can't think of a single musical or major concert of hers that I've missed during that period — from her Tony-winning work in Song & Dance and Annie Get Your Gun as well as her debut solo concerts at Carnegie Hall and Radio City Music Hall to her most recent Broadway outing as a Momma Rose for the ages in Gypsy. That said, I don't think I have ever been more impressed by the woman behind the talent than I was last weekend when Peters returned to the concert stage for the first time since the tragic loss of her husband, Michael Wittenberg, just three weeks earlier. Peters had been scheduled to sing at a gala benefit at the Tilles Center for the Performing Arts, and in the show-must-go-on-tradition, she honored that commitment by dedicating her performance to the late Wittenberg.
Peters, dressed exquisitely in a silvery Bob Mackie gown, was greeted warmly by the sold-out audience as she immediately launched into her upbeat arrangement of Jule Styne and Stephen Sondheim's "Let Me Entertain You." I had wondered whether the two-time Tony winner would address her recent loss, and she did, immediately following her opening number. It was the only time during the concert when she was visibly choked up, explaining with a few tears, "As you may know, I experienced a tragedy in my life with the loss of my husband three weeks ago. I felt it was important to keep this concert date for two reasons. One, because of all the tickets sold and all the plans that had been made but also so I could move on and continue forward for my husband." The audience responded with a burst of applause, and then Peters was back in complete control, delivering over an hour's worth of tunes by Sondheim, Rodgers and Hammerstein, Irving Berlin and Jerry Herman with both power and beauty.
Her repertoire for the evening included "No One Is Alone," "Nothing Like a Dame," "The Gentleman Is a Dope," "Fever," "I'm Flying," "Unexpected Song," "Time Heals Everything," "Mr. Snow," "Some Enchanted Evening," "Not a Day Goes By," "You Could Drive a Person Crazy," "With So Little to Be Sure Of," "Children Will Listen" and a show-stopping "Rose's Turn." It is a true testament to her talent and professionalism that she performed this emotionally demanding set with not a single lyric or vocal flub. In fact, Peters' voice remains a truly impressive, one-of-a-kind instrument, whether she's belting the powerful climax of "Time Heals Everything," soaring with Andrew Lloyd Webber's "Unexpected Song" or gently caressing the notes of Sondheim's "No One Is Alone" and "Children Will Listen."
Returning for an encore of Irving Berlin's "Count Your Blessings (Instead of Sheep)," the beloved entertainer thanked the audience for being so supportive and helping her make this first step back to her career. Upon leaving the theatre, I happened to overhear one older gentleman say, "She really can sing anything. Rodgers and Hammerstein didn't know who she was, but hearing her sing their songs, they would have been proud." I know I certainly was — for many reasons.
Peters' upcoming concert dates follow:
Oct. 22, 2005 at the Zoellner Performing Arts Center in Bethlehem, PA
Nov. 1, 2005 at the Symphony Center's Orchestra Hall in Chicago, IL
Nov. 5, 2005 at the Miller Auditorium in Kalamazoo, MI
Dec. 2, 2005 at the Jorgensen Center for the Performing Arts in Storrs, CT
Feb. 18, 2006 at the Boettcher Concert Hall in Denver, CO
April 22, 2006 at the BJCC Concert Hall in Birmingham, AL
April 27, 2006 at the National Arts Center in Ottawa, Ontario
May 1, 2006 at Avery Fisher Hall in NY, NY
Aug. 25, 2006 at the Cerritos Center for the Performing Arts in Cerritos, CA STANDING OVATIONS IV
A host of established theatre stars as well as many up-n-comers took part in this past Sunday's wonderful Standing Ovations concert at Joe's Pub. The fourth concert in the acclaimed series, which benefits Broadway Cares/Equity Fights AIDS, was masterfully helmed by Richard Jay-Alexander, and the sold-out evening raised over $5,000 for the worthy organization. The two-hour evening began with brief introductory notes from the theatre-savvy director, followed by a delightful parody of "I Wanna Be a Producer" featuring the show's two good-humored producers, Robert Diamond and Eddie Varley.
The concert, subtitled From Stage to Screen and Back Again, featured songs from a mix of Broadway shows that have been turned into film musicals, including Evita, The Sound of Music, Camelot, Gypsy, Rent, Oliver!, A Chorus Line, Funny Girl, Cabaret, A Little Night Music and West Side Story. Among my favorites of the night: The original 1982 Little Shop of Horrors Urchins — Sheila Kay Davis, Leilani Jones and Jennifer Leigh Warren — demonstrated they've lost none of their vocal power or their sass in the show's title number; they were also joined by Anthony Rapp (as Seymour) and Jessica-Snow Wilson (as Audrey) for a moving version of that show's "Downtown." D'Jamin Bartlett, who created the role of Petra in 1975's A Little Night Music, also proved to be in fine form, re-creating her version of the tongue-twisting "The Miller's Son" to thrilling effect (in the original key, no less). Though she said she was suffering a bit of jet lag, you would have never guessed it from hearing Lea Salonga's medley of Oliver!'s "Where Is Love?" and "As Long As He Needs Me." Salonga's tones are as pure and beautiful as ever, and the songs built to an exciting, belty climax; this arrangement will also be part of Salonga's eagerly awaited solo Carnegie Hall debut Nov. 7. Andrea McArdle once again displayed the power of her belt in Cabaret's "Maybe This Time," and jazz singer Jane Monheit lent her creamy tones to a terrific version of Funny Girl's "Don't Rain On My Parade." Original Renters Adam Pascal and the aforementioned Rapp brought down the house with Jonathan Larson's rousing "What You Own," and Melba Moore let her belt loose on a medley of songs from Hair. Comic relief was provided by the multitalented Brooks Ashmanskas (singing "Kids") and Natalie Toro (in the humorous guise of Googie Gomez, a Grizabella of a bus-and-truck company of Cats).
Other highlights: Crista Moore, who starred as Louise in the Tyne Daly revival of Gypsy, and Jennifer Rae Beck, who played June in the Bette Midler TV version, joined forces for a splendid rendition of that classic musical's "If Momma Was Married." Howard McGillin lent his powerful tenor to West Side Story's "Something's Coming," and Natascia Diaz and Andrea Burns performed two other West Side delights, "A Boy Like That" and "I Have a Love." David Burnham, who is part of the company of Lincoln Center's The Light in the Piazza, displayed the range and power of his voice in a knockout rendition of "If Ever I Would Leave You," and Nicolette Hart delivered A Chorus Line's "Dance: Ten; Looks: Three" and its preceding monologue with such gusto, casting directors need look no further for the upcoming Broadway revival. Mambo Kings' Jaime Camil delightfully crooned that ill-fated show's "Beautiful Maria," and I was also once again impressed by the talents of Michael Arden — who performed "Where Do You Go?," a song from the new musical Harold and Maude — and Steven Brinberg, whose impersonation of Barbra Streisand seems to get funnier and funnier.
Upon leaving, all who attended were treated to a free copy of Darcie Denkert's wonderful new tome for Watson-Guptill Publications, "A Fine Romance," which is a fascinating and informative account of the Hollywood Broadway connection: musicals turned into films and films turned into musicals. A truly fitting way to end a thrilling evening.
DIVA TIDBITS
A by-invitation-only workshop of Scott Alan and Tara Smith's new musical Piece will be presented Nov. 1, 3 and 4 at The Duke Theatre on West 42nd Street. Adriane Lenox, Shoshana Bean, Rachel York, Emily Skinner, Kate Wetherhead, Patricia Kilgarriff and James Lloyd Reynolds will take part in the workshop, which will be directed by Schele Williams. Barbara Anselmi will be the production's musical director, and arrangements will be supplied by Jim Abbott. Piece, according to production notes, concerns Katherine Mathews, who, "upon returning to her childhood home following the passing of her mother . . . finds herself clinging to the memories of her past; watching conversations she's had with her mother at the ages of 17, 26 and 35. In a soaring musical full of unexpected recollections, Katherine pieces together the patterns of a life filled with promise and compromise, third strikes and second chances, and always, a mother's unconditional love."
Jekyll & Hyde's Christiane Noll and Aida's Thursday Farrar will star in TheatreWorks' upcoming production of Stephen Sondheim and James Lapine's Into the Woods as, respectively, The Baker's Wife and The Witch. The award winning musical will play the Lucie Stern Theatre in Palo Alto, CA, Nov. 30, 2005-Jan. 7, 2006. The Into the Woods company will also feature Tielle Baker as Rapunzel, Cristin Boyle as Cinderella, Robert Brewer as Jack, Jackson Davis as the Baker, Alison Ewing as Florinda, Suzanne Grodner as the Stepmother, Michael Hunsaker as Cinderella's Prince, James Monroe Iglehart as the Wolf/Steward, Francis Jue as the Narrator, Patrick Leveque as Rapunzel's Prince, Gary S. Martinez as Mysterious Man, Maureen McVerry as Jack's Mother, Bill Olson as Milky White, Martin Rojas-Dietrich as Cinderella's Father, Kristen Sharpley as Cinderella's Mother and Sleeping Beauty, Courtney Stokes as Little Red Riding Hood and Kristin Stokes as Snow White with Molly Bell, Dann Howard and Angela Layfield in the ensemble. Tickets, priced $20-$50, are available by calling (650) 903-6000. Visit www.theatreworks.org for more information.
And, finally, the eagerly awaited TV version of "Once Upon a Mattress" — starring Tracey Ullman as the remarkably "shy" Princess Winnifred — will air on ABC-TV Dec. 18 from 7-9 PM ET as part of the "Wonderful World of Disney" series. The TV film will also feature Matthew Morrison as Sir Harry, Denis O'Hare as Prince Dauntless, Zooey Deschanel as Lady Larken, Tommy Smothers as King Sextimus, Michael Boatman as the Jester and Edward Hibbert as the Wizard. Carol Burnett, who starred in Mattress on Broadway in 1959 and on television in 1964 (in black and white) and in 1972 (in color), plays the conniving Queen Aggravain. Tony winner Kathleen Marshall directed and choreographed.
Well, that's all for now. Happy diva-watching! E-mail questions or comments to [email protected]