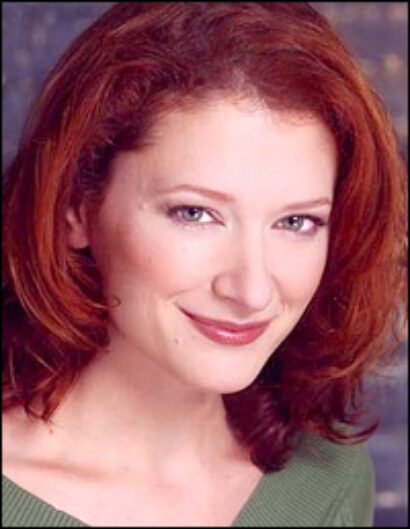 KERRY O'MALLEY
Whether she's singing the work of Stephen Sondheim (the 2002 Tony-winning revival of Into the Woods), Burt Bacharach and Hal David (the thrilling City Center Encores! production of Promises, Promises) or Paul Scott Goodman (Off-Broadway's Bright Lights, Big City), singer-actress Kerry O'Malley blends her rich, clear alto with an emotional fragility that is often riveting. She is currently lending her powerful tones to the work of Irving Berlin in the limited Broadway engagement of the holiday-themed Irving Berlin's White Christmas at the Marquis Theatre. White Christmas, which marks O'Malley's second Berlin outing on Broadway — she previously stood by for Reba McEntire in the Tony-winning revival of Berlin's Annie Get Your Gun — is based on the classic 1954 movie of the same name. The musical, which is now playing the Marquis through Jan. 4, 2009, casts O'Malley as Betty Haynes, the role originated on screen by the late Rosemary Clooney, opposite the Bob Wallace of Stephen Bogardus. Director Walter Bobbie's cast also boasts Jeffry Denman (Phil Davis), Meredith Patterson (Judy Haynes), Charles Dean (General Henry Waverly) and Susan Mansur (Martha Watson). I recently had the pleasure of chatting with the multi-talented O'Malley, who can also be seen on the acclaimed Showtime series "Brotherhood"; that interview follows.
Question: How did you originally get involved with White Christmas?
O'Malley: I auditioned for it back in 2004, the first year [it was presented]. . . . Anastasia Barzee got it, but the second year I re-auditioned and got [the role] — they went to three companies the second year. The first year was San Francisco, the second year was San Francisco, L.A. and Boston. Anastasia did it a second year in L.A. Kate Baldwin went to San Francisco, and I went to Boston. Then the third year, I was in St. Paul, and Kate was in Detroit. Then the fourth year, I was back in Boston and Kate was in Toronto. Now, this year I'm on Broadway, Kate's not doing it, and Jill Paice is doing Detroit, and Kristen Beth Williams is doing St. Paul.
Question: Did you know the film before you got into the show?
O'Malley: I had seen it a long time ago, but it was not part of my holiday tradition as it is for many, many people. I reviewed it before auditioning for the show… I meet a lot of women after the show, women and gay men, who will then proceed to do "Sisters" for me! [Laughs.] On the sidewalk in Boston I had quite a few presentations of girls doing "Sisters" with all the original choreography from the movie. I was not one of those people who did, [but] I have friends who are twins, so they did "Sisters" in an act. I know it's really iconic for so many people, but it wasn't part of my tradition, but I do love the film.
Question: Which songs do you get to sing in the show?
O'Malley: "Sisters" is one of them. There are a few songs in the show that are not in the movie. One is "Love and the Weather," which is a great little duet that I do with — it's sort of two solos but we sing it together — Stephen Bogardus. There's a trio that's sort of like an Andrews Sisters trio that I sing with Meredith Patterson and Susan Mansur called "Falling Out of Love Can Be Fun." I sing a little reprise of "Count Your Blessings." My big song is "Love, You Didn't Do Right By Me," which is the big torch song that Rosemary Clooney sings in the New York club [in the film]. That's sort of Betty's big signature number in the show.



photo by Richard Feldman
Question:
And they're all Berlin songs, right?
O'Malley:
Yes. I think one of the great things that they've done is they've managed to use these Berlin trunk songs in a really fresh and wonderful way that makes them seem as if they were written for the show. Some of the songs that they use are merely performance songs. Bob Wallace and Phil Davis are famous entertainers, so they do "Let Yourself Go" on "The Ed Sullivan Show." That's not a book song, but then they found these other songs like "Love and the Weather" and "Falling Out of Love Can Be Fun" that they've made into book songs and that feel like they were written for that scene. It's really amazing how they did that.
Question:
What's it like singing Berlin on Broadway?
O'Malley:
I have to say, I am such a huge Irving Berlin fan. I've been lucky enough to also do
Annie Get Your Gun
on Broadway. He's a true favorite of mine. I understudied Reba McEntire in
Annie Get Your Gun
, and I got to do a full week of performances as Annie when she was doing her pilot for her television show. I remember singing "Lost in His Arms" and thinking, "Boy, it just doesn't get better than this!" But that was before I got to do "Love, You Didn't Do Right By Me." [Laughs.] His songs are so beautifully melodic with wonderfully witty lyrics. They feel easy to sing. They feel so well suited to the human voice. Nowadays, with the influence of rock 'n' roll and the kind of recordings that people are able to do, it's getting harder and harder and harder to sing eight shows a week on Broadway.
Question: The belting range is so much higher nowadays, the keys are crazy.
O'Malley: It's insane. It used to be that if you could belt a C, that was really a great money note. Now people are belting Fs and Gs, and it's insanity. [Laughs.] It's certainly thrilling if it's done well, but these songs are — it's the great American popular songbook. That is where my taste lies, so I feel incredibly lucky to be doing this.
Question: How would you describe Betty?
O'Malley: A little buttoned-up, a little more conservative than her sister — not politically, but just a little more reserved. Someone who has been put through the ringer and is protecting her heart, but very decent and kind and generous and looking to meet the right guy.
Question: Do you have a favorite moment in the show for her?
O'Malley: Certainly, the torch song in the second act. One of the brilliant ways that Walter Bobbie and David Ives have expanded the show is that they took a song that, in the movie, was a solo, her song at the club, and [now] in the middle of it, Bob sings a song as a sort of internal monologue while watching Betty sing. He sings "How Deep Is the Ocean?" It is scenically, musically and acting-wise, one of the most beautiful moments in the show. I get to listen to Stephen Bogardus sing that song every night, and he is so good! His voice is so good, and I get to dance with three beautiful dancers and sing this amazing song with a 24-piece orchestra. It's heaven! And, I also wear one of the most gorgeous dresses ever made for the stage. [Laughs.] Carrie Robbins has outdone herself. It's such a glamorous, elegant, beautiful show. This dress that I wear is sort of similar to the Madame X dress that John Singer Sargent painted. I don't know if you know that painting at the Met, but it's a gorgeous, gorgeous dress. On a set that's just divine — everything about that moment in the show just seems like perfection to me. The way it looks, the way it sounds, the way it's staged — the lights come up, and I just have to stand there in a great black dress and sing. It's fantastic.



photo by Joan Marcus
Question:
You mentioned Walter Bobbie earlier. What's it like working with him as a director?
O'Malley:
He's great. He knows exactly what he wants. Because he was a performer, he knows how to talk to actors. Well, at least he knows how to talk to me. I can't speak for everyone, but I feel like, certainly in the way he deals with me, he knows when to say something and when not to say something. I really am quite fond of him.
Question:
Since you have done the show in other cities, what was the audience reaction like in Boston and St. Paul?
O'Malley:
They go crazy for it! It's really one of the most exciting, happy and joyful experiences that I have ever had on a stage. The audiences eat it up. The orchestra starts, and like I said, it's 24 pieces. You don't hear that on Broadway anymore. For God's sake, they just did
Sunday in the Park with George
with five pieces! So here you have this big band playing these amazing songs and these tap dancers that are incredible doing this delicious choreography by Randy Skinner. You feel the audience's joy coming at you like waves. It is so infectious and fun. It's a beautiful, heartwarming story, and I feel like the audience has a real hunger for it, that they are so ready for a story like this. They are so ready to have an experience like this. It snows at the end. It's snowing onstage, and at a certain point it snows on the audience. The lights come up a little bit on the audience, and we can see them. When we see the faces turning up to look at the snow falling on them and little children reaching up to touch it, it is heavenly. It's a beautiful, beautiful show. I wouldn't be doing it for four years of my life if I didn't love it this much. It's an extraordinary piece of theatre. It's right for our time. We're at war, the economy's in the toilet — it's a story about really decent, honest people doing an extremely generous thing for someone they love — and you've got a couple of nice little love stories thrown in there. I think it's the right show for this time.
Question: I know you also do a lot of TV work. How does performing for the camera differ for you from doing theatre work?
O'Malley: With the actual mechanics of it, nothing is different. You use the same emotional instruments. What's different I think about acting on film is that you're not in charge of your performance. Your performance is decided upon by an editor, so if the camera doesn't see it, it didn't happen. Whereas onstage, the actor is in charge of the performance. The way to get an audience to look at you is to move. It's that simple. But if you move and the camera wasn't on you, then no one saw it. The scale is different, and I'm sure that the scale of performances in this show will change ever so slightly because we're at the Marquis now instead of at the Wang [in Boston]. The Wang Center was 3,500 seats, so you don't have to be pitching a performance to the back wall if you're in a close-up. That's one of the differences between these performances and how they differ from the movie. Of course, in a movie you get to do close-ups, and the keys are chosen for intimate settings, but when you're performing live over an orchestra, over an orchestra pit, trying to reach 1,500 people, the scale of it is slightly different, but I don't think any of the emotional underpin has changed.
Question: Going back a bit, you were part of one of my favorite Encores! productions, Promises, Promises.
O'Malley: Wasn't that great?
Question: I loved that production. I was sorry that didn't transfer.
O'Malley: Me, too! It was such a great show.
Question: What was that experience like?
O'Malley: It was so electric. I remember the very first day of rehearsal, and Rob Marshall had started a few days earlier with his dancers, and they showed us the Overture. It was when all of those beautiful dancers . . . they each were in sort of a go-go box mixed in amongst the orchestra. They showed us the Overture, which of course is so exciting, and then these women, who are goddesses, dancing to this music, our jaws were on the floor! I remember my brother [Mike O'Malley], who is a big TV star, he was playing my brother in the show in a sort of cameo, and he doesn't really do musicals. He did in college and stuff, but watching him experience what I get to experience on a regular basis, the electricity of being in a room with live music and extraordinarily talented dancers doing their thing. It's so different from working on a sitcom or doing a drama. It's just a thrilling, emotional, visceral experience. That show was awesome, and Martin Short couldn't have been more generous or kind or loving. That was such a thrill. I was doing it at the same time as How I Learned to Drive. I opened both shows the same week. I think we opened How I Learned to Drive on a Sunday, and then we did our invited dress of Promises, Promises that next day. I just remember that I had two reviews in The New York Times, one was on Thursday, one was on Saturday. It was a crazy week. But I thought, "My God, I'm in this totally awesome musical at Encores! with these big stars, and then I'm doing a Pulitzer Prize-winning play at the Vineyard with Mary-Louise Parker and David Morse." It doesn't get better than that.
Question: What are your memories of the Into the Woods revival?
O'Malley: I just loved every minute of doing that show. I think the great joy of doing Sondheim is that you can always do it better, so every night you feel like, "I might have gotten this, but I didn't get that." I felt like I could have kept doing it again and again and again and again. The material is so rich that it can be constantly mined for new things, which is one of the reasons, I think, when you're seeing a Sondheim show, you should go late in the run. It's the kind of material where performances just get richer and richer and richer. You might see something very polished on opening night, but if you go a few months into the run, you're going to see something really deep. Not to say that it's not deep on opening night, but it just gets deeper and deeper and deeper because it's all there. I loved James Lapine, and I adored my [onstage] husband Stephen DeRosa. It was an amazing cast: Gregg Edelman, Laura Benanti, Chris Sieber, Vanessa Williams, just a very classy, elegant, kind, generous company.
Question: Do you have any other projects in the works following White Christmas?
O'Malley: Not yet. I just wrapped season three of "Brotherhood" on Friday before we started rehearsals. So we wrapped on Friday and then I started White Christmas on Monday, so I wouldn't mind actually taking a tiny little break. [Laughs.] I'm not thinking that far ahead. Usually I spend pilot season in L.A. I don't know that I'll do that this year. We'll see what comes up, but I'm not worried about it.
[Irving Berlin's White Christmas plays the Marquis Theatre, 1535 Broadway. For tickets call (212) 307-4100 or visit www.ticketmaster.com. For more information go to www.whitechristmasbroadway.com.]



photo by Aubrey Reuben
Together Again
Broadway belters
Alison Fraser
and
Mary Testa
, who had been part of the cast of
William Finn
's
In Trousers
over two decades ago, have recently been spreading their joy at the Laurie Beechman Theatre in a concert act simply titled
Together Again
. The swell party is actually a tribute to two artists: Fraser's late husband, the acclaimed composer
Rusty Magee
, whose songs comprise
Together Again
, and the late actress
Pattie Darcy Jones
, who was both Magee's muse and Fraser's frequent co-star. Fraser and Testa's styles couldn't be more different, yet somehow their voices and their personalities blend well, and their affection for Magee and his work is obvious. Fraser scores with what may be Magee's best tune, the shattering "New York Romance," playing up the song's comedy while not losing its heart, and Testa beguiles with the title tune from Magee and Charles Busch's musical
The Green Heart
. Other highlights include a charming medley of kids' songs ("Growing and Changing"/"Skunk, Dance in the Sugar"/"All the Difference in the World"/"How I Love My House") and the toe-tapping "Balance of Power" (from Magee and
Lewis Black
's
The Czar of Rock and Roll
). Guest star
Annie Golden
also brought down the house with her thrilling vocals on "Don't You Go and Get Famous." The two encores were equally welcome: Testa on the art song "High Flight" and Fraser on the melodic and moving "Sweet Appreciation." And, good news, additional dates have been announced for
Together Again
, which will be seen at the Laurie Beechman Nov. 24 at 10 PM, Nov. 30 at 8 PM and Dec. 11 at 11:30 PM. The Laurie Beechman Theatre is located within the West Bank Cafe at 407 West 42nd Street. There is a $25 cover charge and a $15 food-drink minimum; for reservations call (212) 695-6909.
DIVA TIDBITS
Two-time Tony Award winner
Bernadette Peters
, whose recent TV credits include "Grey's Anatomy" and the Lifetime film "Living Proof," will return to the small screen later this season. The Los Angeles Times reported earlier this week that Peters will guest star on an upcoming episode of the hit ABC series "Ugly Betty." Peters will play a magazine mogul named Jodie Papadakis. Betty (
America Ferrera
) and Marc (
Michael Urie
) will compete for an editor-in-training program that will be headed by Peters' character. A January 2009 air date is likely.
Several Broadway musicals and stars will be featured during the 82nd Annual Macy's Thanksgiving Day Parade, which will be broadcast live on NBC-TV Nov. 27 beginning at 9 AM ET. The annual parade will boast performances from the casts of Irving Berlin's White Christmas (performing a medley of "I've Got My Love to Keep Me Warm" and "White Christmas"), In the Heights (performing the title song), South Pacific (singing "There Is Nothing Like a Dame") and The Little Mermaid (performing "Under the Sea"). Also of interest to theatre fans: The cast of the forthcoming revival of Hair will belt out "Aquarius" atop the New York Tin Toy float; Tony winner Kristin Chenoweth will sing "The Christmas Waltz" on The Care Bears Winter Fun-derland float; and Tony winner Idina Menzel will offer "I Stand" on the M&M's on Broadway float. The parade will conclude with members of Camp Broadway — joined by Kermit the Frog — performing "I Believe in Santa Claus." A group of 300 kids, ages 10-17, will sing the tune, which was penned by Wesley Whatley and Bill Schermerhorn, Macy's creative director.



photo by Mike Martin
Tony Award winner
Barbara Cook
will be the special guest during
Jonathan Tunick
's upcoming evening at Birdland. Oscar, Tony, Emmy and Grammy winner Tunick and his big band, The Broadway Moonlighters, will perform at the famed jazz club Nov. 24 at 7 PM. The Broadway Moonlighters, featuring musicians from the orchestras of
Road Show, The Little Mermaid, In the Heights, Pal Joey
and more, comprises
Les Scott, Lawrence Feldman, Steve Kenyon, Jay Dryer
and
Jay Brandford
on saxophones, clarinets and bass clarinet;
Bob Millikan, Glenn Drewes
and
Kamau Adilifu
on trumpets;
Jack Gale
and
Vinny Fanuele
on trombones;
Lee Musiker
on piano;
John Beal
on bass; and
Ronnie Zito
on drums. Birdland is located in Manhattan at 315 West 44th Street. There is a $30 or $50 (VIP) cover charge and a $10 food-drink minimum. Call (212) 581-3080 for reservations or visit www.BirdlandJazz.com.
Melora Hardin
, who stars in the hit NBC comedy "The Office," will make her Broadway debut next month in the long-running, Tony Award-winning revival of John Kander and Fred Ebb's
Chicago
. Hardin will begin a seven-week stint as Roxie Hart Dec. 29 at the Ambassador Theatre. She is scheduled to play the merry murderess through Feb. 12, 2009.
Heidi Blickenstaff, who was one-quarter of the cast of the recent Broadway musical [title of show], will step into the leading role of the evil Ursula in Disney's The Little Mermaid in 2009. Blickenstaff will succeed Sherie Rene Scott in the role beginning Jan. 27, 2009. She is currently scheduled to stay with the production through April 5, 2009. The big-voiced Blickenstaff was originally cast as Carlotta and Scott's standby in Mermaid, but left the production when [title of show] transferred to Broadway following its Off-Broadway run at the Vineyard. For more information visit Walt Disney Theatricals at www.disneyonbroadway.com.
Actress-singer Jana Robbins, who was one of the producers of the Broadway mounting of the musical version of Little Women, will direct that production for her alma mater, Stephens College. Robbins, who was recently seen in the Atlanta world premiere of Managing Maxine, has previously directed Crimes of the Heart for the Missouri institution. The Allan Knee-Mindi Dickstein-Jason Howland musical is scheduled to play Stephens College's Macklanburg Playhouse Dec. 5-7 and Dec. 10-13. The production will close a year-long celebration of the College's 175th anniversary. Macklanburg Playhouse is located at 100 Willis Avenue on the campus of Stephens College in Columbia, MO. Tickets, priced $14 (general admission) and $7 (students/seniors), are available by calling (573) 876-7199.
Well, that's all for now. Happy diva-watching! E-mail questions or comments to agans@playbill.com.