DE'ADRE AZIZA
For her Broadway debut in the critically acclaimed Passing Strange, singing actress de'Adre Aziza walked away with a Theatre World Award as well as a 2008 Tony nomination for Best Featured Actress in a Musical. And, her second Broadway outing is one of the most anticipated productions of the current season, the new musical Women on the Verge of a Nervous Breakdown, which will officially open Nov. 4 at the Belasco Theatre. Aziza plays the role of Paulina in the new Lincoln Center Theater musical, which is based on the Pedro Almodovar film of the same name and boasts a cast led by Tony winners Patti LuPone, Brian Stokes Mitchell and Laura Benanti as well as multiple Tony nominee Sherie Rene Scott. Earlier this week, after the first weekend of preview performances in the Jeffrey Lane-David Yazbek musical, I had the pleasure of chatting with the actress, who sprinkles her conversation with much laughter. Aziza spoke about her second Broadway musical as well as her role as mom to nine-year-old Chipego; that brief interview follows.
Question: How did you get involved with Women on the Verge?
Aziza: I auditioned for a workshop about a year ago, and I wound up getting [the role of] Paulina and staying with it since then.
Question: How much of the cast continued from the workshop?
Aziza: Well, there was a workshop before the one that I did that I wasn't involved in, and I know some [of the] cast were in that and then they weren't in the second one because they were doing other things, and then maybe they were in the third one. It was kind of a rotation [laughs] of some of the same people. But as you know, they tried some people out, and then some people couldn't do it because of other obligations.
Question: It seems like you ended up with a pretty good cast, though.
Aziza: Yeah. [Laughs.] Like, oh, my gosh!
Question: What was your reaction when you heard the final cast?
Aziza: Seriously? I was in shock [laughs] because I never thought I'd be on stage with these people. I was just like, "Seriously!? Really?" Question: Were you familiar with the movie?
Aziza: Oh, yeah. I had seen the movie a long time ago. Not when it first came out, because I was really, really young, but in my teenage and college years when I was really into foreign films, I discovered Almodovar. I had seen it then and remembered it, and, of course, I went and watched it again a couple of times for research.
Question: Tell me about the character you play.
Aziza: I play Paulina Morales. I don't want to give too much away — it's a small but critical role to the story. She's a very, very tough, straitlaced, feminist lawyer. She's "no B.S." She's very glamorous — I call her "Diahann Carroll from 'Dynasty.'" [Laughs.] That's the way Cathy Zuber's designed her, which is kind of incredible, because she's the woman I'll never be, with the nails and the hair and the high heels and all that. She's the complete opposite of me! But it's fun. She's the straight man in the play.
photo by Ethan Hill
Question:
What was the rehearsal process like? Tell me a little bit about working with director Bartlett Sher.
Aziza:
Bart's great. He's extremely patient and very Zen in his approach. From my understanding, the real work begins now — today is the first day that we have rehearsals
and
previews. He likes to see the whole picture before he goes in and fleshes stuff out, but he's so cool and down to earth. He really takes the time to see how everyone's doing in the morning and if you have any concerns, in the middle of rehearsal, you can go to him and he'll take the time to work with you on whatever you have a question about. [He's] the most patient director I've ever worked with. [Laughs.]
Question: Were you ever able to go and speak with him about your character, or were you able to get enough from the rehearsal process?
Aziza: Oh, no, definitely during rehearsal, I would go to him and ask him questions. He always took the time to help me with my character, because no matter how clearly it may seem on paper, I always just want to make sure that I'm getting it right. And then when it's right, he lets you know, "That's it! You found it. It's right." So it feels good to get to that place and get there.
Question: I know previews had been postponed a couple times. Tell me what it was actually like on that first preview, finally getting to play in front of an audience.
Aziza: Exhilaratingly nerve-wracking. [Laughs.] You know, it's funny because even though it had been postponed, we all felt like, "You know what? We just really need to do this with all of the technical aspects — costumes, etc. — to see where we are." Because it's one of those shows that, no matter how many times you rehearse it in the rehearsal hall, because it's kind of technically complex, you have to put all those pieces together in the actual space, in real time, to kind of see what's really going on, because there's so much going on. But it was important to Bart to stay true to the energy and spirit of Madrid, which is a busy, metropolitan city — even Pedro said, "much like New York City." So [Bart] didn't want to take anything away from that by downplaying some of the technical things that we do. He really wanted to have that energy in there, but then, of course, when you have all those technical things going on, you need more time for that stuff.
Question: When you finished your first preview, what was everyone's reaction backstage? Was there a sigh of relief?
Aziza: Yeah. We were like, "We got through it, and everyone lived!" [Laughs.] Seriously, those were our two biggest concerns. "Can we get through the whole thing without stopping, and will everyone live after the show?" And we did that, so we were extremely happy. [Laughs.]
Question: How have subsequent previews been going? Has the technical aspects been getting more under control?
Aziza: Yeah. Well, we had a couple of shows where we had to stop. Actually, both shows on Saturday, we had to stop for a little while, due to some technical glitches. But the audiences were down with it. I think people who come to early previews know, even if there's been an out-of-town run, that there's always that chance [that the show may stop.] [Laughs.] It kind of adds to the excitement, like, "Oh, my gosh! This is only their second time running it. I wonder what's going to go wrong!" [Laughs.] You know what I mean? But both times, we just stopped for, I would say, under five minutes, and then just continued from where we were. And Sunday, we got through the whole show. Sunday, for the first time, the show started to really settle in, and that felt really good.
Question: Have any changes gone in yet or are they coming?
Aziza: No, but I think everyone's really anticipating rehearsal today, because we know they're coming. [Laughs.] We're all called to rehearsal at 12 just to kind of keep that family energy that we have going with this piece. It's so many interwoven stories that it's important to Bart to make sure that we're all there for notes and that we're just all there in the theatre together and supporting each other and stuff like that. But yeah, it's coming! It's coming! I know it's coming.
Question: For people who are fans of the movie, is it pretty faithful to the movie? Do you think people will be excited or disappointed by the changes?
Aziza: It's pretty faithful to the movie. The great thing about this production is that it fleshes out a lot of the characters more. If they were going just with the way the movie was, they might have not even had my character [laughs] as a principal. They might have just [given her] maybe two lines, because my character in the movie doesn't say much. She has one scene. So we go a little bit more in depth with the characters, and it really does stay true to the movie – a lot of the cool things that happened, but, of course, with a heightened musical-theatre sensibility. The movie, while it's funny, it's this very dark, dry humor, and there's a lot of very real, kind of sad things that happen. But, of course, we don't want people to leave the theatre all like, "Oh, I'm sad." [Laughs.] So we're gonna make it funny and try to make it lighthearted. [We] want people to have a good time.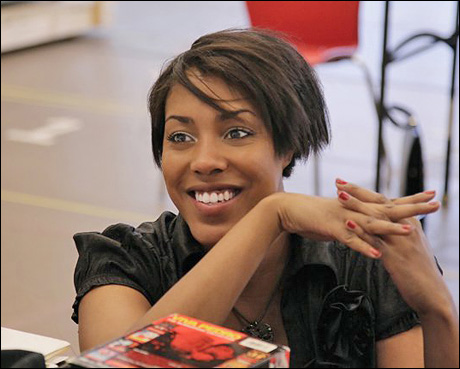 photo by Paul Kolnik
photo by Ethan Hill
Question:
What's the score like?
Aziza:
Oh, the score's great. It's very true to Spanish music.... The music of Spain has a very specific sound that has a lot of African rhythms mixed in there. So it stays very, very, very true to that sound and also to some of the pieces of music that Pedro used in the actual movie.
Question: Has Pedro Almodovar been involved with rehearsals at all?
Aziza: He hasn't been here yet, but he was very involved in the workshop. I remember walking into Lincoln Center one day, and he was standing there in the hallway, and I [gasped]. [Laughs.] Yeah, he was very hands-on. He saw the final presentation of the last workshop that we did. Very hands-on as far as casting, and very happy with the final outcome, from what we had done from the workshop, and then he put his faith in Bart, Jeffrey and David and said, "Run with it, and have fun."
Question: You also understudy Sherie's role.
Aziza: Yes.
Question: Have you started to learn that role yet?
Aziza: Well, the lines and the songs are there… Let's just say, I threaten Sherie every day. I always tease her. I'm like, "You want some orange juice? How you doing, Sherie? You want some zinc? How you feeling today? You all right?" [Laughs.] I've never understudied before. I felt kind of honored that they would trust me with the lead role, so I was like, "Sure! I'll do it," and now I wake up scared every morning. But whatever. It's fine! I'll get there. [Laughs.]
Question: I would think that must be difficult to learn your own role knowing that there is the possibility that you'd have to go on for someone else.
Aziza: I know. It is very scary. I don't know how our swings do it, man. They're brave people. But from the workshop, I kind of had, at least, Paulina's lines, a lot of those, already down. And, also I was very familiar with Pepa's role, again from the workshop. So thank God, I've got some of that just in my consciousness from the past year. It wouldn't be so bad, but that is by no means telling Mr. Flu to come visit Sherie. Please don't! Please don't. [Laughs.] Question: Do you have a favorite moment in the show for your character yet?
Aziza: I have a couple of scenes with Patti and then I have a scene with Stokes, and sometimes I'm in those scenes and I'm looking at them like, "What am I doing here? Am I really standing on this stage?" It's just exhilarating being on this stage with them. I just look forward to that. And I have a really, really fun scene with Sherie, which is hard for both of us because we like each other so much, but [the scene is] a total bitch fest. But it's fun. [Laughs.]
Question: What has it been like working with Patti and Stokes and some of the other stars?
Aziza: Oh, my God! They're cool as hell. Patti's really, really cool. Patti is so cool. I met her when we did the last workshop. And, Stokes is a class act. I call him the godfather of the production. [Laughs.] He's like our fearless leader. And, Laura is pee-on-yourself funny. She's hilarious. We always goof around. We always say we're the kids that have to be separated in the classroom. If we're standing next to each other, we're gonna act up. And, Sherie's like my soul sister. It's great, so much fun. Justin [Guarini]'s a sweetheart.
photo by Ethan Hill
Question:
It's Justin's Broadway debut, right?
Aziza:
Yeah! He's doing a freaking amazing job. I love listening to him sing. He has some really beautiful [music]. He actually sings one of my favorite pieces of music in a song called "Tangled." Love his voice. It's great because Stokes has this baritone, and Justin plays his son and has this beautiful tenor. It's a perfect blend of the two mixing together.
Question: I would think this must be a very different experience from Passing Strange, which you had worked on so much before it actually got to Broadway.
Aziza: It is. In so many ways, it's different. I mean, with Passing Strange, we were all just like these newbies . . . [Laughs]. Like, "Oh, my gosh, we can't believe we're on Broadway!" We were the big underdog show of the season, with all the critical acclaim in the world, but no money and no stars. So in that way, it was very different. Also, I was on stage most of the time. With this, it's almost the opposite. I still feel like that newbie, but I'm in the big production of the season, and then I do my scene, I go to my dressing room, and I come and do a scene and go to my dressing room. And I'm kind of like, "This is weird!" But I think this is more the norm. For most characters, you're not on stage the whole time. So it's just some getting used to. It's only my second show. [Laughs.]
Question: What's it like working for Lincoln Center Theater?
Aziza: Oh, they're so gracious. They're really, really, really cool people over there. [LCT musical theatre associate producer] Ira Weitzman's a sweetheart. I'd performed at Lincoln Center Theater a few times, but more in the concert kind of aspect, in The Allen Room and Lincoln Center Out of Doors. It's slowly kind of starting to feel like family, 'cause I've performed there so many times, singing. They're really, really cool people.
Question: How do you find combining working in the theatre and motherhood to your nine-year-old son?
Aziza: Once the show opens, you're home during the day, and I'm home when he gets home, and then I just run off and do a show at night, so it's pretty cool. Trust me, I don't want to do a 9 to 5 thing. [Laughs.] I'm fine with this schedule. It's great. He's completely unimpressed with what I do. He's just like, "Oh, yeah. She does Broadway." He told his first grade teacher that, and she thought that he was lying. She wrote me a note: "Chipego's been telling stories. He always makes up this story about his mother being a Broadway actress, and I just thought you should know because we're trying to teach him the difference between lies and exaggeration and the truth." And, I wrote her back and I'm like, "I actually am doing a Broadway show right now." [Laughs.] But, you know, I started Passing Strange when he was in kindergarten, so as far as he's concerned, it's just what Mommy does.
Question: Did you hear back from that teacher when you sent the note?
Aziza: Yeah! [Laughs.] She was like, "Oh, goodness! Really?" And, as it turns out, his principal's good friends with someone from the creative team of In the Heights. So it's just such a small world.
Question: Do you think that Women on the Verge has a message, or does it have a message to you?
Aziza: Oh, yeah, definitely. It's just about what women go through in relationships. Pedro has a quote that he likes to say in relation to this movie, and it's, "The world is a perfect place except for one thing. Men abandon women." And, so it's all about what happens to your world when that happens. So I think men, women, everyone can relate to this story in some way, shape or form, definitely.
Question: Do you have any other projects in the works or are you just focusing on Women?
Aziza: I'm working on my own music, which is so much fun. Pre-Passing Strange, I was performing. I was doing concerts and stuff like that. I have an ongoing concert series with opera star Jessye Norman, and we perform with different symphony orchestras. … I've performed with her at Carnegie Hall and the Hollywood Bowl, and we'll be at the Atlanta Symphony Orchestra next summer.
Question: What's it like working with her?
Aziza: Oh, God! Amazing. [Laughs.] The first rehearsal, I literally just stared in her mouth. … I was like, "Maybe if I stare in her mouth, I'll figure out how she sings like that." [Laughs.]
Question: It's a pretty amazing sound that comes out of her.
Aziza: Oh, my gosh! Just effortless. She was just sitting down in a chair and just – "What? How do you do that?" It's pretty cool.
Question: Who were the singers that you admired?
Aziza: When I was little, I always had a deep voice, so I would imitate Luther Vandross. I would play his records and [sing along]. All these male singers, 'cause I couldn't sing high. My favorite singer in the world is Al Jarreau. I just love that man. Oh, my gosh! Love him, love him, love him. Yeah, I would say Al Jarreau, Luther Vandross, Sade.
[Women on the Verge of a Nervous Breakdown plays the Belasco Theatre, 111 West 44th Street. For tickets, call (212) 239-6200 or visit Telecharge.com.]
Well, that's all for now. Happy diva-watching! E-mail questions or comments to agans@playbill.com.