Kelli O'Hara
If musical theatre in the eighties and nineties was all about the belter — think Betty Buckley, Patti LuPone and Bernadette Peters — it may be the soprano who has reigned supreme in the past decade. At the forefront are Tony winner Kristin Chenoweth, Tony record-breaker Audra McDonald and five-time Tony nominee Kelli O'Hara, who is currently in previews for her latest Broadway outing, The Lincoln Center Theater revival of The King and I, which officially opens April 16 at the Vivian Beaumont. The luminous O'Hara, whose golden tones have thrilled in The Light in the Piazza, South Pacific and The Bridges of Madison County, is playing Anna Leonowens, the role created on Broadway by Gertrude Lawrence and most recently inhabited by Donna Murphy, who won a Tony for her work in the 1996 revival. The Rodgers and Hammerstein classic once again pairs O'Hara with Tony-winning director Bartlett Sher, who also helmed Piazza, Pacific and Madison County, the musical highlight of last season. I recently had the pleasure of chatting with the gifted O'Hara, whose flawless vocals are matched by an equally pure delivery of lines, both spoken and sung, that is devoid of overindulgence or ego, always getting to the heart of the matter via the most direct route. O'Hara spoke about her newest Broadway role, her fondness for and admiration of Rodgers and Hammerstein and her many collaborations with director Sher. That interview follows.
Question: When did the idea of playing Anna first come up for you?
Kelli O'Hara: Oh gosh, it's hard to remember. Somebody asked me this the other day. I think there might have been some talk about it shortly after South Pacific, but I knew that it was going to be put off for quite a while. We had things in between, so it's been a couple of years, and nothing solid until about maybe a year and a half ago.
Question: Had you ever seen the musical? What were your thoughts on playing another Rodgers and Hammerstein heroine?
Kelli O'Hara: I'll be honest, I had never seen it. I was surprised by it, that I hadn't, but I kind of felt the same way about South Pacific. I hadn't seen it either and not because I wouldn't have, but it just wasn't done the way Sound of Music and Carousel and Oklahoma! were done all the time, so I never saw a high school production, and I just came to the city too late to see the last revival and I didn't see the movie for some reason.... It always makes me feel good and cozy and warm to think about doing a Rodgers and Hammerstein musical, so I thought, "Oh, this will be a great thing to do after Bridges, so I'll do one where it's a brand-new thing and then I'll go do one that's more certain." It wasn't until we did the workshop in August, where we read through and Ken [Watanabe] came to town to do it, that I started realizing what an amazing role this is and how strong and important the role feels to me. So it's kind of been a fortuitous thing.
Question: Anna was really ahead of her time...
Kelli O'Hara: Amazingly so. The more I read about her as a person, a historical person, the more I discover about her: what happened before, what happened after Siam. This whole musical is one thing because it's based off the book by Margaret Landon about this British schoolteacher, and Margaret Landon was a missionary, so it was based off [who she] thought Anna was. This is our job to play, but this other book that's come out about Anna, "Bombay Anna," by a woman named Susan Morgan, it's all about the real Anna Leonowens. I can read this and I can know who she is and who she was and it colors the show and my performance of her so much, because she, actually, invented herself. She was not British. She was of mixed race. It's an interesting thing to know just how strong she was. She did it out of the fact that she was a widow and she had two children and she had to support herself and she wouldn't have been hired otherwise, and what she did was incredibly bold. She went headfirst into many, many parts of the world. She became really strong in America, in Canada, in Russia, in Siam, different parts of India, Australia. She was amazing.
Question: In the musical, she just has the one child...
Kelli O'Hara: I think that just makes it easier. In reality, she just took Louis to Siam, that's the facts, but she had left a daughter, Avis. She sent her to England to go to boarding school because she felt that was the best opportunity to educate her children. She did that with both children. After Siam she actually left Louis to be educated in Ireland for a while. She was very close with both children, but she didn't want to bring the daughter into this male-dominant society at that time.
Question: As you've been reading about her, has there been anything that sticks out in your mind, something that really surprised you about her that maybe isn't in the musical?
Kelli O'Hara: … A lot of the book focuses on the fact that there couldn't have been this love relationship because she wasn't an attractive woman. Period. It says that over and over again, and I keep thinking, "Gosh. Lay off." [Laughs.] And, actually, there's a picture of her, and she was a very amazing looking woman with just the world on her face, a combination of so many wonderful things. The way she was, was probably very attractive as well because she was very strong, but she was also the kind of person who could get herself in trouble because she was so quick-tempered and heated. All of these things actually feed the playing of her on stage in a wonderful way.
Question: As you've been rehearsing, how would you describe the Mrs. Anna that you're playing?
Kelli O'Hara: One of the things that I love about her in reality and one of the things that I try to find in any character I play is purpose and value to them as a human. A very human quality, someone who's doing something for the betterment of others and for themselves. That's something that you can admire, and she just has that in droves. There's so many admirable qualities to her. She really loved her children. She really loved learning. That's the main thing here, and the chemistry that comes between them, the King and her...came from this absolute mutual love of learning and stepping outside the box and broadening their horizons. So in playing her, that's what I grab, this starved woman for anything that is different and new, and she had no judgment on their way of life. Everyone who had been there before who was Caucasian had been a missionary and felt that they were barbarians, and she had no opinions like that. She actually fell in love with them and their ways, and that's what I love. That's the kind of person I love, so that's what I love playing in her.
Question: Do you have a favorite moment in the show for her or is it too early?
Kelli O'Hara: I think it's too early. In rehearsal I've loved the typical moment of "Getting to Know You" with all the kids crowding and jumping on your lap. Because of the way Ken [Watanabe] is, I'm starting to love these book scenes that have this intellectual challenge about them, between the two of them. I'm starting to really enjoy that, and I have a feeling that it's only just beginning because he's so smart and witty and fun, so I have a feeling that once we get going, those are going to become really delicious.
Question: What has it been like working with all the children?
Kelli O'Hara: If you ever wanted to have children and you hadn't yet, your ovaries would be hurting — for a woman. [Laughs.] They're just beautiful and adorable and innocent. Even though they're little theatre kids, they obviously know what they're doing, but they have a lot of awe in them right now about the whole experience because some of them are young enough to not have been around too long. So they still have this look on their faces that this is new to them and exciting. Then, of course, I'm working with Jake [Lucas], who's been my son three times already: in "Peter Pan" and Far From Heaven, so we already have a relationship there. That's just been a lot of fun.
Question: Bridges was such a demanding score. I wonder how King and I compares.
Kelli O'Hara: This is what I'm learning more than anything about this role. It's not about the singing as much, although I'll always take any music I can get and fill it up as much as I can. It's not in a challenging range for me like some of the others have been; in fact, it's a little low, but it's what I like. South Pacific was the same way, Pajama Game was the same way, although there's no need to belt. The book scenes are more full than I think I've ever done. There's more book scene in this musical than I've ever been asked, and it's so much fun. So the music actually just enhances that. I think it's an opposite than maybe say Bridges.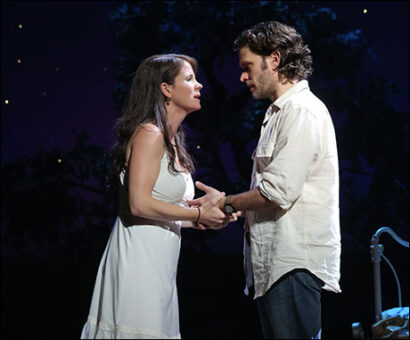 Question: Most of the Rodgers and Hammerstein II musicals had messages. What do you think this one says or what does it say to you?
Kelli O'Hara: I'm kind of blown away. Sometimes I feel like I'm here to represent the classic Rodgers and Hammerstein II [shows]...not that I'm here to, but that I've tried to do that. I've done a lot of them, and I grew up on them, so I love them, but I feel like I learn something new about them every day. The way South Pacific had been presented before and then what we were able to dig out of it, the discovery we were making about the points they were making, the political points they were trying to make. The way they made it so that anybody can enjoy it, but the people who were really looking could hear a message. This is amazing that they wrote this and that this was done in 1951, especially when you consider housewives in the 50's and what their lives were about and how women were. They could be maybe schoolteachers, maybe secretaries, but they didn't have a lot of options, and they put this woman out there who's going to change the course of history and totally, unapologetically wrote about it. I really admire them for being ahead of their time and not being afraid of it but being smart enough to put it within this wonderful [framework]. Yes, she does play a schoolteacher, and yes she's laughing and with children and it makes her seem so unscary so that audiences at the time could love her, but what she really does is impact a nation, and it's pretty amazing.
Question: How has your relationship with Bart Sher grown over the years? He's directed you so many times now. What is that like for you as an actress?
Kelli O'Hara: I was thinking about it, from the first time I met him. The fact that our kids have grown up and are growing up together, and we've touched on so many different kinds of things together, these different shows, they're all very different. I've really gotten an education from him. My teacher Florence Birdwell was my teacher and my mentor; I didn't go to get a graduate degree, but in a way I feel like I've had one. I've had a masters and a doctorate and everything else because of him. I keep learning from him. He's funny, he's a funny guy. We argue, I laugh him off, he laughs me off. We're like, "Whatever," but at the same time, he'll say something and it amazes me. His knowledge, and I think what it is, is, he's not posturing. This man loves this business. He's not trying to do things just to do them, he's not throwing weird ideas, he's actually digging all the time, as deeply as he possibly can, which gives me no other choice but to do the same. If I'm going to keep doing this business, that's exactly where I want to be coming from, always, because of the love of it and not because of any kind of idea that it's going to take us somewhere. It's always about the work.
Question: Do you feel your love for it is as strong as [it has always been]?
Kelli O'Hara: Yes, that's what it is. I think that's why we work together. Excuse my language, but the bullsh*t is always aside. Maybe some people would say, "Gosh, all the effort for just a musical," but that's not how it feels. It feels monumental, like we could spend years digging in to every single moment and figuring out what it means, what we can save, what point of it would be making it purposeful. It makes it feel, this life, it makes it feel purposeful, which it sometimes really can feel not like that.
Question: Does being back at Lincoln Center feel like a home for you?
Kelli O'Hara: Absolutely, so many memories here, personal and professional. I'm in the same dressing room here where my first son was basically born. He played on the floor when he was two months old. I'm in this dressing room, and that's only five years ago. My memories of ten years ago, when I first played Clara and was coming into my own and trying to figure out how to be in this business and learning from Vicki Clark. It has all this personal and professional history wrapped up into it, so it's pretty heavy and great to be here.
Question: I know you perform on Broadway live eight shows a week. What was the experience of doing "Peter Pan" live on TV in front of an unknown amount of people?
Kelli O'Hara: For me, I go back to the work. I don't care how cliché it sounds, but I know this about myself. I have to do this because I love it. I love this work. The eight-shows-a-week thing is great, and I want to dig into something that's really, really different. The thing about that "Peter Pan" was watching the way they built this weird, alien, out-of-space kind of art form was magical to me. I loved the way the set in this big airplane hangar looked and the way the crew had to run from place to place with their cameras and how the kids worked their butts off to learn these things and had to be in their place at the right time...The way hundreds of people were working together to make it work. In a way, I didn't care what was happening or what it was, right in the middle of it was where I wanted to be. I just had a blast. I really had a great time doing it.
Question: You also recently made your opera debut. What was that experience like?
Kelli O'Hara: It's the same exact thing...I just want to put my hand on all sorts of different things and see how they make me feel…. Opera is my background, and I needed to venture back into that and see how it felt. I wanted to stand on that stage, I wanted to meet those people. I wanted to sing with every part of my voice with no amplification. I wanted to know how that felt. It's the uncertainty that makes me want it - it's the newness.
Question: What was that like singing without amplification?
Kelli O'Hara: It was fantastic. Singing operatically for me feels so much safer than anything else because it's just the way I like to sing. So, it's just balls to the wall; you don't ever feel like you're going to crack or that there's going to be any problem with intonation or anything because you're just singing with your whole heart and your whole body. It was, in my opinion, an easier situation. I may not have as thick of a voice as some people do because of just years of using different muscles, but...there was a confidence in it, and I loved that.
Question: How has it been combining motherhood with a performing career?
Kelli O'Hara: It's incredibly challenging. There's not a day that goes by that I don't feel guilty in some ways for not being there, but I'm one of these people that I'll get there. I'm not going to say, "Well, I just don't have time." I make time. I know that they're only going to be my children for so many years, and then they're going to have their own lives. So I want to do two things. I want to be their mother, and I want them to know that they were my very first priority, but I also want to teach them what it means to love what you do and do it with all your heart, so that when they have their own lives they can hopefully be inspired to do the same thing. My parents did that for me, and I think that's just as important for them, for how I can set them up for their lives, as almost anything. It's a combination of the logistics of it all and the real goals. I'm just making it happen; they come up on the dinner break or I race on the subway back for their dinner break or they're up here between shows. I'm making them a part of my life so that they can know exactly what I'm doing. Mainly, I want them to know that I love it.
Question: How old are they now?
Kelli O'Hara: Five and 17 months.
Question: That's a lot!
Kelli O'Hara: It's a lot, but you know what the best part is? They don't give a flip. They don't care if Mommy is this person, they don't care if Mommy did this on twitter. They could care less. [Laughs.] What they care about is just me, being there with their dad and loving them and smiling and letting them know that they are in a safe place. What that does for me is I completely let go of this business when I'm with them, that's my goal. It just doesn't matter — they put everything in perspective for me. Ever since they were born, I've looked at this business in a whole different way. Now it's about the work that makes me happy and less about the ladder I've got to climb.
Question: It must be very grounding and a relief in a way to have that...
Kelli O'Hara: It is — it's a gift.
[Visit KingandIBroadway.com or LCT.org.]
*
Well, that's all for now. Happy diva-watching! E-mail questions or comments to agans@playbill.com.
Diva Talk runs every other week on Playbill.com. Senior editor Andrew Gans also pens the weekly columns Their Favorite Things and Stage Views.