Victoria Clark
From her hilarious and moving portrayal of second-class passenger Alice Beane in the epic musical Titanic through her career-defining and Tony-winning performance as Margaret Johnson in The Light in the Piazza, Victoria Clark has established herself as one of the leading musical theatre actresses working today. In fact, this multi-talented artist, like such other gems as Bernadette Peters, Patti LuPone and Betty Buckley, often manages to elevate her surroundings by her mere presence, whether she's playing a Fairy Godmother with spirit (Cinderella) or a Mother Superior with soul (Sister Act). And, now, this in-demand performer and director — who recently made an acclaimed debut on the Showtime series "Homeland" — is thankfully heading back to Broadway in the reworked version of the classic musical Gigi, which is currently playing an out-of-town engagement at the Kennedy Center for the Performing Arts through Feb. 12. Directed by Eric Schaeffer with choreography by Joshua Bergasse, the Alan Jay Lerner-Frederick Loewe musical — featuring a new book adapted by Emmy-nominated screenwriter Heidi Thomas — casts Clark as Mamita, grandmother to Gigi, played by Vanessa Hudgens, who will be making her Broadway debut when previews commence March 19 at the Neil Simon Theatre. Last week, via email, I posed a set of questions to Tony winner Clark, who sent her responses following her first weekend of performances in DC. Answers from this musical theatre star follow.
Question: Before we get to Gigi, tell me about your experience filming "Homeland.". . . Is there any adjustment that needs to be made in acting style for TV versus stage? . . . Would you like to do more film/TV?
Victoria Clark: Yes, I would like to do much more TV and film work. The experience on set was a joy from beginning to end. Most of my work was with Claire Danes, who is a delightful, kind, funny, supportive person, and it was really an honor to work beside her. There were a couple of pinch-me moments when I was joking around with her, and then she would just drop into character when the cameras rolled, and I would nearly have a heart attack. The character of Ellen Mathison, Carrie's mother, was still being shaped even after I arrived in Cape Town (where Season Four was shot), so it was a great experience to flow with the changes of the character and the writing. And, I can't say enough great things about Lesli Linka Glatter, the director; Meredith Stiehm, the writer of our episode; and the other executive producers, including Alex Gansa, who really made me feel welcome on set. I do think that acting is acting. While the subtlest moments have the potential to be very clear and impactful onstage, I have found that it is possible to do almost nothing and be absolutely understood in film. Though I am far from an expert, I should say, and am so eager to learn more. And, of course, another obvious difference is that the whole story needs to be told every night onstage, while the story is told bit by bit, and out of sequence in film and tv.
Question: How did your involvement in Gigi come about?
Victoria Clark: Eric Schaeffer asked me! He asked me to play Sally in Follies in his production when it played Los Angeles, so we already had a shorthand with one another. And, I adore Eric and love working with him. He has the utmost respect for the actors and his collaborators, and his unseen hand is quite magical to me. He does not like to dictate moments or superimpose his ideas onto the actors. We have to find everything ourselves and own it. And he has the patience and the confidence to wait for everyone to find his or her own way. I also wanted the opportunity to work with Heidi Thomas, whose writing I had long admired from "Call the Midwife" and "Upstairs, Downstairs." When I first saw "Call the Midwife," I was really knocked out by its humor, precision and compassion and the way the writing found its place in history and illuminated both the characters and their time in history. Heidi has worked the same alchemy here in Gigi. She also happens to be a hilarious and fantastically relaxed and confident person, and we all adore her. The book of our show is so precise, and each character has a distinct arc, and I expect Heidi will be chased all over the world now by people wanting to collaborate with her.
Question: When it's an eight-show-a-week commitment, what goes into your decision about whether to accept taking a role?
Victoria Clark: If it's a musical, I think about three things. If it's not a musical, I eliminate #1:
1. Is this part vocally right for me? My teacher has taught me to say one thing over and over again: "If it's right for my voice, then it's right for my career." And the opposite is true, unfortunately, as well. So just on a technical level, I have to feel comfortable singing it. 2. Is this a project that in the best-case scenario I can devote myself to for 52 weeks? We all hope our plays or musicals will run, so if it is an open-ended commercial run, and not a limited engagement, I always think it is important to ask, "Can I spend a year of my life on this story? Is there enough substance and heart to keep me challenged and interested?"
3. Can I relate to the storyline of my character? Are there enough parallels, either fresh in my memory, or current, that can sustain me? And if so, can the combination of actor and role have an impact as far as the story is concerned? Gigi is about family and letting go, and looking at the generations coming up and saying, "Good. There you are. Now it's time for me to stop talking and listen to you. What can I learn from you?" I play Mamita, Gigi's grandmama in the musical (by the way—What? A grandmother?), and she has one foot in the past and another on the surfboard of the future, and she has no idea how to navigate it. I absolutely love exploring the uncertainty, dread, joy and release of her experience. And, of course, there is my own parenting. My son is now a sophomore at Williams College, and he was just telling me the other day about his involvement being on a committee with Williams alums and board members, looking at Williams' investment policies and trying to determine if their investments reflect a sound and moral perspective. I, of course, at his age was up all night building sets and directing my first show. He is coming into his own, as Gigi is, and there is no more powerful parallel for me than that.
Question: Tell me a bit about how the show has been reworked. What do you think it has to say to modern-day audiences?
Victoria Clark: Our Gigi has a very nice balance of history and feminism. While the life of a courtesan in 1900 Paris was perhaps the most elegant and independent lifestyle one could have, modern audiences would have no way to understand that. So Heidi and Eric, under the very astute and wise leadership of our producer Jenna Segal, have created a story where Gigi can make a decision affirming her own right to choose and make her own life that rocks her family and her immediate circle, as well as the social tradition. She is an iconoclast and an individual. Also, the songs have been redistributed in a surprising way, which I can't talk about, but which we hope audiences will find to be very smart and more modern. This is a completely new book by Heidi, and even the language itself is transporting, and we learn once again the impact that one free-thinking and passionate person can have on her life and the lives around her. The ripple effect of a brave and determined person can be very powerful indeed.
Question: How would you describe Mamita?... What kind of research did you do for the role?... Do you have a favorite moment for her yet?
Victoria Clark: Mamita is still in progress at the moment! She is a bag of contradictions, and on the cusp of something very exciting herself, but has to let go of the past first before she can embrace the joy that awaits her. There has been loads of research to do, about Colette and her writing, about Paris at that time, artists, calligraphy... Mamita has a very interesting and colorful past, which is not referenced in too much detail in the play, but which is very fun for me to construct. I would say my favorite moment is any time I can do scenes with my wonderful colleagues Corey Cott, Howard McGillin, Dee Hoty or our beautiful Gigi, Vanessa Hudgens. They are my inspiration and my fuel.
Question: I'm not too familiar with Vanessa Hudgens' work. What does she bring to the title role?
Victoria Clark: Vanessa is current. She is modern, funny and very much in this age and of this time. So when you bring someone like that into a time 115 years ago, it is quite shocking to see how completely she transforms and how completely believable she is as a sheltered, adorable, naive teenager. Her metamorphosis into womanhood and adulthood is quite moving. On a technical level, she is a true triple threat, and my favorite thing about Vanessa is that she makes everything look so easy. She is also probably one of the most warm, loving, supportive people I have ever met.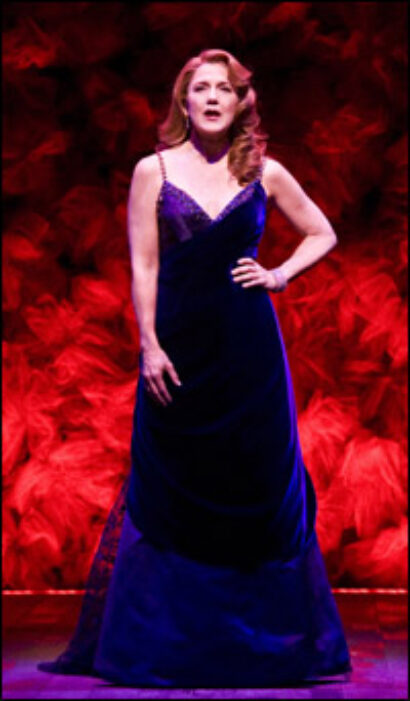 Question: Tell me about working with choreographer Joshua Bergasse.
Victoria Clark: Josh is an amazing choreographer. I haven't danced this much in a show in a long time. I asked him early on, "Am I going to be standing over by a barrel clapping my hands on this one?" And he said, "Ahhh, no, you're not." Which is a good thing. The costumes (amazing by the way by Catherine Zuber) are so fitted that I need all the aerobic exercise I can get. And, Josh is another patient amazing artist. We are blessed!
Question: How did the first performance go? How was the audience reaction?
Victoria Clark: Thrilling. Also terrifying. We had new changes going in and, of course, it was a bit of a heart attack. In Act Two, there are three or four very quick shifts in the plot, and it is fasten your seat belts, not just for the audience, but for the actors as well! The audiences here in D.C. have been great. They are wonderful listeners, and they really seem to be enjoying it. We are getting those standing ovations, which is lovely!
Question: You recently directed The Light in the Piazza for Pace University as part of your Artist in Residency for this academic year. Did you learn anything about the musical or your role that surprised you, having done the show for so long?... Would you like to do more directing?
Victoria Clark: Yes, I did learn so much from my students and from this process. The biggest thing I learned from my students is something we discussed at length, but they made it happen. If we, as actors, believe, the audience will believe it, whether it is the story, the circumstances, or most noticeably the huge disparity of age between actors and roles in student productions. We had five actors that all had to play believably in their 40's and 50's, and they were all 19 and 20 year olds. It was completely thrilling to see the successful transformations they made. Several audience members thought I had brought in adult professionals to fill out the student cast and were more than freaked out when I told them they were 20 years old. ...I am going to direct more. I have a definite voice when it comes to directing, and I am ready to do more. I am also always in "mentor mode," so it is only natural that I start directing, and putting my vision out there. I am very excited about what the future holds in that arena.
Question: Are you excited to return to Broadway now that dates have been announced at the Neil Simon Theatre?
Victoria Clark: Of course, we are thrilled to share this work with New York audiences and all the visitors who come to Broadway. The score, this production, this amazing cast, this story...it is a full meal, and who doesn't love French cuisine?
[Gigi is playing a pre-Broadway engagement in the Eisenhower Theater at The John F. Kennedy Center for the Performing Arts in Washington, D.C., through Feb. 12 (opening night is Jan. 29). Tickets for the Kennedy Center engagement are available at Kennedy-Center.org.…Opening night on Broadway is set for April 8 at the Neil Simon Theatre (250 West 52nd Street). Tickets are available at Ticketmaster.com.]
*
Well, that's all for now. Happy diva-watching! E-mail questions or comments to [email protected].
Diva Talk runs every other week on Playbill.com. Senior editor Andrew Gans also pens the weekly columns Their Favorite Things and Stage Views.
PHOTO ARCHIVE: From Smitty to Sister Act; Celebrating the Stage Work of Victoria Clark