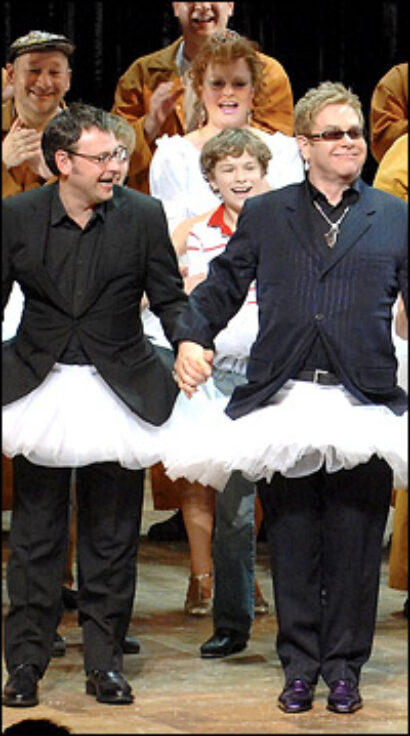 Performances began Nov. 13 prior to the official Dec. 13 opening at the Australian venue.
Based on the 2000 film about a working class lad's dream of dancing ballet, the musical is staged by the film's director Stephen Daldry. Music is composed by John with a book and lyrics by Hall. Peter Darling is charged with choreography for the dance-heavy show.
Rhys Kosakowski — one of the four young stars who will alternate the title role along with Lochlan Denholm, Rarmian Newton and Nick Twiney — played the opening night show.
The cast of 75 also features Australian stage veterans Genevieve Lemon (as Mrs Wilkinson), Richard Piper (Dad), Lola Nixon (Grandma), Justin Smith (Tony), John Xintavelonis (Mr Braithwaite) and Linal Haft (George).
Billy Elliot the Musical debuted in London in May 2005 at the Victoria Palace Theatre. The work is Broadway-bound for a Sept. 17, 2008, launch at the Imperial Theatre.
The design team includes Ian MacNeil (set), Nicky Gillibrand (costumes), Rick Fisher (lighting) and Paul Arditti (sound). Martin Koch handles music supervision.
Billy Elliot the Musical is produced by Tim Bevan, Eric Fellner, Jon Finn and Sally Greene for Universal Pictures, Working Title and Old Vic Productions.
For more information on Billy Elliot the Musical at the Capitol Theatre in Haymarket, Sydney, visit billyelliotthemusical.com.au.