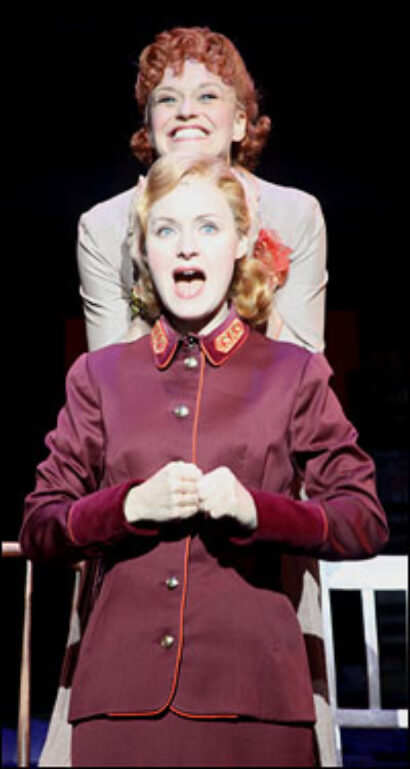 Big League Productions is producing the limited summer tour of the classic 1950 Frank Loesser musical comedy about showgirls, gamblers — and one tough missionary woman who wants to save souls in Times Square. The tour ends up in Atlanta in August. This production is not related to the recent Broadway revival.
Patti Colombo (Cathy Rigby's Peter Pan) choreographs. Mark Hartman is the musical director. Director Greenberg (Pirates!, Jacques Brel, Happy Days the Musical) recently helped reimagine the musical Working for a commercial run in Chicago (producers are aiming for New York City and other markets).
Davie recently played Charlotte in the Broadway revival of A Little Night Music; Rosen appeared in Broadway's Spamalot and the recent Guys and Dolls; Sikora was Bambi in Broadway's Curtains and is on leave from Broadway's How to Succeed; Crawford's Broadway credits include Shrek, in which he played the title character.
The cast also includes Garth Kravitz (Benny), Jan Neuberger (Cartwright), Michael Scott (Brannigan), Jamie Ross (Arvide), Brendan Averett (Big Jule), Glenn Rainey (Nicely), Adam Moreno/Mr. Blue (Harry The Horse), Todd Horman (Rusty Charlie), Mark Campbell (Angie The Ox), Wendi Bergamini, Rod Roberts, Eric Shorey, David Tankersly, Taurean Everett, Jace Coronado, Jesse Wildman, Sarah Marie Jenkins, Christina Hedrick, Arian Keddel, Toni Elizabeth White, Cameron Henderson and Alissa Alter.
The tour schedule includes:
Week of July 4: Fayetteville, AR
Week of July 11: Kansas City Starlight Musicals
Week of July 18: Dallas Summer Musicals
Week of July 25: Dallas Summer Musicals
Week of Aug. 8: Vienna, VA, Wolftrap
Week of Aug. 15: Atlanta Fox Theatre (Theatre of the Stars)