This fall, that musical is arguably Women on the Verge of a Nervous Breakdown. A few years ago, the thought of a stage adaptation of a film by Spanish film auteur Pedro Almodóvar might have been considered ludicrous. But in 2007, London playwright Samuel Adamson showed the world that the feat could be done and done well, when his theatricalization of Almodóvar's All About My Mother was a critical and popular hit.
Women on the Verge adds music to the equation, pushing the Almodóvar envelope a little further. Undersung Broadway veteran David Yazbek (The Full Monty, Dirty Rotten Scoundrels) is providing that score for Lincoln Center Theater, ensuring that Almodóvar's flamboyant, funny scenarios will get tunes to match. Jeffrey Lane, also of Dirty Rotten Scoundrels, has penned the book, Gypsy co-stars Patti LuPone and Laura Benanti reunite for the production, joining Brian Stokes Mitchell and Sherie Rene Scott, and LCT golden boy Bartlett Sher directs, beginning Oct. 2 at the newly restored Belasco Theatre.
Another screen-to-stage musical is Elf, a new show by Matthew Sklar and Chad Beguelin (the team from The Wedding Singer), with a book by Bob Martin (The Drowsy Chaperone) and Thomas Meehan (The Producers). Casey Nicholaw directs the story of an orphaned boy who is raised by Santa's elves and is unaware he is a human. It begins Nov. 2 at the Al Hirschfeld Theatre. With no Grinch in sight this Broadway season, the show may prove a popular holiday-themed show.
If one judging simply by sheer amount of news ink, Spider-Man Turn Off the Dark would seem to be the most anticipated new musical of the fall. However, a lot of that press had to do with the myriad casting, production and money woes that have surrounded the expensive (a reported $40 million) undertaking , which has a score by U2's Bono and The Edge, and is directed by Julie Taymor. Things seemed to have settled down in recent weeks, with a cast — including Reeve Carney as Spidey, Jennifer Damiano as MJ and Patrick Page as the Green Goblin — announced, and a long rehearsal period getting underway. The show is set to begin previews Nov. 14 at the newly renamed Foxwoods Theatre (née Hilton Theatre) on 42nd Street.
photo by Paul Kolnik
Another big, new musical of the fall,
John Kander
and Fred Ebb's
The Scottsboro Boys,
will be less of a surprise, since it already enjoyed an extended run Off-Broadway last season. Largely written before Ebb's death in 2004 (with some lyric additions by composer Kander since then), the inventive, presentational telling of the infamous 1930s trial(s) and injustice of the title scored an unlikely critical success at the Vineyard Theatre downtown. Performances begin at the Lyceum on Oct. 7.
Susan Stroman
, who first made her name 19 years ago with a Kander and Ebb revue called
And the World Goes Round
, directs. Also making the move uptown — this time from the Public Theater — will be
Alex Timbers
and
Michael Friedman
's
Bloody Bloody Andrew Jackson
, which re-imagines our seventh President as a populist rock star. The show was extended many times downtown. Newcomer
Benjamin Walker
will star as Battle-of-New-Orleans-fightin', Second-Bank-of-The-United-States-smashing Old Hickory. Previews begin Sept. 20 at the Bernard Jacobs Theatre.
The Public Theater is full of Broadway transfers this season. Also coming is the summer's acclaimed Central Park staging of The Merchant of Venice starring Al Pacino. It will begin a limited run at the Broadhurst Oct. 19.
Two shows will compete for the title of Most Quixotic Venture of the autumn. The Pee-wee Herman Show marks the return — and legitimate debut — of the iconic 1980s kiddie-show creator and star, Paul Reubens. (The work has roots in a 1980s L.A. stage show of the same name, and also borrows elements from the hit TV show, "Pee-wee's Playhouse.") It will be the first production to play the newly christened Stephen Sondheim Theatre (formerly Henry Miller's Theatre), starting a limited run Oct. 26.
More literary, but just as whimsical, will be a revival of David Hirson's 1991 Molieresque, modern verse play La Bête. Its first time around, the play generated more talk than ticket-sales. But this production will star David Hyde Pierce and Mark Rylance, both Tony winners. One of Broadway's busiest and most successful directors, Matthew Warchus (Boeing Boeing, The God of Carnage), is at the helm. Previews start at the Music Box Sept. 23, following its summer run in London.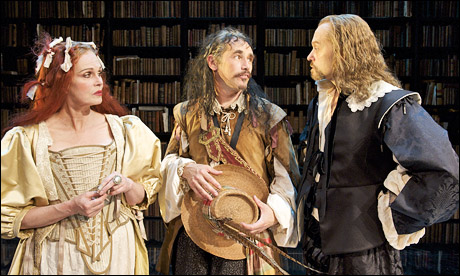 photo by Manuel Harlan
photo by Aubrey Reuben
Also sufficiently starry is
Elling
, a
Simon Bent
play which will make the Broadway debut of film actor
Brenden Fraser
.
Denis O'Hare, Jennifer Coolidge
and
Richard Easton
will lend support. The play, which was previously seen in London, will be mounted at the Ethel Barrymore Theatre, with previews beginning Nov. 2. About two mismatched roommates, Hare will play obsessive-compulsive Elling with Fraser as the wildly enthusiastic gentle giant Kjell.
Producer Jeffrey Richards brings his fourth David Mamet play to Broadway in as many seasons with A Life in the Theatre, a 1977 two-hander about the queasy relationship between two actors. Patrick Stewart and T.R. Knight — taking his first Broadway role since leaving "Grey's Anatomy," make up the cast. Previews begin Sept. 17 at the Schoenfeld Theatre.
At the Roundabout Theatre Company's American Airlines Theatre, meanwhile, Shaw's evergreen Mrs. Warren's Profession brings stage star Cherry Jones back to the stage (it began previews Sept. 3 and opens Oct. 3). Doug Hughes directs. Jones previously starred in Shaw's Major Barbara at the Roundabout's American Airlines Theatre. Also on the Roundabout agenda, at Studio 54, is the return of the Kneehigh Theatre production of Brief Encounter. The British-born, Emma Rice-directed, multi-media stagework inspired by both Noel Coward's Still Life and the later David Lean film ("Brief Encounter") was a critical and popular smash at St. Ann's Warehouse in Brooklyn last winter season. It also played U.S. regional engagements to much acclaim. It begins previews Sept. 10 and opens Sept. 28.
Another British-born play this season is The Pitman Painters, a drama about 1930s British miners-turned-artists who become expected art world sensations. The praised work is by Billy Elliot librettist Lee Hall. The original London cast will take the stage at Manhattan Theatre Club's Samuel J. Friedman Theatre on Sept. 14, following London rehearsals. Partnering with commercial producers, MTC will also return Time Stands Still — its critical hit from last season — to the Broadway stage. Donald Margulies' play will live at the Cort this time, commencing Sept. 23 for an Oct. 7 opening. Laura Linney returns to her starring role, with Christina Ricci a new addition to the cast.
photo by Aubrey Reuben
Over on the Lincoln Center campus,
John Guare
's New Orleans-set
A Free Man of Color
begins at Lincoln Center Theater's Vivian Beaumont Oct. 21. The large-cast Guare drama, which has been bouncing around for years waiting for its New York bow, will be directed by
George C. Wolfe
. The cast, rich with stage talent, includes
Jeffrey Wright, Veanne Cox, Robert Stanton, Reg Rogers
and
mos
(formerly known as
Mos Def
). Here's a fact that will surprise many theatregoers:
Alfred Uhry
's Pulitzer-Prize-winning drama
Driving Miss Daisy
— a theatre title familiar to most citizens — has never played Broadway. Its heralded late-'80s run was all Off-Broadway. This fall will change that. The three-hander about an elderly Southern Jewish lady and her longtime African-American driver will start at the Golden Theatre Oct. 7 with
James Earl Jones, Vanessa Redgrave
and
Boyd Gaines
.
Finally, it isn't often a tale from the sports world visits Broadway. (A notable recent exception was the baseball drama Take Me Out by Richard Greenberg.) But this fall, the life of a football legend will be enacted in Eric Simonson's new play Lombardi, which stars Dan Lauria as coach Vince Lombari, and is directed by In the Heights' Thomas Kail. The NFL is actually listed as one of the producers, surely a first in Broadway history. Expect a lot of football widows to use the show as a reason to get their never-been-to-the-theatre husbands to Broadway. First preview is Sept. 23 at Circle in the Square. Full disclosure: There is no relation between the playwright and this writer — aside from his being my brother.
(Robert Simonson has been Playbill.com's senior correspondent since 2006. Prior to that, he was the editor of Playbill.com for seven years. His most recent book, "The Gentleman Press Agent," was published by Applause Books in June. Contact him at rsimonson@playbill.com.)