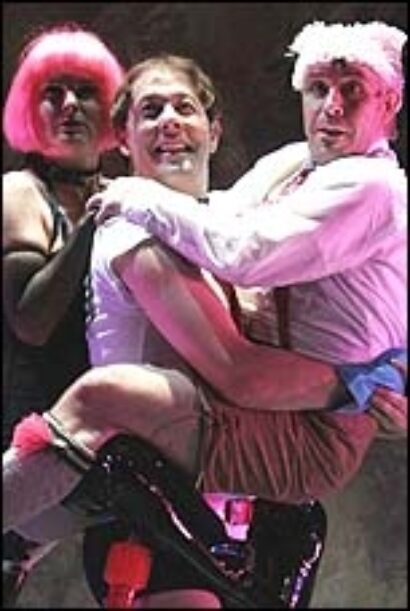 Directed by Emma Griffin, the three-member cast, playing 15 characters, comprises Forbidden Broadway's Heather Ayers, Spamalot's John Bolton and The Lion King's Jeff Gurner. The musical was choreographed by Mindy Cooper. Five Course Love features book, music and lyrics by Gregg Coffin. Coffin's score includes pop, country and western, German cabaret, 1950's doo-wop and operatic tunes. Also on the creative team are G. W. Mercier (set and costume design), Mark Barton (lighting design), Rob Kaplowitz (sound design) and Fred Tessler (musical direction). Marge Betley is billed as dramaturg.
Five Course Love, according to production notes, "is a new musical that is equal parts comedy and music with heaping portions of that elusive search for love thrown in for good measure. Three actors portray fifteen characters whose amorous combinations are played out in this high-energy screwball comedy using an array of musical styles."
About his new musical, Coffin said in a statement, "I wrote this as an homage to character actors. I wanted to watch what would happen if the comics took over the stage and sang and laughed about love."
The Minetta Lane Theatre is located in Manhattan at 18 Minetta Lane between Sixth Avenue and MacDougal Street. Show times are Monday, Tuesday, Thursday and Friday evenings at 8 PM, Saturdays at 3 and 8 PM and Sundays at 3 and 7 PM. Tickets, priced at $65, are available by calling (212) 307-4100 or by visiting www.ticketmaster.com.