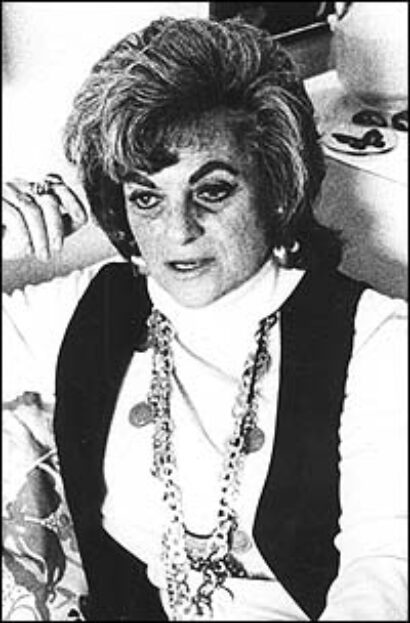 Known as Flossie to her friends, Ms. Klotz was closely associated with the work of composer Stephen Sondheim and director Harold Prince. Three of the six Tony Awards she won for costume design were for landmark Sondheim-Prince projects: Follies, A Little Night Music and Pacific Overtures. She also did the costumes for two Sondheim revues: Sondheim: A Musical Tribute in 1973 and Side by Side by Sondheim in 1978.
Perhaps the greatest expression of her creativity came with Follies, which critic John Simon said hoverd "with shrewd campiness between lavish splendor and outrageous pastiche."
The musical was set in an old theatre about to be torn down. There, the veterans of a follies series that used to be staged in the theatre meet for one last reunion. The action fluttered back and forth between the characters' faded present and their glorious, showbiz past. The set-up gave Ms. Klotz ample opportunity to plunge into sartorial flights of fancy.
According to Ted Chapin's memoir of working on Follies, "Everything Was Possible," Florence Klotz—a dramatic-looking woman with thick hair, thick arched eyebrows and dark deep-set eyes—was an unlikely person for the job. "Every era on Broadway seems to have a reigning designer... Florence Klotz wasn't yet one of them, but to be fair, she had never been given an opportunity to show what she was capable of. Follies was to provide her entree into that group." According to Chapin, the costumes were so oppulent, they put the show over-budget. Talking about the show years later, she said the costumes could not be made today. "Not only would they cost upwards of $2 million, but we used fabrics from England that aren't even made anymore."
For A Little Night Music, she had to create turn-of-the-century, Continental apparel. John Simon wrote "There is an oppulent but restrained elegance here that is carefully but not excessively calculated." During the 1980s, she designed costumes for a string of flops: Harold and Maude, Goodbye Fidel, A Doll's Life, Peg, Rags and Roza. Her luck changed with the hits City of Angels and Kiss of the Spider Woman. Show Boat in 1994 was her last Broadway show.
She was born Kathrina E. Klotz on Oct. 28, 1920. Her theatrical career, which spanned more than four decades, began in 1951 as assistant to Irene Sharaff on the original production of Rodgers and Hammerstein's The King and I. She remained someone's assistant, be it Alvin Colt or Miles White or Lucinda Ballard, for ten more years before designing her first Broadway show, A Call of Kuprin, in 1961. Ms. Klotz's career included 60 Broadway productions.
Ms. Klotz also won Tony Awards as Best Costume Designer for her work on Grind (1985), Kiss of the Spider Woman (1993) and Hal Prince's Show Boat revival (1995); the latter featured 585 costume designs by Ms. Klotz. The only time she was nominated for a Tony Award and didn't win was for City of Angels.
For her work in the theatre, Ms. Klotz also received five Drama Desk Awards, three L.A. Critic Circle Awards and two Outer Critics' Circle Awards. In 2002 she was awarded the Fashion Institute of Technology's Patricia Zipprodt Award, and in 2005 she received the Irene Sharaff Lifetime Achievement Award.
Ms. Klotz also designed for ballets, operas and film. In fact, her costume designs for the film of A Little Night Music earned her an Academy Award nomination.
Ms. Klotz is survived by her niece Suzanne DeMarco and cousin Paula Silbert. Her longtime partner, producer Ruth Mitchell, died in 2000.
No funeral ceremony will be held. Donations in Ms. Klotz's name may be made to Broadway Cares/Equity Fights AIDS.