The company made the announcement late Sept. 17, following a company meeting to determine the future of the production. The Pirates of Penzance will run in its place for six performances over the same dates.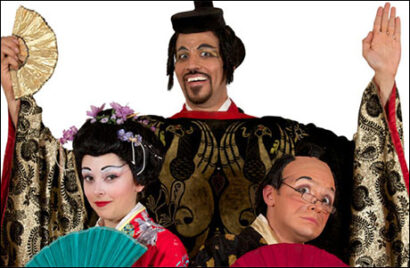 As previously reported, when a flyer advertising the NYGASP production of W. S. Gilbert and Arthur Sullivan's The Mikado, featuring Caucasian actors in makeup resembling Yellowface, was sent out to theatregoers, members of the Asian community took offense.
Bloggers, writers and theatregoers spoke up, posting their feelings online, and NYGASP quickly pulled the season brochure post on their page (although the company's executive director David Wannen told Playbill.com that the woman on the cover of the brochure was of Asian descent).
They began to issue statements explaining that they have taken in the "constructive criticism" and were meeting on how to proceed with the production.
In a statement, following the aforementioned meeting, the company said, "NYGASP never intended to give offense and the company regrets the missed opportunity to responsively adapt this December. Our patrons can be sure we will contact them as soon as we are able, and answer any questions they may have. "We will now look to the future, focusing on how we can affect a production that is imaginative, smart, loyal to Gilbert and Sullivan's beautiful words, music, and story, and that eliminates elements of performance practice that are offensive.
"Thanks to all for the constructive criticism. We sincerely hope that the living legacy of Gilbert & Sullivan remains a source of joy for many generations to come. - David Wannen, executive director, New York Gilbert & Sullivan Players"
Click here to read more about how the Asian community responded to the controversial casting and what they think should be done with the piece in the future.