The popular 1989 animated musical is credited with reinvigorating the animated musical genre, giving life to other Disney features, which have found their way to the stage, including Beauty and the Beast, The Lion King and Tarzan.
Inspired by the Hans Christian Anderson tale, The Little Mermaid features a score by Academy Award winner Alan Menken and the late Howard Ashman, with new songs penned by Menken and lyricist Glenn Slater. Grey Gardens book writer and Pulitzer Prize-winning playwright for I Am My Own Wife, Doug Wright, adapts the popular animated feature for the stage.
The classic tale begins as "a beautiful young mermaid named Ariel longs to leave her ocean home to live in the world above. But first, she'll have to defy her father — the king of the sea — escape the clutches of an evil sea witch and convince a prince that she's the girl with the perfect voice," press notes state.
Producing The Little Mermaid as a full-length Broadway musical presented challenges to its creative team. Thomas Schumacher, President of Disney Theatricals, met with several director/designer teams prior to selecting Olivier Award-winning director Francesca Zambello.
"I just said some things that sparked an interest in it for him," Zambello recently told Playbill.com. "I said, 'How could you leave behind this story of this girl who is so universal in her longings, her desires and her feelings? She's just like everybody at the lunch table who thinks they're sitting by themselves! She wants to go somewhere, she wants to be something, she wants to transform the world around her.' For me, that was really the key to the piece."

The heart of the story was just the beginning for Zambello and her team, who also had to physically envision The Little Mermaid, which is set in a kingdom beneath the sea. Zambello explains, "It [then] becomes about how does she live underwater, and how do you make that world? It's about the truthfulness to the story and that, in essence, gave me the idea to create something that was really a jewel-box — something that was very simple and in terms of the set, very translucent, takes light beautifully and [is] architectural and sculptural to suggest an underwater world without actually being in real water or having people swimming. Once we found the visual key, it was about creating a movement language for the actors. The actors wear 'heelies.' They wear shoes with wheels on the back of them that are specially designed for us. The actors can dance and tap and do fantastic things as well as glide." Making a full-length Broadway evening out of an 83-minute movie required a lot of hands-on work from Zambello, book writer Wright, composer Menken and lyricist Slater, who took over lyrical duties for the late Ashman. Ten new songs have been added for The Little Mermaid's legit premiere; the history of the character's relationships have also been sharpened, and a new ending has been written.
"It took on a whole new depth. I think there's more integrity, more story-telling, more development to the characters — something to really give it a world to live in that is theatrical and connected to the animated feature, but takes on its own life," Zambello says.
Academy Award-winning composer Menken, who has provided the hit scores to numerous Disney features, says he relished the chance to revisit The Little Mermaid. "It's the greatest fun, to open up something that's complete. Whether it was perfect or not, it's beloved," he says. "Open it up, look at it again, have the ability to maybe fix some things that needed fixing. The ending was something that needed fixing in the movie. [One has] to find those song moments in between the other song moments that we couldn't have done for animation, but you absolutely can do for the stage. Once you open it up, if you know musicals, they're very interactive, and they talk to you. They go, 'Hello, I'm a moment that needs a song!' And you can't force them in, but you can pretty much feel where they belong. [You can] feel that Prince Eric, when he stands on the beach and is haunted by that voice, [that] there's an opportunity to make him a three-dimensional character. We wrote a really nuanced ballad for him that allows him to express his longing for the heart behind this voice. "The fun is getting to play with this again, to find the moments that are natural extensions of what was there. Not to force it to go anywhere we didn't intend it to go, but at the same time deepen it. And that's the challenge. I live to write songs, you'll never hear me call it work."
Menken, who collaborated with his late writing partner Ashman on Little Shop of Horrors, Beauty and the Beast, "Aladdin" and The Little Mermaid, needed a lyricist who could seamlessly provide words for the score that would fit in with the legacy of work Ashman had left.
"Glenn and I have worked together for a long time. I had a sense of him as somebody with Howard Ashman-level abilities," Menken says. "It feels like sacrilege to say that anyone has Howard-level abilities, and Glenn would be the first one to say that, but Glenn was the lyricist who I knew could write a score that would be seamless with Howard's. I really think that Howard would approve of and love what we've done. It's seamless with what we've done before."
After writing Grey Gardens and I Am My Own Wife for the Broadway stage, Little Mermaid book writer Wright, seemed an ideal candidate to write the tale of an outsider looking in on a world which she longs to be a part of. Wright describes Mermaid's themes, stating, "It's the story of a young woman who doesn't feel entirely at home in her own skin and longs to see a larger world where she can really discover herself and be who she most wants to be. I think in that sense it bears a marked resemblance to my previous work, even though obviously it's geared toward a family audience. It's still the universal tale of wanting to move beyond the confines and definitions of your own family to fly free. I've been surprisingly touched working on this story. "In a curious way, Grey Gardens was good training because as different as the projects seem, they both have their very ardent fan base, and they're both very canonical in the world of film. Grey Gardens is one of the most acknowledged documentaries in the world, and 'Little Mermaid' is one of the most beloved animated musicals. I've learned that you have to work really hard to transplant the heart and soul of the piece from one medium to another. And there are certain things that an animated movie can do that we can't. It can have extravagant action sequences, time fades, all kinds of film conventions that we can't duplicate. So, we had to approach the narrative in new ways, but at the same time be faithful to the core spirit of the film."
The Little Mermaid's creators are also working to solidify its characters and their relationships, keeping a keen eye on the contemporary parallels of the classic story. Wright believes Little Mermaid is "a very contemporary fairytale about a proactive, heroic young woman who forges her own way -- she isn't conveniently rescued by the prince in the eleventh hour. She really emerges on her own terms, and I think that makes it thrillingly contemporary. I also have to say that there is a message of tolerance in the piece. It isn't hard to discern the metaphor in the antagonism in the undersea world and the human world. I hope that in our production, there is an obvious plea for tolerance and that aspect of the movie has been developed — because I think in these times when, internationally, we're so terribly crippled and failing so utterly in human relations, that this is always a relevant and necessary message."
Sherie Rene Scott, who plays the multi-tentacled villain Ursula the Sea Witch, echoes Wright's enthusiasm for The Little Mermaid's contemporary values, explaining that "anything that's in the movie that wasn't reconciled or rectified, Doug Wright and Francesca have been able to rectify and reconcile on stage. There's certain things that are not addressed in the movie, that as a female, I always wished were addressed -- they are addressed in this production. And that makes me so proud to be involved." Getting into character has never been quite like this for the Broadway actress, who has previously worked with Disney on Aida. "I've been in eight thousand costume fittings, and I don't know how they were able to accomplish it," Scott says. "She's a sea witch, and in this production she's an octopus. They're very smart and agile, they can be very large. She's larger than I am, and yet she's still hanging on to her sexuality as one of her go-to power sources. She's hanging onto it by a thread, but she still is hanging on!
"It is a transformation, and what is so great, as actors nowadays we are so rarely allowed to transform. I mean, you walk into a room, and you're a blonde mom and you get cast as a blonde mom. I look nothing like I do onstage than I do in real life, because I have the ability to transform like they did in the old days. Everything is there to help the actor, so that the actor can tell the story. That's the most important thing because onstage this story is the most important."
Scott is also relishing her chance at getting to play her first larger-than-life villain. "I like to think she's a rock 'n roll villain," Scott explains. "I've been reading a lot of these punk books about the history of punk, and I think she thinks of herself as some sort of cool rock 'n' roll chic. I don't think she sees herself in any other way besides [being] misunderstood — and she just loves too much and loves too deeply, and people don't understand that.
"Some people are drawn to these villains, but it's a whole new world that's opened up to me. She's such a great character because she takes such great joy in it. I don't think I would enjoy playing an evil person who doesn't call themselves an evil person. I mean, she titles herself 'the evil sea witch.' She lays it out there, and yet she's able to seduce people. She's such a joyful sadist that it's hard to knock her. She's honest, she's having a great time doing it. One common thread I've found in people that I think are considered 'bad' is that they feel justified in doing what they're doing — they also feel like they have no choice, and they feel that what they're doing is the right thing. That's where I approach it."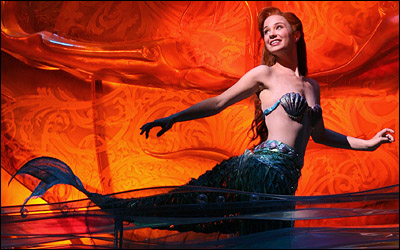 Sierra Boggess in The Little Mermaid
photo by Joan Marcus
Making her Broadway debut as one of the most beloved characters in the Disney canon is Sierra Boggess in the role of Ariel. The young actress, most recently cast by Hal Prince to play Christine Daae in the Las Vegas production of
The Phantom of the Opera
, trades her ballet slippers for fins in
The Little Mermaid
. "It's an amazing transition," Boggess states, "but that's why I'm an actor. Getting to do two completely different roles like this back to back. It really makes me work as an actor, having to transition out of that. The cool thing was that Denver really helped with my transition because the size of the theatre they built for
Phantom
in Las Vegas is just huge, and performing in Denver, the opera house is also rather large. But the Lunt-Fontanne is fairly intimate, and I'm excited about that because I think that our show is a beautiful, wonderful spectacle, but it has so many moments that are very intimate and personal. These characters and their relationships are so intimate that you want people sitting right there so you can have moments with the audience and your fellow actors."
For many fans of The Little Mermaid, the Broadway production has been a long time coming, but for the musical's young star, it has been a life-long dream. Boggess, who portrays the young girl at the heart of The Little Mermaid, grew up with the Disney animated feature.
"I saw the movie when I was seven, and I loved it," Boggess recalls. "I related to it right away, and it became my favorite Disney movie of all time. . . I've met so many people who are such fans of the movie. And in Denver, fans came up to me and said, 'Thank you for doing her justice.' That meant so much to me because that's all I want to do . . .
"My first performance on stage I got entrance applause, and I've never had that before. I thought that was so amazing because it's not that they know me, Sierra, it's because it's Ariel – and people are so happy that Ariel is on stage!"
Boggess, who knew the movie by heart growing up, is thrilled with the stage adaptation, especially the depiction of a strong central female character. "One of the things that we've added to our production is that Ariel is the one who destroys the sea witch, she's the one who stands up for herself – it's not all about getting the guy," Boggess explains. "That's great, but it's really about her being a strong woman. It's such a great message. The love between a father and a daughter — King Triton goes through a huge transition of giving away his beloved daughter to this world that he's always hated. The transition of this forgiveness and acceptance is so beautiful. It's really emotional."
The object of Ariel's affection, Prince Eric, is portrayed by actor Sean Palmer, who treads familiar territory having the opportunity to play not only one, but three Disney princes during a stint at Tokyo Disney. For the stage production, The Little Mermaid creative team has expanded Palmer's role. "There are two new songs for Eric," Palmer explains. "One is called 'Her Voice,' and another is called 'One Step Closer'… It's one of those dream moments… In the movie, a lot of stuff 'happens' to him. [In the movie] there are similarities, but you get to experience more of his side of things [in the stage production]. They really concentrated on demonstrating parallels — all of the things Ariel is longing for, he's also longing for. They're in two different places wanting the same thing, much like Tony and Maria or any of the other classic love stories that we see."
The Little Mermaid takes Broadway "Under the Sea" beginning Nov. 3 at the Lunt-Fontanne Theatre, with an official opening set for Dec. 6.
Tickets for the Broadway production, priced $41.50-$111.50, are available by calling (212) 307-4747 or by visiting the Lunt-Fontanne box office at 205 West 46th Street.
For more information visit Walt Disney Theatricals at www.disneyonbroadway.com.
*
Prior to its Broadway engagement, The Little Mermaid played a sold-out run at Denver's Ellie Caulkins Opera House from July 26 – Sept. 9.
Sierra Boggess heads the cast in the title role of Ariel, joined by Sean Palmer as Prince Eric, Norm Lewis as King Triton, Tituss Burgess as Sebastian, Eddie Korbich as Scuttle, Jonathan Freeman as Grimsby, Derrick Baskin as Jetsam, Tyler Maynard as Flotsam, Cody Hanford and J.J. Singleton as Flounder and Dirty Rotten Scoundrels and Aida veteran Sherie René Scott as the evil sea witch, Ursula.
The remainder of the cast comprises Adrian Bailey, Cathryn Basile, Heidi Blickenstaff (Carlotta), James Brown III, Robert Creighton, Cicily Daniels, John Treacy Egan (Louis), Tim Federle, Merwin Foard, Bahiyah Sayyed Gaines, Ben Hartley, Meredith Inglesby, Michelle Lookadoo, Joanne Manning, Alan Mingo Jr., Zakiya Young Mizen, Betsy Morgan, Arbender J. Robinson, Bret Shuford, Jason Snow, Chelsea Morgan Stock, Kay Trinidad, Price Waldman and Daniel J. Watts.
The Little Mermaid creative team includes Stephen Mear (choreography), George Tsypin (scenic design), Tatiana Noginova (costume design), Natasha Katz (lighting design), John Shivers (sound design), Angelina Avallone (makeup design), Pichon Baldinu (aerial design), Sven Ortel (projection and video design) and David Brian Brown (hair design). Associate producer is Todd Lacey. Fight director is Rick Sordelet. Technical director is David Benken. Production supervisor is Clifford Schwartz.