Rock musicals. The term sounds contradictory. In the decades since the Sexual Revolution (since Woodstock and Monterrey Pop and the Beatles and the Rolling Stones and Elvis and Motown and Joni Mitchell), popular music has shifted away from what is heard on Broadway cast albums. In many cases, musicals have continued to exist in a separate genre, evolving musically on their own, like when distinct species develop from a common ancestor. Of course, new theatre often must reflect the context of its time and many musicals have done so in their sound as well. Some of these have even produced successful singles on the Billboard charts. Even when the songs resonate for Broadway fans alone, though, contemporary music has secured an indelible space in musical theatre.
Click through to read my selections for the Top Ten Rock Musicals.
10. Spring Awakening
Duncan Sheik and Steven Sater's 2006 adaptation of Frank Wedekind's 1891 play, Spring Awakening, brought invigorating freshness to the classic work. In director Michael Mayer's vibrant production, the lust and torment and overwhelming energy of adolescence in Sheik and Sater's memorable score came thrillingly to life.
Ben Brantley of The New York Times called Broadway's 2009 Next To Normal, a "feel-everything musical" and the label was apt. The show used memorable music in the modern rock vein to explore the deep, dark terrain of manic depression and its impact on a family with heart as well as humor. Alice Ripley's powerfully inspired and staggeringly commanding performance anchored all the crazy and the rest of the cast offered appealing support.
Singer-songwriter-playwright Stew's fascinating, affecting and completely unique meta musical Passing Strange depicted a young man's search for identity in and out of the context of community (as quasi-autobiographically narrated by Stew and reenacted by Daniel Breaker). The poppy, funky, trippy — and highly intelligent — score (lyrics by Stew, music by Stew and Heidi Rodewald) brings Broadway firmly into the 21st century.
7. Bloody Bloody Andrew Jackson
Michael Friedman and Alex Timbers's 2010 Bloody Bloody Andrew Jackson offered an inventive and highly theatrical presentation on the seventh President, the founding of the Democratic party, populism and the Indian Removal Act. Somewhat unique among rock musicals, Bloody Bloody Andrew Jackson is funny (frequently hilarious), which, of course, is not to say that's it's not a pointed political statement about the United States both then and now.
The Rocky Horror Show was a major hit in its original 1970s London and Los Angeles productions, and, of course an iconic cult hit on film. Broadway didn't provide a successful home for the show until Christopher Ashley's 2000 revival (produced by Jordan Roth) which — particularly Tom Hewitt's Tony-nominated performance as Frank 'N Furter — made the strongest case yet for the piece as a serious musical theatre achievement and an underrated score to be sure.
5. Rent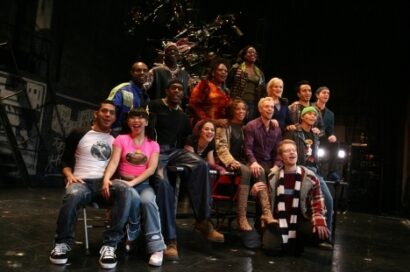 In 1996, Rent was all the rage and being hailed as the most watershed Broadway musical since Hair. For all the arguments over whether the score is legitimate rock (and whether the book co-opts pre-existing and more incisive stories), the true Broadway fan will find Rent hard to resist. There has never been another musical theatre score like Jonathan Larson's fusion of post-Sondheim conversational lyrics with post-The Who pop-rock sounds, and Larson found an extremely effective groove to communicate the drive of the East Village to a worldwide audience.
4. Hair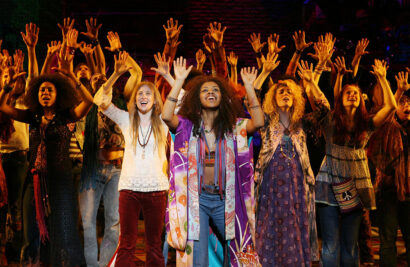 Speaking of the significance of Hair, the show's impact is so major that the title lyric of one of its songs, "This is the dawning of the Age of Aquarius," has come to describe the cultural effect of Hair itself. It was an era when the revolution of rock and roll and rhythm and blues was echoing the major societal upheaval occurring throughout the world and Hair was a Broadway show that didn't merely echo that; Hair in its way and particularly through the monumental success of "Aquarius"/"Let The Sunshine In," was part of that upheaval.
Although mega band The Who's rock opera, Tommy, premiered as both a concert and then a film musical decades before it was adapted for the Broadway stage (as The Who's Tommy), its impact on subsequent rock musicals cannot be overstated. The score is perhaps the most undeniably rock-and-roll music to ever be used as a dramatic text. Des McAnuff's Tony-winning 1993 staging bore a rock-and-roll rage and high tech fluency that has clearly influenced many subsequent shows.
Andrew Lloyd Webber and Tim Rice's rock opera Jesus Christ Superstar also enjoyed successful releases on record and in concert prior to opening on stage on the West End or Broadway. Their fascinating perspective on the Jesus story, including an original take on Judas — not as corrupt betrayer, but as a conflicted conscientious objector remains singularly noteworthy to this day. Also as in the case of The Who and Tommy, Lloyd Webber and Rice went for a sung-through score to depict their dramatic oratorio. This daring choice to create a Broadway musical made up entirely of songs — and rock songs at that — proved tremendously effective and compelling for millions of audience members for years, without any indication of slowing down.
If it hadn't been for Jesus Christ Superstar, Hedwig And The Angry Inch could never have been written. In fact, there's actually a reference to the movies "Jesus Christ Superstar" in the "Hedwig And The Angry Inch" script. I was a huge fan of the originally Off-Broadway production of Hedwig And The Angry Inch, written by John Cameron Mitchell and Stephen Trask and originally starring Mitchell, and I returned to the Jane Street Theatre 10 times to see all the Hedwigs. Then and now, in the show's triumphant Broadway run, it is striking how well — and how differently — the show works with each actor who takes on the role. Hedwig And The Angry Inch is not only the most undeniably rock-and-roll score written for the theatre, but also the single greatest original musical of the last 25 years — of any kind.
(Ben Rimalower is the author and star of the critically acclaimed solo plays Patti Issues and Bad with Money, running in repertory through June 21 at The Duplex in NYC. Read Playbill's coverage of the show here. Visit him at benrimalower.com and follow @benrimalower on Twitter.)