Sing…..for Miss Saigon. There's a tendency in this country to imagine that Lea Salonga, who plays this title role at the Broadway Theatre, is a prisoner of the most successful show in theatre history. When it opened here on April 11, it was and still is the most expensive production of all time ($10 million)—and, happily, one with the largest advance sale ($36 million)—and its subsequent success or failure rested squarely on the fragile shoulders of this unknown commodity. With responsibilities like that would it be any wonder that she has no will of her own, no life of her own and, certainly, no love life of her own?
Well, grow up, America, as Joan Rivers might say. Miss Saigon misses nothing, Salonga insists. In fact, she views her "plight" from the opposite perspective: her glass is half full, and it has even been known to overflow on occasions. "I feel a lot of people are missing out on my life, too," she admitted the other evening in her dressing room as she prepared for the vocal and emotional ravages of the performance ahead of her. "It's a life people dream of having, after all."
And it's true. At 20 she gives every impression of living the life that dreams are made of. Her portrayal of Kim, the Vietnamese prostitute who falls in love with an American soldier (Willy Falk) and conceives his child while Saigon crumbles around them, is one of the most draining and demanding roles in recent theatre memory—and Salonga has been charging away on all cylinders with it for more than two years now, with only a few months off for great behavior.
"To be on a Broadway stage, learning about this art form from the masters, and then to be actually performing, getting a high every night in front of all these people—well," says Lea, "that's something that a lot of people should feel. You may lose something, but you also gain something. I've gained a lot of experience working with people like Nicholas Hytner [the director] and Jonathan Pryce [who plays her Eurasian pimp] and Cameron Mackintosh [the producer]."
Pryce in particular is a pleasure to work with. "The nice thing about him is he's always searching for new things to do in his role, blocking it in a different way so that if affects me, maybe forcing me to do it differently. He forces me to think, to explore, to create—and I thank him for doing that."
So much for her "lost childhood"—she laments it not—and her current pinnacle is where career driving will get you. More than half her life has been spent onstage—all but the past two years in her native Manila. At seven she stage-debuted as the youngest and bounciest of the royal offspring in The King and I. Two years later, she took on the title role of Annie. Throughout her youth she feasted on all the major child roles provided by Philippine rep—from the no-neck monsters of Cat on a Hot Tin Roof to the Trapp Family sunbeams of The Sound of Music.
At ten Salonga charged into a recording career, collecting a gold record for her first album, Small Voice, and this got her a local television show to host, Love, Lea, which was followed by Philippine films. For three years running she was the Philippines' "best child performer."
But all this garland garnering and media switching did not really prepare Salonga for the adult demands of Miss Saigon. Her incredible singing was never in doubt, but she turned out to be a better actress than she imagined, emerging first out of the 1,000 who auditioned for the London and Broadway productions.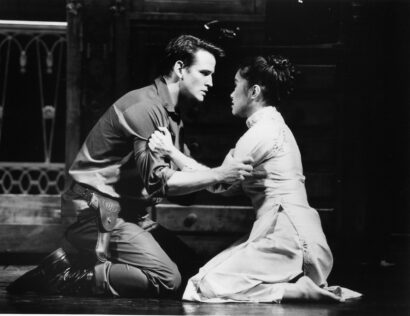 Once she landed this plum assignment, she swallowed hard and plunged into the part with determined abandon. Her only real exposure to the tawdry life she leads onstage was in extreme long-shot: Manila's red-light district is situated near the shipyard-engineering corporation that her father runs. She drew on that and faked the rest from the spicy TV she'd seen—pretty convincingly, according to Simon Bowman, who played her first marine lover in the London production. "In a magazine he said he had to have his lips replaced every week after I was done with him, but that's not true. He exaggerates. All the Chrises I've worked with have been good kissers. Including the understudies in London, I've worked with about four or five."
There's a sweet innocence about a 20-year-old Broadway star who can count her kisses on one hand, and Salonga—having "given at the office," as it were—maintains this innocence offstage, with the help of her friend and her omnipresent chaperone-mother, Ligaya (Joy) Salonga. "She's not just my mother; she's a friend," the actress fine tuned. "And she, basically, keeps me on earth. She reminds me, 'Hey, you're still human. You still have your chores to do. You gotta get up and do what you have to do to take care of yourself.'"
Tantalizingly, the stage door of the Broadway Theatre is located right across the street from the back entrance of The Ritz, but the glitzy attraction of that exotic nightspot doesn't even register on Salonga's chart. Give her a good game of Scrabble or a challenging crossword puzzle any day. "In the sense that I don't go out too often, that's by choice, basically. Discos give me a headache. I went to two clubs with a friend on his birthday recently, and he asked me, 'What do you think?' I said, 'Well, they're nice, but they're not my thing really. I'm sorry.' I like staying home, reading."
This self-confessed homebody doesn't really date when she can find the time—"and, if I do date, I'm chaperoned, it's a cultural thing. I know it's hard for people here to realize there's this actress on Broadway who still dates with a chaperone, but in the Philippines this wouldn't be strange at all."
Come next Feb. 22, Salonga will turn 21. "Then," she beamed brightly at the prospect, "I can do whatever I want"—but, knowing herself, she doubts if it will change much for her: "I probably won't even have the time to date, even if I'm allowed to."
By that time she'll have only one more month to go on her Broadway contract and she's anxious to move on to other mediums—maybe do a pop concert or try some straight acting in movies. The world is her oyster at this point in time and it's very, very inviting. In March, unless the inimitable Mr. Mackintosh comes up with an offer she can't refuse, it'll be Salonga and farewell.